When:
February 7, 2020 – February 8, 2020
all-day
2020-02-07T00:00:00-05:00
2020-02-09T00:00:00-05:00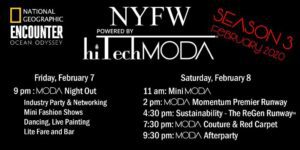 Open to the Public
The most anticipated fashion event of NYFW is back for Season 3 at the National Geographic Encounter Odyssey, located in the heart of the New York Theatre District, steps from the iconic Shubert Alley.
The most talked about event during September NYFW, both nationally and internationally, continues to gain momentum with a stellar reputation for a quality production and radical technological innovation. Recommended by Fashion Week Online (FWO), hiTechMODA proudly became the GOLD standard for independent runway by having an affordable price point; the ability to entertain the audience, and still provide a production that highlights our designers, models and sponsors. Our mission is Designing Opportunity. hiTechMODA has gained traction as the show of shows, one you won't want to miss. We bring together industry professionals, influencers, bloggers, buyers and innovation under one roof!
hiTechMODA brings you the most talented established, emerging designers in an unparalleled runway setting that incorporates a multi-disciplinary platform of unique fashions woven with aspects of dance, music, theatrical and visual entertainment against a sensational backdrop that is truly state-of-the-art. hiTechMODA is once again partnering with National Geographic to continue to promote sustainability, technology, promote self positivity and fair trade within the fashion community and beyond.
In the spirit of creating legacy came the creation of the Sustainable ReGen Runway with a message of Planet. People. Purpose.
Schedule
Friday, 02/07, 9:00 PM MODA Night Out – Come as you are or wear best beach clean-up wear
Saturday, 02/08, 11:00 am, MODA Mini (kids)
02/08, 2:30 pm, MODA Momentum
02/08, 5:00 pm, ReGen Runway Fashion (sustainable)
02/08, 8:00 pm, Haute Couture/Red Carpet Fashion Show
02/08, 9:30 pm, MODA After Party