If you're someone running a travel blog and want to look presentable in your photos, you probably always pack heavy. This is understandable – while you want to capture the beauty of the natural wonders, you also want to sport fashionable attire in line with the current trends.
In predicaments such as these, packing can be a stressful experience due to the high cost of baggage and the burden of carrying big bags.
If this is the case, it is high time you start following the trend of putting together the perfect travel wardrobe – and we'll help you do that.
Where to Begin?
First, check if you require additional paperwork to enter your destination country by using passport and visa services online. Visitors must possess a valid visa to enter certain countries, so you don't want to put yourself in an unfavorable position.
Next, if you want to be sure you're packing the right clothes for your trip, it's crucial to check the local weather prediction before you go. Do not make predictions based on your hopes or fears about the weather.
Finally, if you want to avoid wasting too much space in your suitcase, an ultralight travel packing list is best. Because everyone has different requirements, your list will be one-of-a-kind.
Packing for a Trip: What to Pack?
Stylish, lightweight journeying is possible with some planning and attention to detail on what and how you pack. Keep reading for the straightforward rule for mixing and matching vacation attire.
Let's Begin With Footwear
Can you think of a pair of shoes you own that can stand in for long periods without discomfort yet still feel confident wearing out to lunch with friends? Add them to your packing list immediately.
Whatever shoes you choose, ensure they have adequate sole padding for comfort and are stable on various surfaces. Most leisure trips won't require formal attire, but if you must, a pair of pumps with a lower heel would suffice.
The Neutral Rule
In accordance with the neutral rule, one must wear either an all-neutral top or an all-neutral bottom. That means you can experiment with a wide range of hues in your wardrobe or dark wash denim with a colorful assortment of tees.
When packing for a trip, focus on a small number of versatile staples you can wear in various ways and for different occasions. The most influential colors for the foundation are neutrals like white, black, gray, brown, and navy.
The components must flow together so you can combine them in many ways instead of carrying pieces that are difficult to style. You'll thank yourself when you realize you've created a unique outfit for each day of your trip.
Casual Dresses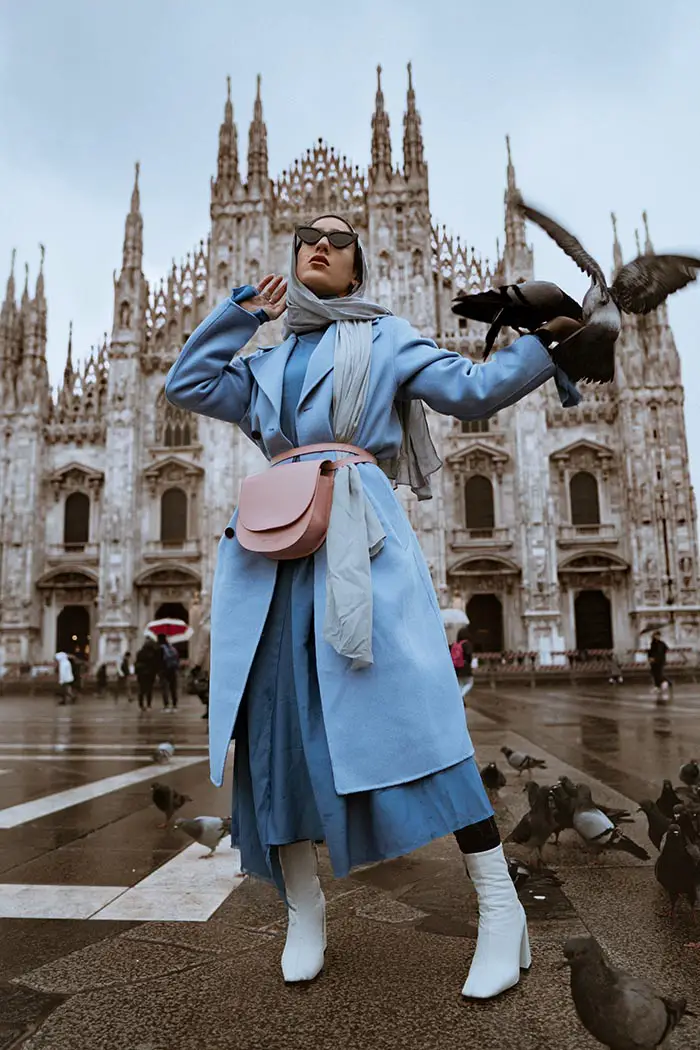 Bring along a flirty, easy-to-move-in dress that allows easy movement if the weather permits. A dress also ensures that it won't feel out of place if you decide to go for a fancy dinner.
Choose simple dresses that you can dress up or down with a change of shoes.
Also, you may wear it either by itself or layered with a jacket if it turns out to be cooler than you predicted when you started packing for the vacation weeks ago. What's more, you can wear it with leggings for even more comfort and warmth.
Perfect Denim
No matter where you are in the globe, a comfortable pair of jeans is always an excellent go-to. They are comfy enough to wear for extended periods. Depending on your figure, they'll accentuate your hips and waist and keep you comfortable for extended periods.
Jeans can come in various styles – skinny, bootcut, mom or boyfriend jeans, etc. You want to choose a pair that'll fit well at the waist and won't be too short or long.
Choose denim that will last, and avoid brands that add too much spandex. You need the jeans to look good and feel comfortable for several days without washing.
Traditional White Shirt
White shirts are timeless, versatile, and a wardrobe must-have. They add understated sexiness to the official uniform and a dash of manliness to dressy attire. In addition, a crisp white shirt can provide much-needed structure when paired with trousers and flats.
You can also use the shirt as a cover-up at the beach, over a tank top or turtleneck, or as an extra layer on chilly evenings. This summer, the trend is to wear a shirt over a bikini top and then pair that with tailored jeans.
Practical Bag
The number of options and style possibilities make it difficult to find the finest travel purse to meet your needs and personal taste. Unfortunately, no matter how much you'd like to, you cannot bring every single one of your handbags.
So, obtain one that you may wear with various pieces of clothing and for different events. Look for a shoulder bag that's big enough to hold your laptop, tablet, and other necessities.
Ensure the bag has a removable and adjustable strap that allows you to wear it crossbody over one shoulder or carry it by its short handle.
The Importance of Form and Function
The traveling clothes you pack should be garments that fit snugly but comfortably against your body. They need to be loose enough to allow you to move freely without being constrained by something too tight-fitting.
You can get more use out of your travel wardrobe if you pack layers that you can wear over or under other layers. Another good idea is to bring items that can serve several purposes, like a cardigan that you can style unbuttoned as a top layer or buttoned as a mid-layer.
To Wrap Up
You'll automatically develop a streamlined packing routine as you take more trips. In addition, you learn more when considering which modes of transportation and clothing you like best, as well as the activities you have planned for the trip.
Eventually, you develop a reliable system for planning and preparing for trips that you can apply to any destination – the first step in discovering your ideal outfit combo.
##