Look beautiful in the coming season with these ten women's fall outfit ideas!
Every woman needs some casual fall outfit ideas in her wardrobe. Whether you're grabbing brunch with friends or running errands around town, being dressed to the nines isn't always practical. Sometimes, you just need some casual clothes that match comfort with trendy style to help you get through the day.
No one wants to think about summer ending, but the truth is that fall is just around the corner. This season brings cooler temperatures, changing leaves, and winter just around the corner. But fall also creates lots of chances to play around with layering cozy, stylish clothes and experimenting with new colors! For many fashion-forward women, fall is their favourite season because of the style opportunities it creates.
Fall fashion is about more than sweaters and skinny jeans. So here are ten trendy casual fall outfit ideas and tips to get you started in creating your fall wardrobe. They're inspired by the latest fall fashion trends, so following these is sure to help you look beautiful this coming season. Whether you're going to work, school, a date night, or just out and about, these outfits will keep you looking chic in comfort. We can't wait to see you rocking your perfect fall outfits in the coming weeks!​
1. Start with a solid foundation – a plain white t-shirt or tank top
Just like a sturdy home needs a strong structure, every outfit needs a solid foundation around which you can build the rest of your look. We suggest starting your cute fall outfit ideas with a plain white t-shirt or tank top. The bright, clean color of a white shirt goes well with everything. It creates a bright, eye-catching base without distracting from any of the other layers and patterns you'll be putting on top. Not to mention, a white shirt can be worn on its own and still look elegant on a hot fall day.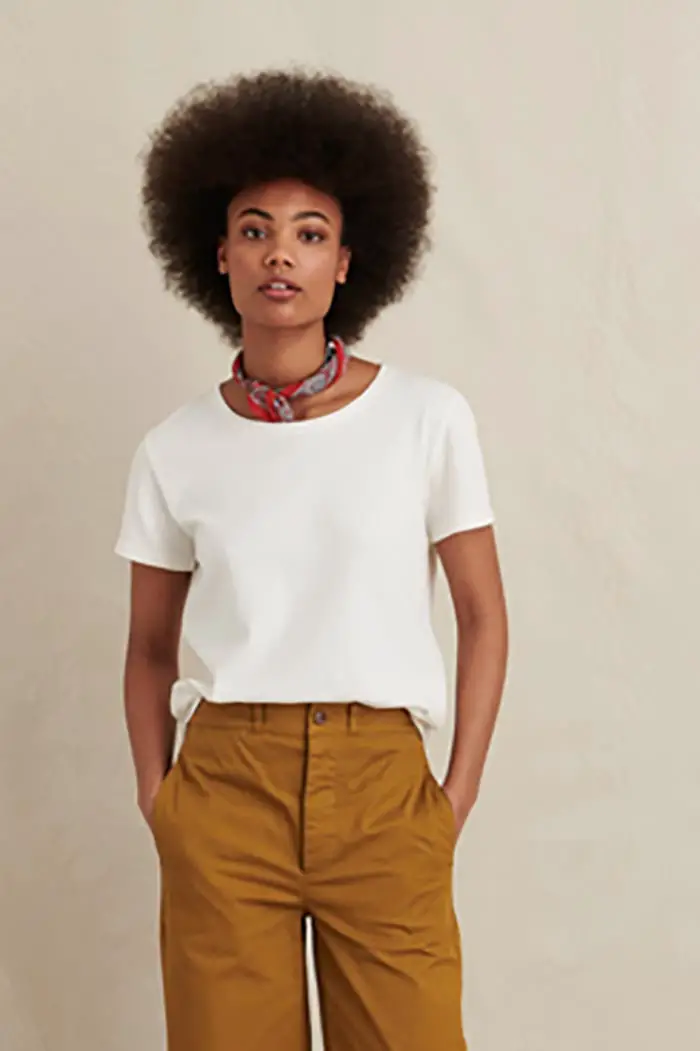 https://nymag.com/strategist/article/best-white-t-shirt-for-women.html
Why do we suggest a tee or tank top instead of a long-sleeved white shirt, you ask? Since you'll be layering plenty of fabrics on top of your base, you don't want to risk getting too hot in your getup. A short-sleeved tee or tank top will give your fall outfit ideas a stylish foundation while giving you plenty of opportunities for playing around with layers and chic prints! If you're looking to create a darker fall outfit, you can also use a black top instead of a white tee.
2. Layer on a light leather jacket or shawl
Fall is the perfect season for experimenting with layered outfits that include an item like a cardigan, shawl, or black leather jacket. Fall weather is cooler than the summer, so you have more allowance to layer up before you start feeling stuffy. The weather also isn't too cold yet. So you can have fun with open looks that don't depend on being resistant to the cold.
As the weather starts to cool down, it can be tempting to just reach for your heaviest sweaters and call it a day. However, fall is also a time when the weather can be unpredictable, so your fall wardrobe needs to be up for anything. A cool morning can quickly turn into a warm afternoon, so your fall outfits need to be just as versatile as the weather. Layering is key during the fall months.
After starting with a base layer like a tank top or t-shirt, add a light leather jacket or shawl for added warmth. These garments offer excellent protection from the cold autumn breezes, and if you start feeling a bit too toasty, the can easily be removed without changing your chic fall outfit too much.
That's why one of our first autumn outfit tips is finishing off your outfits with an outer-layer light genuine or faux-leather jacket or shawl. This top layer will give you some much-needed protection from the brisk autumn winds while still being light enough to remain comfortable on a warm, sunny day.
3. Pair a cardigan with a dress for a put-together outfit
We love dresses. They're a classic, timeless aspect of women's clothing that can be dressed up or down depending on the occasion. One of the best ways you can use a dress to create a casual but elegant look is to throw a cardigan on top of your dress.
This great outfit embodies the essence of fall – a light, summer dress layered with a cozy cardigan is perfect for the lukewarm fall weather. It creates a tasteful and versatile look that's perfect for any casual or smart-casual occasion. If you're out and about running errands, you can play around with pairing different trendy color and print combinations with your dress and cardigan. If, on the other hand, you're attending a more dressy event, you can simply opt for some more nuanced, solid colors like black, beige, and white!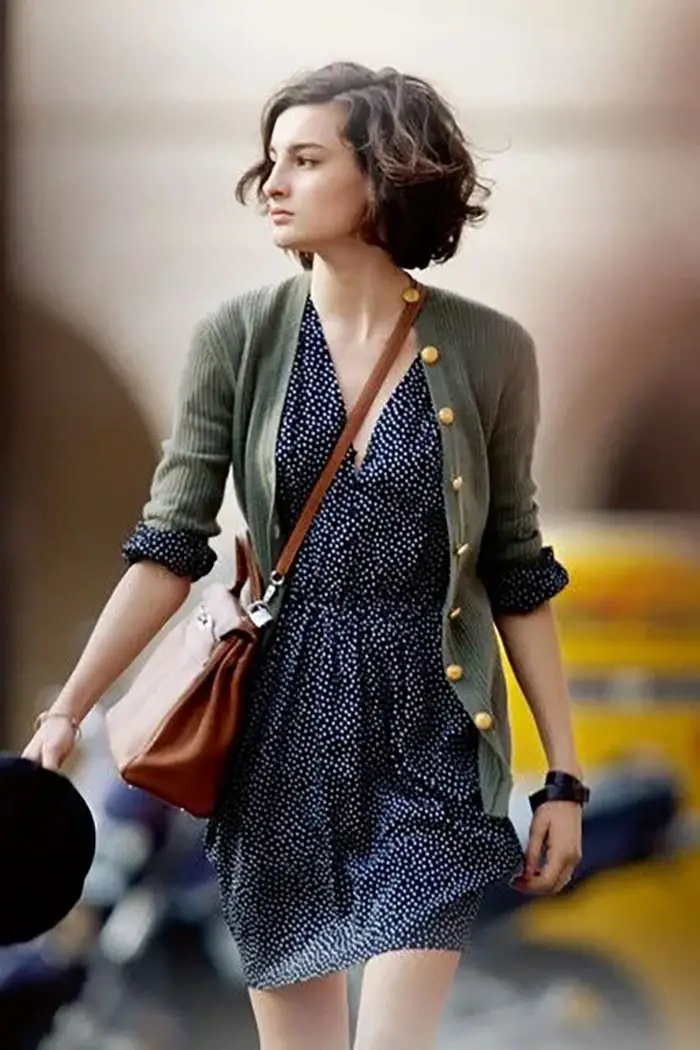 https://www.pinterest.com/pin/287948969904950073/
Not to mention, you can also add a stylish belt on top of your dress to finish off the look. But we'll talk more about autumn belts in Tip #5!
4. Mix prints to create an interesting outfit
Autumn is the season of color. With the leaves changing hues and blowing in the breeze, it's the perfect occasion to experiment with unique and creative prints that you wouldn't wear otherwise.
One of the best ways to play around with your fall style is to mix different prints and create an interesting, eye-catching fall outfit combination. When it comes to mixing prints, there are three different techniques you can use to create fashionable outfits.
The Three Rules of Matching Prints
If you're new to mixing up your prints, these three rules will help you get started. Following them is a great way to create stylish, cute fall outfits without running the risk of looking ridiculous by trying to match two prints that don't compliment each other. There are three ways to match prints: color, shape, or structure.
Matching Prints by Color
Matching by color is pretty simple. You just need to find two different prints that both use the same color palette. Because they use complementary colors, the prints are bound to match even if they have vastly different shapes and structures. Easy peasy. Check out this trendy mixed print fall outfit that uses similar colors to create the perfect fall getup.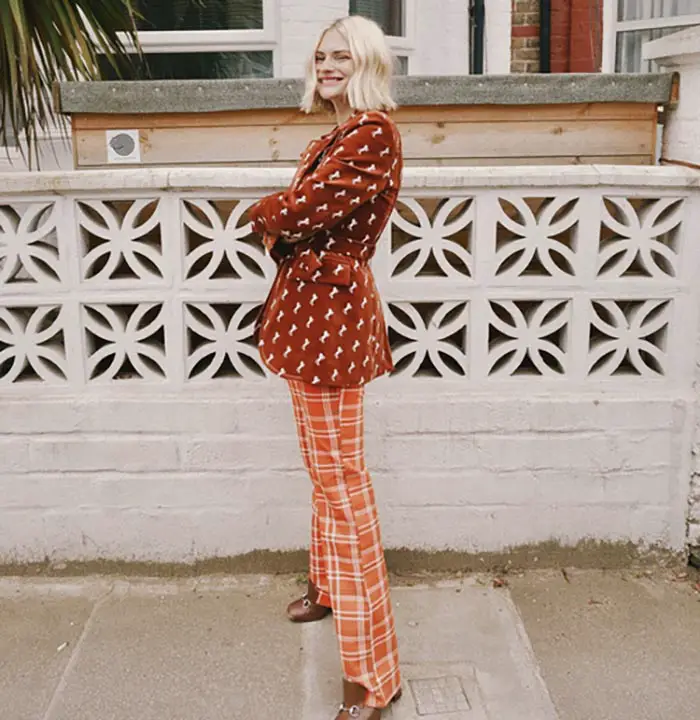 https://www.whowhatwear.com/mixing-prints-for-fall
Matching Prints by Shape
Matching by shape is all about finding two different prints that both contain the same figures. For example, if one of your prints uses blocky or square-like shapes, find another print with the same style of forms. Once you've matched shapes, you're free to mess around with colors and structure! This photo shows how to make versatile fall outfits by matching similarly-shaped prints.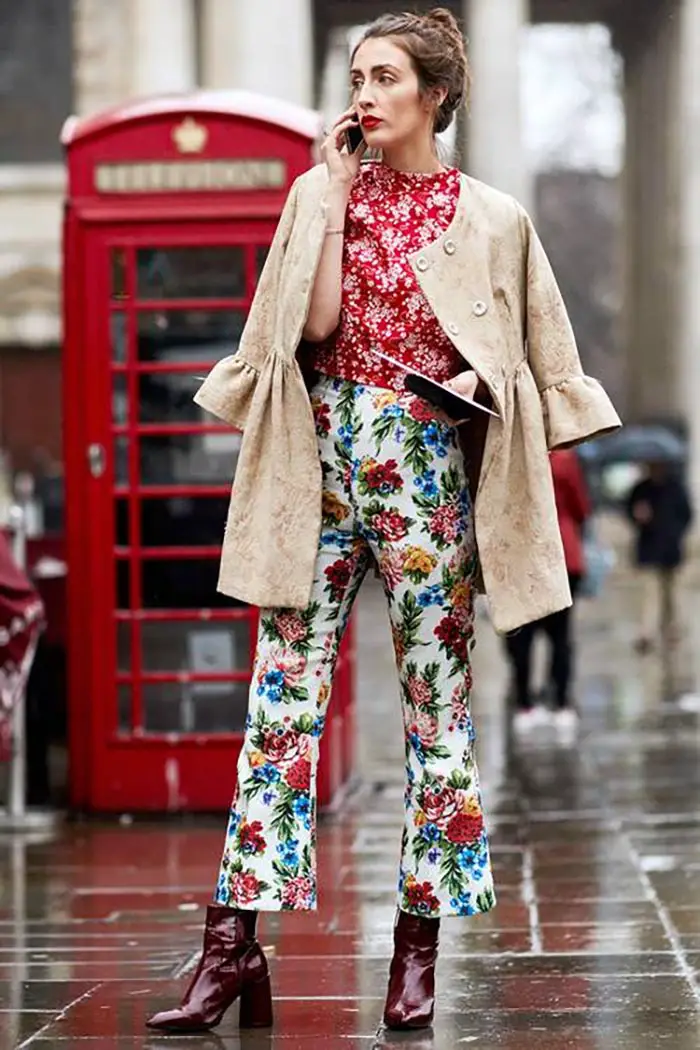 https://www.whowhatwear.com/how-to-mix-prints
Matching Prints by Structure
Matching by structure is an often misunderstood but invaluable aspect of pairing prints. The structure of a print is the general layout of the pattern's design. For example, the shapes of a print might run in vertical lines, diagonally, or in any other structural design. Matching patterns by structure is all about finding prints that contain different colors and shapes, but maintain the same structure. For example, if one of your prints contains shapes running in vertical lines, choose a second print that has different shapes that also run vertically! The image below shows an excellent example of matching prints with structure. Both prints contain contrasting colors and different shapes, but the matching structure brings them together into a stylish fall outfit: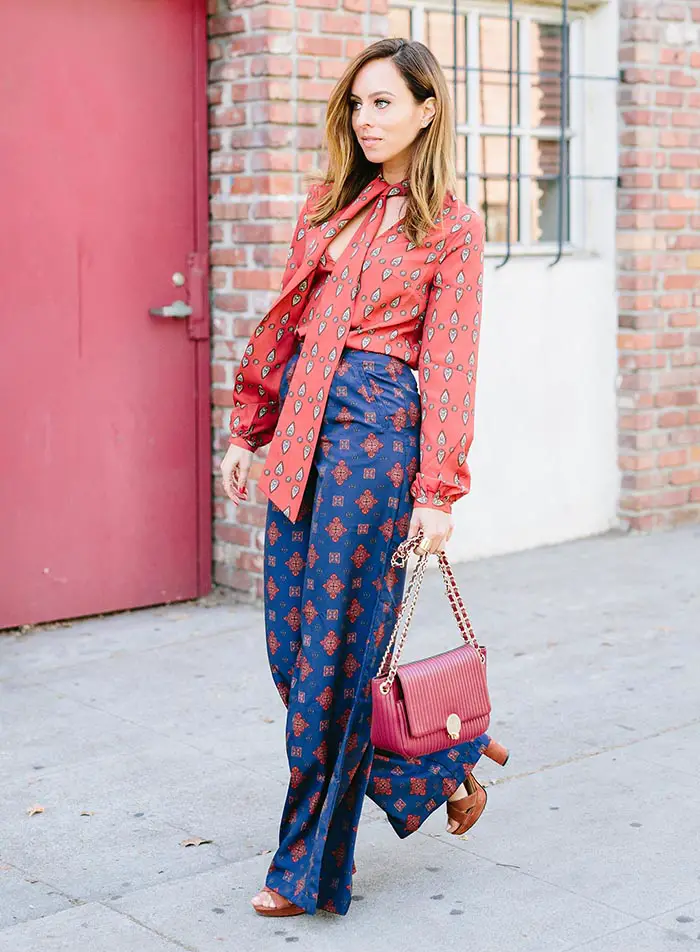 https://www.sydnestyle.com/2016/09/mixing-prints-scarf-trend/
5. Add a belt to change up the look of simple fall outfits
After that in-depth look into print matching techniques, it's time to get back to the basics. One of the simplest yet most elephant accessories that you can use to add an extra layer of style to your fall outfit ideas is a belt.
Belts aren't just relatively inexpensive accessories that can come in all shapes and sizes. They also serve a functional purpose by splitting up your fall outfits and creating a slim look at the waist. The general rule with belts is that they should add a subtle accent to your outfit, not overpower it. For instance, if you're wearing a bright fall outfit with plenty of patterns, you should opt for a simpler, solid-colored belt. If you choose something too big or flashy, you risk overpowering the rest of your cute outfit and creating a confusing look.
When you're trying to decide which belt to wear, a good rule of thumb is to match the color of your belt to the color of your footwear. For example, if you're wearing some brown ankle-high boots, you should pair them with a brown belt. This helps your cute fall outfit look connected and tasteful. If you wear a belt that doesn't match anything, you run the risk of making your casual outfit look tacky and disjointed – like you just threw the belt on for no reason.
6. Wear comfortable shoes that can take you from day to night
Along with the cooler weather, fall also brings shorter days. This means you're likely to have instances when you'll still be out on the town after sunset. Any woman who keeps up with fashion trends knows that there's a difference between daytime and nighttime outfits. So your fashionable fall wardrobe needs to include some versatile outfits for those busy days when your daytime attire needs to transform into a nighttime look.
https://www.whowhatwear.com/best-comfortable-shoes
One of the best ways to ensure that you're ready for the night ahead is to wear your favorite pair of comfortable shoes that can take you from day to night. This doesn't just mean having footwear that you can walk around in for long periods. It also means having shoes that look equally chic at night as they do during the daytime.
In general, a pair of shoes that can take you from day to night needs to have two things: a subtle design and a comfortable structure. Firstly, having a subtle design lets you easily match the shoes to any of your trendy fall outfit ideas. That way, if you decide to throw on a warmer cardigan or jacket as the sun goes down, your footwear will still match the look. If you wear shoes that make too much of a statement, your fall outfit can look disjointed when you have to add on an unexpected layer.
Secondly, having a comfortable structure requires finding a shoe that you can wear all day without too much discomfort. This usually means finding a shoe that has a flat or only slightly-raised sole as opposed to a full heel. Flatter, more ergonomic shoes help distribute your body weight more evenly across your feet and walk around more comfortably. You should also look for shoes that you can wear with socks. Everyone knows that awful feeling when a shoe is rubbing against your bare foot and creating a blister throughout the day. Luckily, there are plenty of shoes and boots (like those fashionable knee boots) out there that combine style with comfort, so you don't have to worry about making compromises in either department!
7. Accessorize with jewelry and hats for extra flair
Accessories like jewelry, watches, scarves, and hats are what take women's fall outfit ideas from good to great. They're an opportunity to subtly show your fashion sense and add a bit of flair to already amazing outfits. Accessories also allow you to play around with your look, without having to stick to too many rules.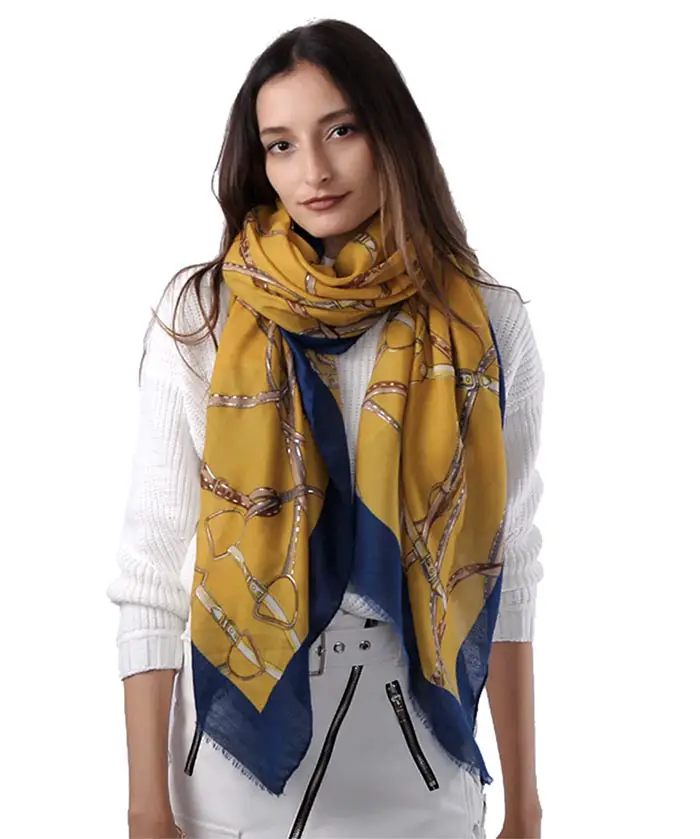 https://www.gjswomensfashion.ca/products/copy-of-womens-uniquely-designed-soft-early-spring-autumn-scarf-shawl-star-sky
Autumn is an excellent season to break out those colorful, eye-catching accessories that add a splash of color to your outfit. One of the best ways to find an accessory that spices up your fall outfit is to determine your main hue (the color that appears most in your fall outfits) and then match an accessory that contains complementary colors to that hue. Complementary colors are colors that appear directly across the color wheel from each other. These include combinations like blue-orange, red-green, and purple-yellow.
If you're wearing neutral fall outfit – or you have plenty of fall outfits – that feature gray, beige, black, or white, you can add nearly any colored accessory to the casual outfit and it will still look good. So take this opportunity to experiment and get creative with your accessories!
8. Play around with seasonal colors in your fall outfits
Every season has a set of colors associated with it. These hues are usually based on the natural changes that come with each changing season. For example, summer is usually associated with bright and hot colors that represent things like sunny days and blue skies. Winter, on the other hand, is associated with cooler colors like blues, blacks, and dark reds.
Which colors are associated with all things fall, you ask? Fall is special in that it combines the cool calmness of winter with the hot brightness of summer. This opens the door to a lot of opportunities for you to play around with different color combinations in your fall outfits. For example, you can create a cool, dark fall outfit out of browns and burgundies, and then spice it up with a bright orange scarf or yellow cardigan that showcases the brighter fall colors.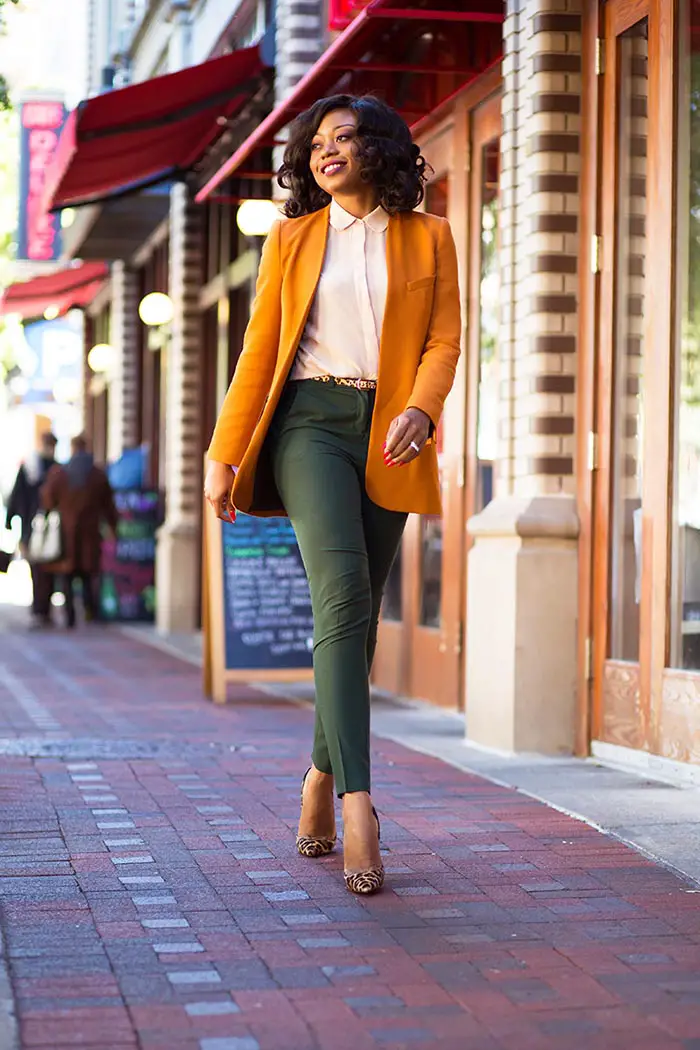 https://www.jadore-fashion.com/fall-colors.html/
If you're looking for some more color combination ideas for your fall outfits, all you need to do is look up at the trees. See the colors of the changing leaves – brown, yellow, orange, and red – and then combine these colors within your fall fashion outfits for an effortlessly chic getup!
9. Experiment with different fabrics to match the fall weather
In much the same way as you can play around with different colors during the fall season, you can also experiment with fabrics that you wouldn't try otherwise. The mild temperatures of autumn are ideal for combining supple fabrics like silk and bamboo with sturdier textiles like corduroy, denim, and linen.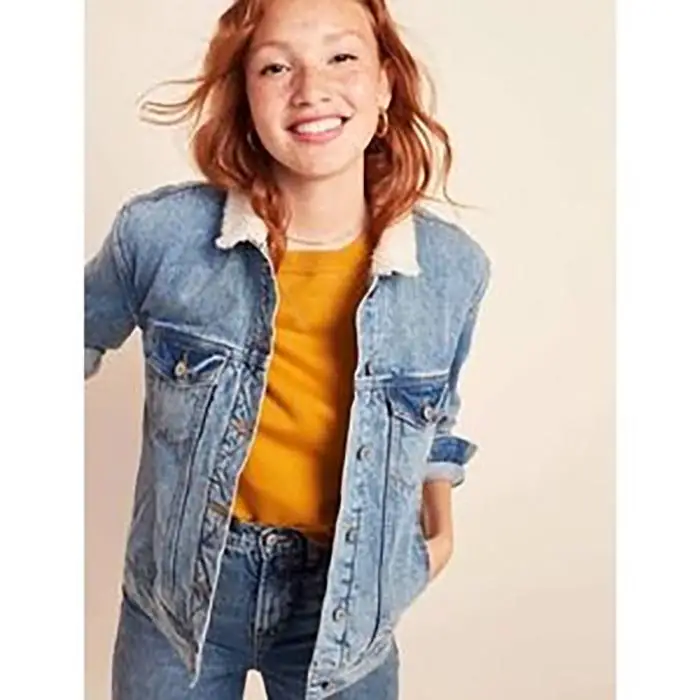 https://www.pinterest.fr/pin/541417186455977097/
One of the best ways to combine fabric during the autumn season is to put the softer, more gentle fabrics closer to your body, and use sturdier fabrics as you move towards your outer layer. For example, you can start your fall outfit ideas with a soft and comfortable bamboo tee. Then, layer on top of it with an outer layer like a denim skirt, skinny jeans (or baggy jeans), or a linen cardigan. This is an excellent way to combine different fabrics and textures while keeping the harsher (and potentially irritating) fabrics away from your skin.
Layers Are About More Than Fall Fashion Trends!
One of the best things about fall is the chance to cozy up in layers of warm, comfortable clothing. But what you may not realize is that your fall fashion choices can also have a practical purpose. For example, putting more rugged fabrics on the exterior of your outfit protects you from the wind and helps you stay warm. At the same time, it can also help to increase the longevity of your more delicate garments by acting as a barrier against the elements. So next time you're putting together a fall outfit, be sure to consider the fabric choices that will not only keep you looking stylish, but also help you to weather the chilly months ahead.
10. Don't be afraid to try new women's fall outfit ideas – it's the best way to find what looks good on you!
The last of our fall outfit ideas is more a lifestyle tip than a fashion guideline. The best outfit you can wear during any season – not just the fall – is the outfit that's most genuine for you. None of the advice in this guide matters if you don't feel beautiful wearing it.
With that said, use this coming fall as an opportunity to be bold and try new styles. Don't be afraid to experiment with fresh looks, flashy accessories, and new color combinations. For many women, fall is the perfect time to experiment with new styles. Whether you're looking for a fresh, new look for work or a flashy outfit for a night out, there are endless possibilities when it comes to fall fashion. And with the chilly weather on the horizon, fall is also the perfect time to break out your favourite sweater vest or jacket. If you're feeling stuck in a fashion rut, use this fall season as an opportunity to try something new. You might just find your new favourite look!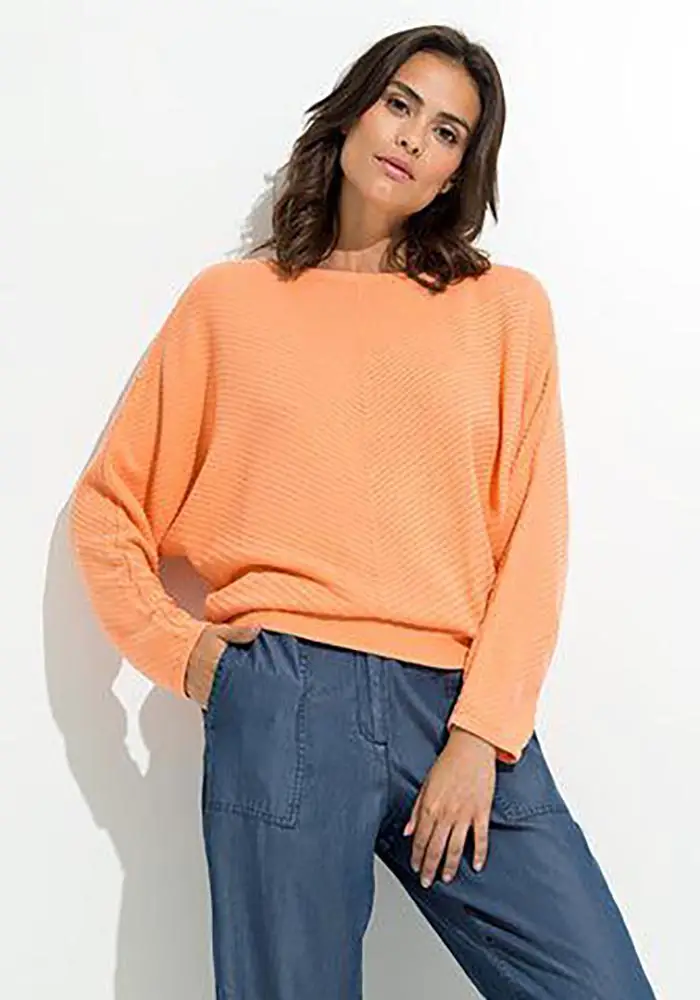 One of the best ways to find new clothing pieces and accessories is to shop for women's clothing online. When you shop online, you can save a trip to the store while saving quite a bit of money at the same time! Online clothing shops don't have to pay rent on expensive storefronts, and those savings then get passed on to you! So what are you waiting for? Start shopping for your new fall look online today!
##
With love,
FWO