Planet Fashion
There's a new kid in town this Miami Swim Week. Get ready for Planet Fashion.
Some of today's hottest swimwear designers will be showcasing their newest styles over three nightly Miami Swim Week shows, that will include presentations by Revel Rey, Karma Bikinis, OMG Miami Swimwear, and Gabriela Pires Beachwear, among others.
Here's a look at some of the designers you can expect to see at Planet Fashion's shows:
Revel Rey Swimwear by Audrey Swanson
REVEL REY SWIM is a funky, bold, and feminine swimwear company created by owner / designer Audrey "Rey" Swanson. The brand combines fashion and art, flaunting unique, custom, and hand painted prints. Each line is made up of multiple color collections, 90% reversible, and can be mixed and matched.
Washington based Audrey Swanson has a lengthy background and obsession in the design/art community. She attended college for art, majoring in interior and graphic design. After school, she practiced as an interior designer where she discovered her love for textiles and prints. This was the steppingstone for her next adventure into the manufacturing industry.
The brand combines fashion and art, flaunting unique, custom, and hand painted prints
Having the opportunity to travel to tropical destinations all over the world; bikinis and the swim industry soon became Audrey's passion. Combining her design/art background with her love of travel; she decided to start utilizing her knowledge to create and turn custom prints into clothing. Since the swim world has endless possibilities to be creative with wild and vibrant prints, Revel Rey was born.
Each print is hand painted and/or graphically made by Audrey, using multiple types of mixed media. She focuses on creating unique bikini patterns, while keeping each fit flattering and sexy. Audrey's love for culture, free spirit, and her eye for wild and unique interiors enables her to collect inspirations from all aspects of life. Audrey spends months exploring to places such as Bora Bora, Rangiroa, and Maui – taking in the lifestyle and culture. Audrey pulls ideas from her surroundings; whether they are simple aspects of scenery and scents, or more in depth inspiration coming from patterns seen nature and every day objects.
Each print is hand painted and/or graphically made by Audrey
Her free spirit and desire to bring art to life motivates her to express herself and tell a story through her brand. She designs the line not only to look beautiful on each individual woman but also the entire collection to be an art piece itself. | www.revelreyswim.com
Gabriela Pires Beachwear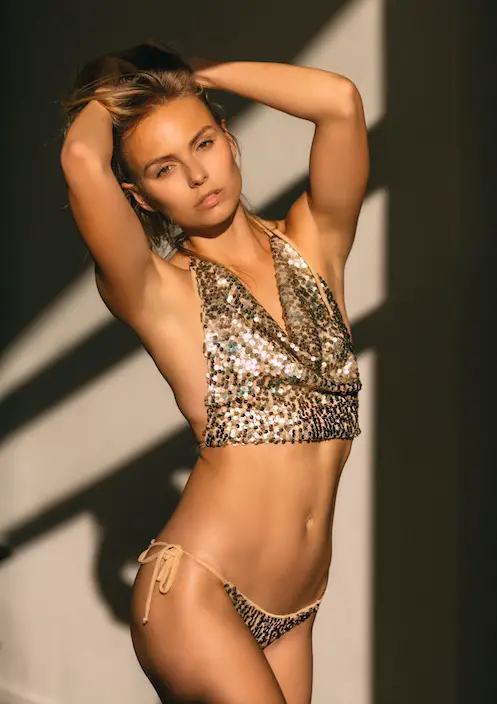 Gabriela Pires Beachwear reimagines the practicality and versatility of today's swimwear industry. Capturing the spirit of Miami nightlife, mixed with the sophistication of lounging poolside at a 5-star resort, designer Gabriela Pires mixes her Miami roots and design training in Milan, Italy, to produce her head-turning and empowering swimwear.
Gabriela has been a student of the fashion industry around all life's corners, continually searching for where she can leave her mark. Upon moving to Miami from Rio de Janeiro, Brazil, at a young age, Gabriela then ventured to Italy to study fashion at the Istituto Marangoni of Milan. Following this enriching experience, she then took her talents to the fashion capitol of the world, New York City, and starred in her first New York City Fashion Week at the age of 21.
And then it happened: in 2009, Gabriela opened her first New York City-based swimwear showroom in the Garment District. In 2012, and adding to the feminine and sexy nature of her swimwear designs today, Gabriela debuted her very own lingerie line, The Panty Box. Following years of dedication and determination in launching her now illustrious luxury swimwear line, the Gabriela Pires Beachwear brand received its first feature in the 2012 Sports Illustrated Swimwear Edition. To ensure her staying power, Gabriela has followed this up with four features since.
The brand was first featured in the 2012 Sports Illustrated Swimwear Edition
Gabriela Pires Beachwear features styles and cuts to fit all shapes and sizes, while all of her swimwear is hand-crafted from the world's finest fabrics out of her studio in Miami's design-savvy Wynwood Art District. Invoking her life experiences and being a student of her craft, Gabriela's designs dare you to show-off the next time you slip on one of her classically couture bikinis or one-pieces.
And the best part: Gabriela donates 10% of all her swimwear sales to the St. Jude's Children's Hospital. | www.bygabrielapires.com
Just Bones Boardwear by Jennifer Weisman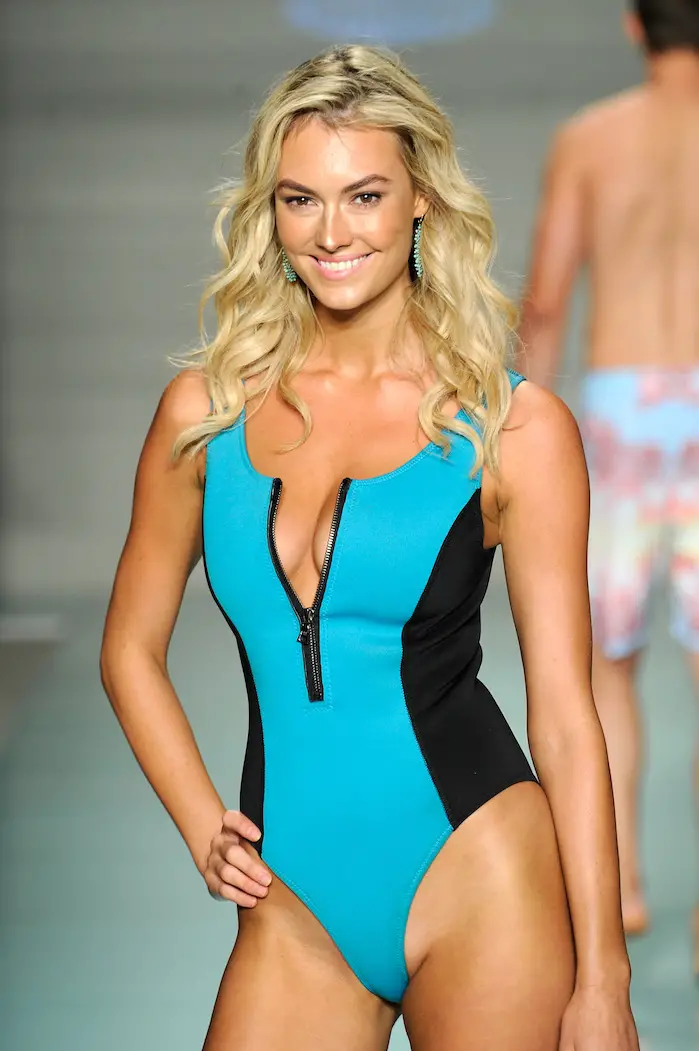 The surf brand, designed by Jennifer Weisman, garnered attention on the Miami Beach runway last year, after debuting a sexy new line of bikinis, in response to retail and consumer demand. Weisman unveiled her line of bikinis, which are designed to complement the boardshort collection. Since its initial launch in 2011, Just Bones Boardwear has garnered many fans for the perfect fit provided by the boardshorts' patented adjustable waist. The collection is quick-drying and constructed with performance fabrics, with boardshorts available in sizes for toddlers, boys, juniors and men.
Just Bones Boardshorts were originally designed for boys with waist sizes ranging from 21-30 inches. In response to strong retail and consumer demand, Just Bones Boardwear™ has introduced collections for toddlers, girls, and men.
Just Bones boardshorts are just like traditional boardshorts – except they include a patented adjustable waist. While most boardshorts fall down due to the discrepancy between the waist size and the length needed, Just Bones Boardwear™ revolutionizes boardshorts with full adjustability discretely hidden in a Velcro® flap in the waistband in the back.
Just Bones boardshorts include a patented adjustable waist
They have expanded its girls line to include trending prints such as "Paisley Skull" and "Floral Camo," as well as vibrant "Cobra" and "Tropical" prints. The men's boardshort collection is available in both 4-way stretch for performance and quick-dry hybrid boardshort – perfect for a day of surfing or hanging out. The extensive boys line includes new graphic tees in colorful skull and surfer prints. The Just Bones Boardwear™ brand also expanded into the boy's toddler market in 2014. What makes its toddler line so unique is the distinct combined sizing model, allowing for flexibility of fit for the variety of shapes and sizes of all toddlers. | www.justbonesboardwear.com
OMG Miami Swimwear by Andrea Gaviria
OMG Online was established in 2010 by 26 year-old Miami native, Andrea Gaviria. Andrea built the company after struggling to find a bikini that fits well. She made a swimsuit for herself and posted it on social media where it went viral, upon which OMG Miami Swimwear was born.
Andrea believes women should feel sexy, sensual, and elegant at the same time. She states, "I want you to look at my swim suit and think Oh My God!" OMG's mission is to meet that need with fashionable feminine swimwear from conventional and innovative designs and trends. All OMG products are developed with quality raw materials and appropriate body modeling.
After much success online, Andrea was able to open the doors to her female fashion brand in an exclusive Miami Beach store front in 2016. Andrea plans on taking over the world one bikini at a time by opening stores in New York, Los Angeles and Dubai.
Andrea plans on taking over the world one bikini at a time
OMG Miami Swimwear lit the stage on fire with a runway show that personified sexy during the opening night of last year's SwimMiami show at the W Hotel South Beach. Andrea herself presented the collection, and the brand quickly became a top swimwear destination worldwide. OMG Miami has gained a following with A-list celebrities, including Kim Kardashian, Jennifer Lopez, Sofia Vergara and Selena Gomez among others. | www.omgmiamiswimwear.com
KARMA Bikinis by Julienne Worring and Antje Worring
KARMA Bikinis was created by sisters Julienne Worring and Antje Worring in 2014. Inspired by their combined passions for ocean conservation and the need for unique, adjustable, fair trade pieces came their commitment to donate 7% of all proceeds to ocean conservation efforts.
The sisters thought practicing fair trade standards is ethical and should be mandatory across the board. In efforts to ensure fair practices they do routine site visits to inspect their trade methods. They try to keep practices as sustainable as possible to eliminate further environmental offsets.
All of their suits are made with a limited production cycle. This means that they only create a small batch of each product in each print or color, once the style sells out there is no second order made. Instead they release new styles every 6 weeks and carry exclusive pieces/prints for their members.
All of their suits are made with a limited production cycle
Karma Bikinis strives to offer the most unique styles of swimwear made from high quality, sustainably sourced, and ethically manufactured materials. Their limited quantity lines released strategically throughout the year ensure that their customers will always be on the forefront of new fashion trends, while also making a difference in the world around them. Donating 7% of their profits to ocean conservation efforts is only a fraction of what Karma Bikinis does to take part in the movement towards rebuilding their planet and helping everyone and everything living on it. At Karma Bikinis, luxe swim and social responsibility meet in a cohesive balance; their customers can be sure that their value stretches far beyond a stylish bikini. They step beyond the creation of cutting edge designs to embody and spread a positive message.
Karma Bikinis has committed to the United Nation's 17 Sustainability Goals. The sisters also hope to raise awareness for issues that effect their customers, inform them of what part they can take in enacting change, and encourage others to do the same. They go beyond fashion, sustainability, and even stretch past the common perception of social responsibility to truly exemplify what they stand for and call attention to social and environmental injustices. | www.karma-bikinis.com
##
Learn More
With love,
FWO