K-Fashion Project Paris Fashion Week SS18
Represented by Totem Fashion.
5Korean designers were selected from 100 by global fashion experts such as Vogue Korea, TRANOÏ, and Colette. The experts were involved in the screening process and even visited the designer studios in person to focus on their strategies and ability to enter the overseas market.
The goal? Bring these five designers to Paris Fashion Week to show their collections, and be part of a pop-up sales and window display collaboration with Colette, Paris's legendary retailer boutique, to gauge the possibility of expanding the business even further.
The designers showed at Palais de la Bourse under the name of "K-Fashion Project in Paris."
 
K-Fashion Project: Paris Fashion Week
[portfolio_slideshow id=42503 align=center width=699 click=advance thumbnailsize=40 showcaps=false]
 
Kathleen Kye (KYE)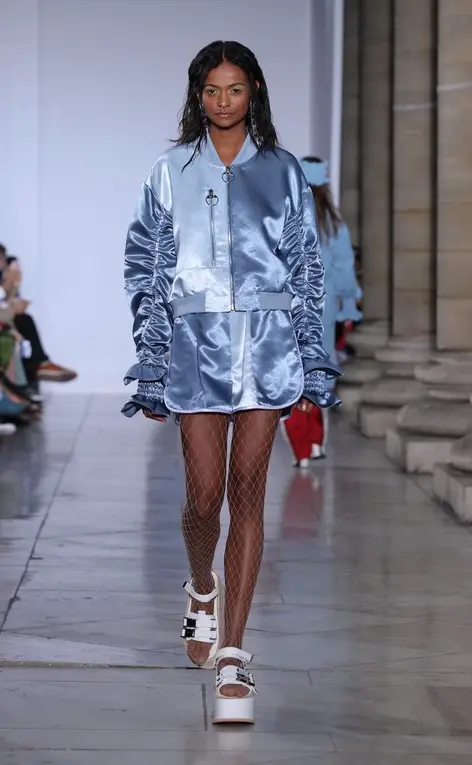 A graduate of London's prestigious Central Saint Martins, Kathleen Kye launched her label Kye in 2011. (We wrote about her her VFILES presentation last year.)
Kye's collection was a noted departure from her jumpsuits and colorful streetwear of last September. While these still made an appearance, the looks included shiny fabrics and big ruffles. Our favorites here were the shiny tracksuit with pleats, and the distressed-edge frock with what appeared to be matching shorts.
Kye has a gift for unexpected combinations that work, and this season was no exception.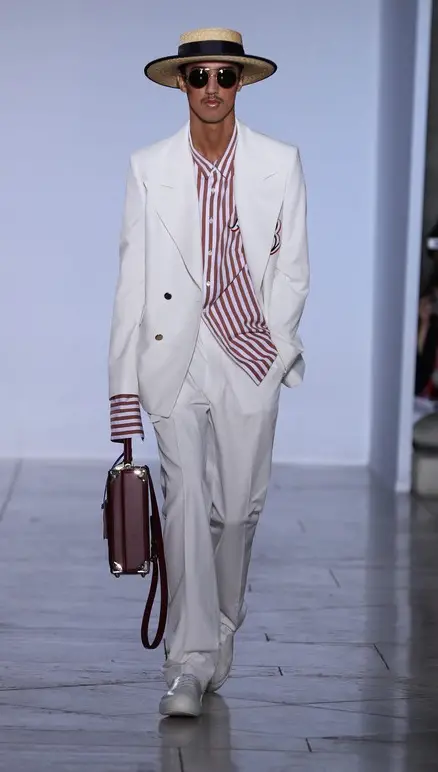 Taeyong Ko launched Beyond Closet in 2008, with the goal of reinterpreting the American preppy aesthetic. This season, he presented a very stylized collection that seemed to live somewhere between Band of Outsiders and Hedi Slimane's final collection for Saint Laurent, with possibly just a touch of DSquared2. The result? A Streetwear 2.0 collection that could take a fashion-conscious guy from beach to club with aplomb. But our favorite look was the under-dandy first look, with the retro stripes, overlength sleeves, neat valise, and big straw hat.
JinHee Moon (Moon J)
JinHee Moon presented a frilly, ruffley collection with stripes and diagonal lines inspired by art. This season, Moon J took inspiration from Umberto Mariani's textile works. The sum effect was a collection that looked like modern art, and should appeal to anyone wanting to wear their love of fine art (literally) on their sleeves.
Moon took inspiration from Umberto Mariani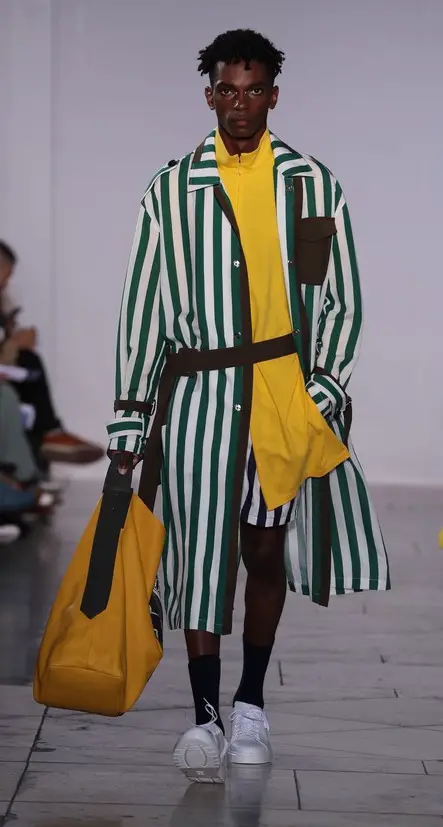 Bumsuk Choi, with his trademark beret and sunglasses, is the founder of General Idea. The "phono sapiens" concept (people who live on their phones) is a through concept for the brand.
The collection was an interesting mixture of sporty looks with bold color blocking, big stripes, and psychedelic paisley. The oversized bags and cuts were bold and playful. General Idea seems to express the vision of street kids just on the verge of a revolution.
street kids on the verge of a revolution
Superb is the best word to describe Eunae Cho's collection. She started her own brand in 2011 after leaving Yonsei University in Seoul and her clothes have since been sold as far afield Los Angeles, Canada, Kuwait, Hong Kong, and Singapore. Ti:baeg is pronounced "Teabag," and indeed it makes use of tea-leaf prints and green as her signature color. Stridently ignoring gimmicks or high concept, Cho created a gorgeous collection that was beautiful, balanced, attentive to silhouette, and should do superbly at retail, as well.
All the collections shown were manufactured with Korean domestic fabrics and sewing technology under the slogan "Made in Korea, Made for You," to impress global buyers with the excellence of Korean fashion products.
The show was organized by The Korea Research Institute for Fashion Industry (KRIFI) sponsored by the Ministry of Trade, Industry and Energy.
##
Learn More
Paris Fashion Week
The Korea Research Institute for Fashion Industry
With love,
FWO