#Sad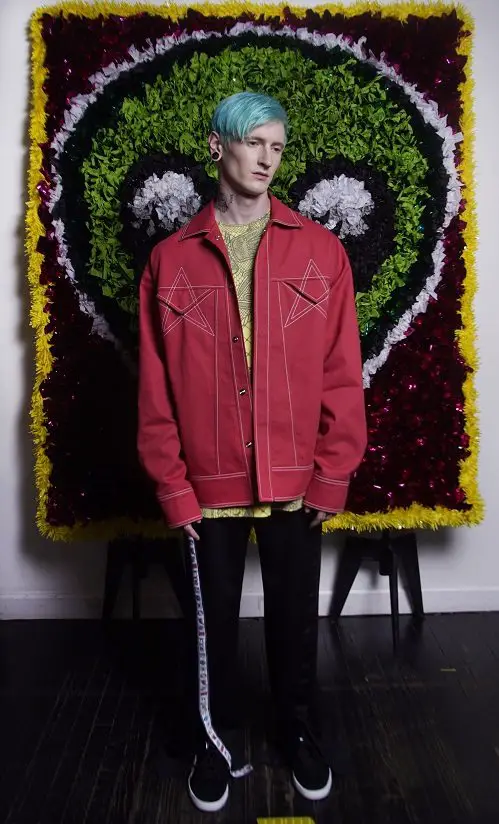 If, one day, we all live on space stations — or in cyberpunk super-cities as envisioned by William Gibson or Philip K. Dick — we'll probably be dressed up in KYE.
The show happened at Mercer Street: home to the cobblestone streets where hipster kids and fashion hypebeasts casually stroll, while paparazzi scoop up the best of the best street style photos.
Mercer Street is also home to VFiles, the ultra-hip showroom "boutique" where designer Kathleen Hanhee Kye launched her latest collection.
And what a collection. KYE delivered a brilliant, wearable streetwear line with clean silhouettes, tasteful color-blocking, and smart, relaxed layering. Teal, bright red, mustard, and blue were used with materials such as mesh, silk, and various jerseys. The jewelry collection was in collaboration with Korean brand Vintage Hollywood.
The futurism — or perhaps present-ism — of Kye's collection is said to pay homage to our self-publicized selves: our carefully constructed, 2D doppelgänger that inhabits social media, disguising any hint of alienation or loneliness. But although grand ideas often exist to disguise a lackluster collection, in the case of Kye, the collection rides above the big ideas by creating an authentic space of its own in the 3D continuum of couture.
The collection rides above the big ideas by creating an authentic space
 
Tomorrow Couture
 
[portfolio_slideshow id=19571 align=center width=699 click=advance thumbnailsize=40 showcaps=false]
Attendees included fashion stylist and model Aleali May, model Jordyn Woods and model-slash-cool-girl DJ Callie Reiff. Chilled Babe Rosè was served to sip on while browsing the studded, pop art collection.
The collection proves Kye is a force to be reckoned with.
And VFILES always comes correct.
##
Learn More
With love,
FWO