---
NYFW: The Revolution Continues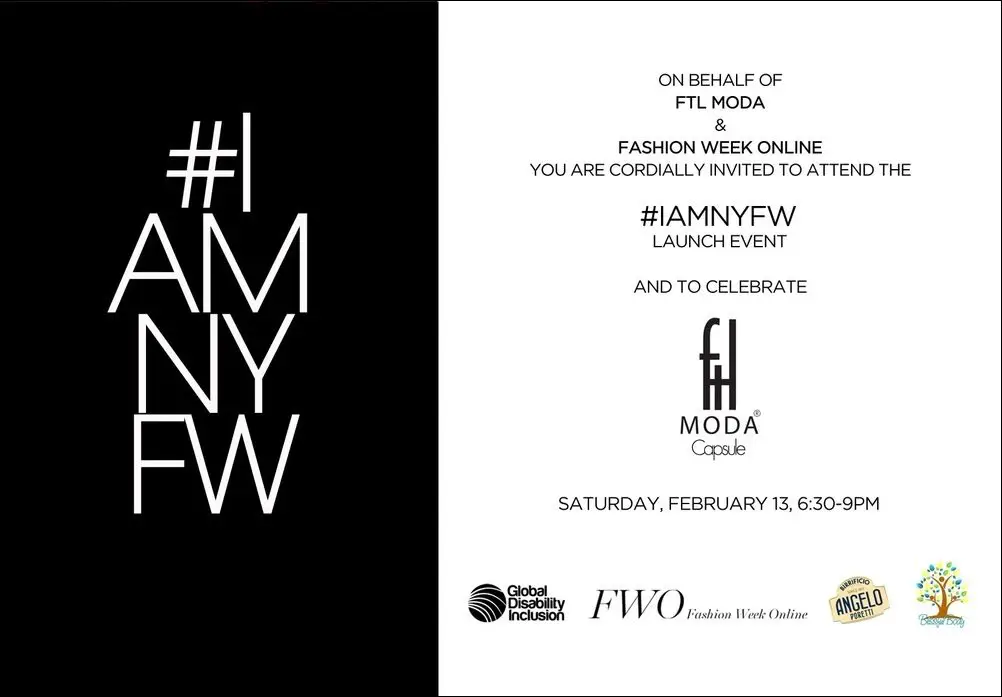 Invitations will soon be going out for the #IAMNYFW pre-show event with FTL Moda and Fashion Week Online, in conjunction with the Global Disability Network.
We've been talking about a beautiful revolution in the fashion industry for some time. "You are beautiful." "The Age of Us." No matter how you slice it, "inclusivity" is the watchword, with an emphasis on being true to yourself.
It's a trend fueled by a new sense of acceptance, culturally led by everyone from Amy Schumer to Caitlyn Jenner to super-blogs like Man Repeller.
"Inclusivity" is the watchword, with an emphasis on being true to yourself.
 
The Revolution: From Models With Down's Syndrome To Body Acceptance
The trend has come to fashion in a big way: This the era of your style. Your look. Your body type. Even, your "disability."
At the forefront of this ideal has been FTL Moda, which will be turning 10 in 2016. They've featured models such as Madeline Stuart, the model with Down's Syndrome, Jack Eyers, nominated Man of the Year by Men's Health Magazine, Rebekah Marine, the "bionic model," and Shaholly Ayers, the first model to walk in NYFW without a prosthesis.
Shaholly — a congenital amputee — suffered horrible bullying when she was a child. At age 18 she left her native Ohio to become a role model for the many who would have never believed they had a shot in the industry. She is also a 2016 brand ambassador for Global Disability Inclusion, who has partnered with FTL Moda for the past two years to bring disability to NYFW. Shaholly's journey has been shaped by this partnership and she has modeled in New York and Milan Fashion Week, as well as for Nordstrom and Wilhelmina.
These models have already paraded to showcase emerging and established international designers to general applause and industry appreciation, garnering press in everything from Vogue Italia to US Magazine to Cosmopolitan to E! Online, Today.com … among many others.
FTL Moda is preparing for its FW2016 runway presentation of international designers at New York Fashion Week on February 15th.
#IAmNYFW EVENT
FTL MODA will be celebrating the launch of a new Midtown Manhattan showroom, and kicking of Fall Winter 2016, with its new "#IAmNYFW" pre-show launch event, on February 13th, to be attended by Shaholly Ayers and Rebekah Marine. The event will be realized in partnership with Carlsberg Italia, introducing the Birrificio Angelo Poretti label to the US market.
Although the event is primarily industry focused, some tickets will be available for the general public, so stay tuned. After all, you are #NYFW, too.
##
With love,
FWO