All images from FTL Moda
The Romanian Hub at FTL Moda project in the US continues to grow, season after season, and to mark the journey of a few incredibly talented designers who took the lead in showing the cosmopolitan and contemporary vision of fashion from a country notoriously famous for its high-quality manufacturing capability.
During Coterie we sat together with a few of them, at the beautiful Romanian pavilion organized by FTL MODA for the world-renowned trade show, in collaboration with FUTURE IN TEXTILES, a consulting firm directly at work with the Romanian Government for high profile projects of the fashion and entertainment industries.
The Interviews
Irina Schrotter
Q: We see a lot of classic yet edgy items in this collection. We love how the two coincide in your pieces. What was your inspiration for this season's look?
For this season we took our inspiration from the very lifestyle and way of dressing of the women who wear our brand. We took into consideration what they do, what they like and most especially the items they like to wear on a day-to-day basis, and added a little cool and glam to those things — because above all, we value our customers' opinion and how they feel in our clothes.
we value our customers' opinion and how they feel in our clothes
Dorin Negrau
Q: Your collection is elegant with a pop of color (mostly black, white, red, yellow). Is there a reason for these specific colors? Can you also describe the inspiration behind the lovely embroidery on some of your pieces?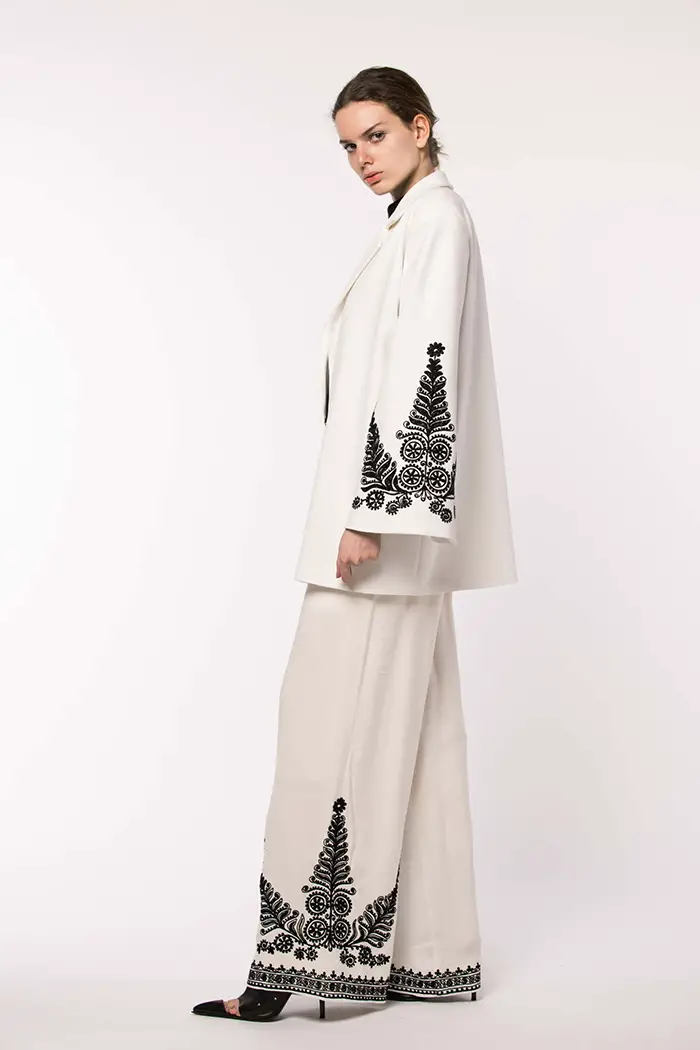 The DN woman needs to be stylish but still comfortable in the fashion season. Black is the signature color of the Dorin Negrau brand, since I think it empowers women in general.
I think black empowers women in general
In terms of colors, this season FW 19 also showcases red coral, yellow papaya, green ground, gray and white. In this season's The Elegance of Embroidery collection I reinterpreted traditional patterns from Transylvania where women learned to embroider as they complained about men dressed as the dreaded and elegant vampire Dracula.
Thais & Stroe
Q: You say that "the clothes are designed to transmit emotions, to be comfortable, to offer coziness and make the person who wears them feel powerful." What type of emotions are you trying to transmit with this particular collection?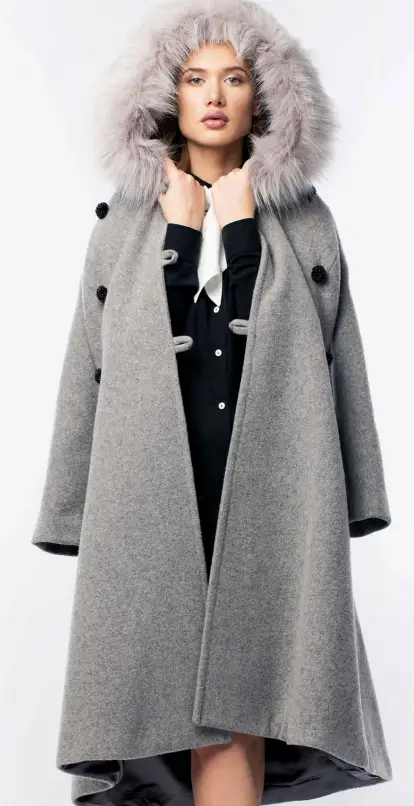 Our brand new AW19/20 collection is made of garments created from natural fabrics. The clean cuts and neutral colors will make women feel confident and powerful.
In a world where you can have everything and nothing impresses you anymore, we want to bring back the excitement. Excitement regarding the small things, excitement of living and having the opportunity to be who you want to be.
And clothes have this amazing role in our lives — they can influence our mood and the way others perceive us. Therefore, with this particular collection we want to transmit emotions like hope, excitement and confidence.
we want to transmit emotions like hope, excitement and confidence
Passion by D
Q: You state, "Each woman must enhance her femininity daily, thus feeling more comfortable, more free and more secure." What exactly do you describe as "feminine"? How does a woman feel more comfortable when she feels feminine?
Femininity is all that distinguishes us from men. We were created as women and we shouldn't forget that.
Nowadays women are being taught by society to be more like men, to work more like men, to dress more like men. But the truth is that we are more powerful in everything we do when we act as women. And clothing is part of that side. Because when you are dressed in a way that you like what you see in the mirror and fell comfortable also, then for sure you'll experience a good state of mind all day long. And your day will be nicer and easier, even if is difficult or you have to deal with lots of deadlines.
Then my goal is to make each day happier and easier for the women that do not forget to enjoy themselves.
Hardcore Fashion: 7
Q: In this collection you feature both men and women, is it right to call this collection androgynous? We think your brand is revolutionary and important. Do you agree? How do you feel like your brand fits into the current trend of exploring gender expression?
Originally my creations were designed for men. Some of my designs are the combination of masculine and feminine characteristics into an ambiguous form. I've always wanted to be original and to have something no one else has.
My clothing items are actually designed to give an impact at first sight. "Unisex" took on a totally cosmic dimension, referring to a "future" where everyone would have a shaved head and high-tech gadgetry in lieu of gender signifiers.
HARDCORE FASHION is really that mix between quality, innovation, comfort, and unique style.
Braiconf
Q: Your brand is characterized by unique patterns and strong colours. It is truly beautiful and original. Where do you find the inspiration for your designs?
We live în a wonderful world full of joy and happiness. All these and the colours of nature inspired us to create the designs of our lively collection.
Petite Coco
Q: We see that you have been featured in multiple magazines and have cast diverse child models. What effect do you feel this has on other children's brands? How do you feel this reflects the recent changes in the fashion industry regarding diversity?
We really appreciate the fact that the fashion industry tries hard to embrace diversity. The way the industry presents kids fashion collections can be very especially meaningful, because we can help kids to understand really early in life that diversity is natural and beautiful. Fashion is representative for all humans and it's a great way to get the message across.
we can help kids understand really early that diversity is natural and beautiful
Most probably, all the children's brands are beginning to head the same direction, so we are glad if we can be an inspiration for some of them. We don't think that any brand can be outside of this direction in the future.
MEWS
Q: Your website says "MEWS reflects their story more than anything else. It's been a natural evolution: years of experience in fashion and retail led them to open their own multi-brand men's shop in Palma and then several more as time went on." What can you tell us about this evolution? How has your brand evolved lately?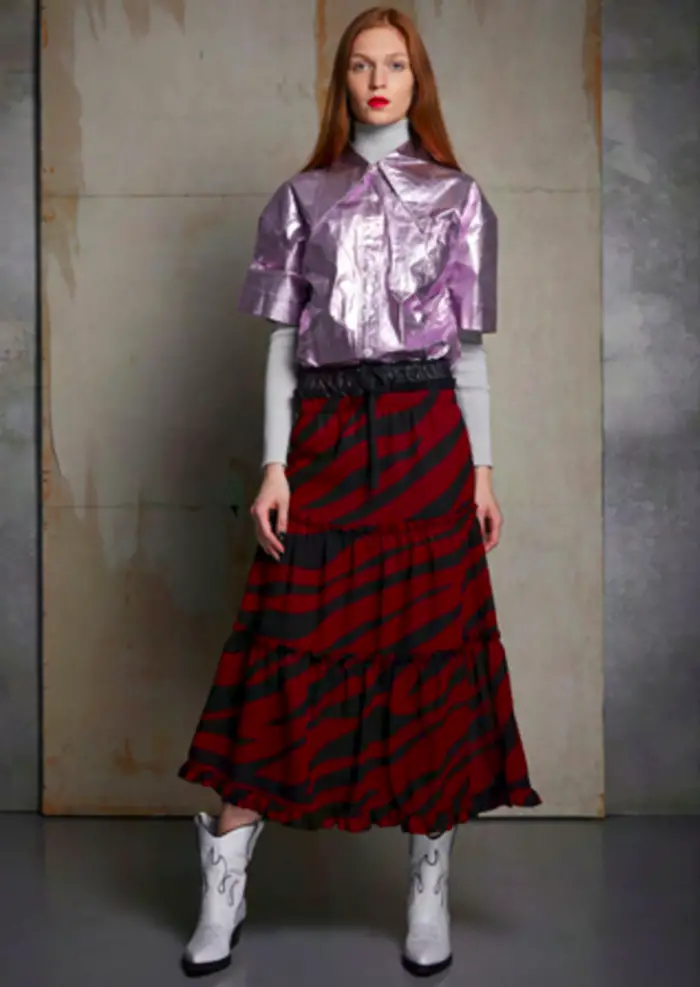 Known for working with Alexander McQueen, Givenchy and Paule Ka, Venera Arapu created her eponymous brand in the late 1990s.
The peculiarity of our line lands in the concept that is both conceptual and commercial. Her garments have filled the rails at Galeries Lafayette in Paris, multi brands across the globe and its own corner at NYC's Barney's. In general, Venera Arapu's brand is strongly established at the international level, with a focus on the Middle East, and Europe.
The concept driving the collections to come is one of visual impact. It incorporates digital technology and it is a representation of post-modernity.
In 2018, as a result of creative vision and fruitful cooperation between Venera Arapu and Musette (one of the leading Romanian labels of high profile footwear) the new label MEWS was born.
MEWS is description of a versatile collection, a "total look meant" to dress and fit all ages, 30 to 65, why not?
MOJA
Q: Your latest collection is beautiful. A mix of flowy pieces that add elegance and fitted ones that add femininity. What do you feel most shaped your designs? How does that differentiate from previous collections?
At Moja we work keeping in mind the world of women nowadays. Women who are passionate, sensual, feminine, and yet practical, strong, powerful. Women with a busy life, who need to go from a work appointment to a cocktail meeting.
We strive to create a product that is not only stylish and appealing, but also comfortable and reassuring. A "go to" footwear for amazing women.
Papucei
Q: The story of your brand is incredibly interesting and inspiring. Since its founding after the revolution, your brand has maintained a love for the shoes you produce that is obvious in its style and quality. What drives you to love the brand so much? How do you see the brand evolving in this season?
My passion for designing and crafting shoes grows and goes along with the desire to offer my established and potential clients the best quality possible.
Also, the feedback I have been receiving throughout the years has always been a good guide and motivation.
With every season and collection, new challenges, directions and ideas arise, not only from a conceptual and stylistic point of view, but also from a technical one.
The surprises that show up within the process of preparing each collection only gives new impulses and makes me and my team more daring. In the new season to come I hope to carry on with what I have started, hoping to surprise, ready for surprises and for new directions to take on.
##
Learn More
With love,
FWO