If you are like most adults, chances are you are spending most of your time watching a digital screen. Of course, many of us have been tethered to our digital devices for years, but after the pandemic hit, nearly every aspect of life went online.
It didn't take time for people to be concerned about overexposure to the blue light. While we are surrounded by blue light all the time, the excess use of digital screens has only accelerated its effects.
Seeing how people are investing in watching screens of digital devices, the popularity of blue light reading glasses has skyrocketed.
What Are Blue Light Glasses?
Blue light glasses are said to be made with special lenses that reflect or filter out the blue lights coming from the screen. These glasses are marketed as reading glasses that protect your eyes while you read content on a digital screen.
Companies that offer blue light glasses claim to protect your eyes from any damage and reduce stress while reading. In fact, with add-ons, you can add additional features like anti-reflective and anti-scratch coating.
Blue light reading glasses are meant to protect your eyes with blue light coming from the screen, and hence, they are often bought without any prescription.
Why Do You Need Blue Light Glasses?
Many people think that too much exposure to blue light can permanently damage your eyes or increase the risk of macular degeneration. However, research has found no such evidence to prove the claim.
According to the American Macular Degeneration Association, there has been no evidence that blue light has posed any threat to the eyes. And therefore, any claim made by the eyeglass companies about protecting your eyes from blue rays from the screen isn't accurate.
However, it is true that excessive exposure to blue light can certainly impact your sleep cycle and reduce the strain on your eyes.
In that context, having eyeglass that protects your eyes from blue light can help reduce strain on your eyes and headaches and maintain a healthy sleep cycle.
Choosing The Right Blue Light Reading Glasses
When you are ready to Buy Blue Light Reading Glasses, there are several things that you need to keep in mind. The first thing is that you need to check its magnification. Second, seeking is the quality of glasses. Thirdly, you must be aware of where to and not to use these reading glasses.
Once you are clear about these three points, the next thing is to choose reading glasses for yourself. While these three factors stand true to any reading glasses, the other factors we are about to discuss will be different for different people.
When choosing the right blue light reading glasses, most people will simply go with their personal taste without considering the glasses they will look for.
Whether you are looking for your first pair of reading glasses or just need an upgrade, it is important to know the relationship between your face and glasses.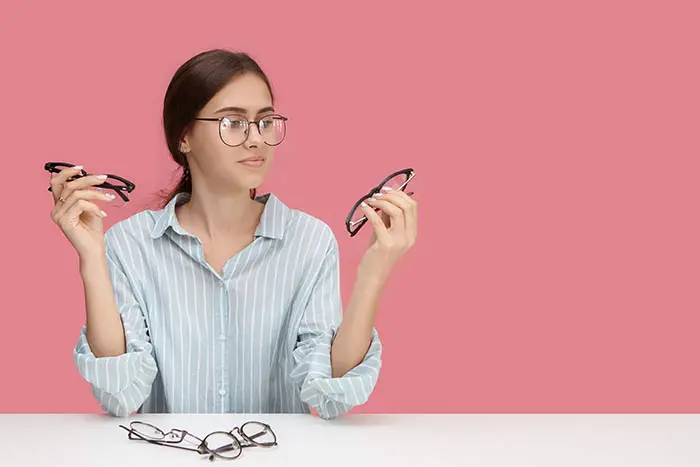 Face Shape
When you start selecting the right frame for your face, the shape and size of the face matter. The type of face you have will play a detrimental role as to which frame will look great on your face.
Perhaps the following will give you a better idea of what we are talking about.
A diamond face is perfect with rimless or semi-rimless frames.
Having an Oblong face, a frame with more depth than the width will look outstanding.
Anyone with a square face will look nice in round or curved frames.
Anyone with a round face will look good with frames having corners.
Eye Color
If you love art, then you know the importance of frames. It is the frame that draws attention to the center of the painting. In the same way, if you want to bring attention to your eyes, you need to pick the right glass frame.
For instance, oranges sit across the blue. While these two colors might look odd together, if you have baby blue eyes, going with an orange frame can help draw attention to your beautiful eyes.
Follow these tips to highlight your eyes –
Gray eyes sparkle like diamonds behind the blue-tinted frames.
Green eyes look like emeralds behind brown and purple.
Hazel eyes look gorgeous behind dusty pink.
Hair Color
Glasses help you complete your overall look. So, there is no way you are not going to factor in your locks. Balancing your hair color, skin tone, face shape, and eye color will help you find the perfect blue light reading glasses to achieve a memorable and fashionable look.
Here are a few recommendations that you can look into.
Hone or dark blonde – can rock brown and pink glasses.
Warm brown – looks nice in red, green, and gold.
Black hair – just go with anything.
Skin Tone
With so many skin tones out there, thank god, all the skin tones can be broken down into two different tones – Warm and Cool. A skin tone is considered warm when it has a yellow cast or a peach-colored look. On the other hand, a cool complexion comes with pink or blue undertones.
When you choose frame color, it is important that you choose one that complements your skin tone. If you are in a warm tone, go with khaki, orange, bright red, or similar at the same time to perfectly go with your skin color.
However, if your face is of a cool tone, going with pink, amber hues, jade, black, and a similar tone might be a good choice.
Find The Perfect Stylish Glasses Today
Now that you have a better understanding of what blue light reading glasses are and how to find the perfect reading glass for yourself, the next step is actually to look for blue light reading glasses.
Scour through the internet to find the perfect match for your face and needs. With the latest technology of virtual mirrors and 3D face technology, you can see exactly how the glasses will look on you.
That being said, we conclude our article here. If there is anything more you want to know about blue light reading glasses, drop your queries down below. We will ensure every query is answered.
##
With love,
FWO