Audrina Patridge's Prey Swim
Prey Swim hosted their first Miami Swim Week runway presentation this past weekend at SWIMMIAMI, debuting their Resort 2018, and Pre-Fall 2017 collections along with looks from Summer 2017.
The runway show featured the brand creator and designer Audrina Patridge's visions come to life, transporting the viewer to the South of France, South America, and Marrakech through the line's exotic designs, colors, and figure flattering styles.
the collection transported the viewer to the South of France, South America, and Marrakech
Audrina closed the show rocking a sexy sheer bodysuit and netted skirt combo, paired with ShoeDazzle strappy heels, and layered jewelry by Luv AJ, Les Deux, Briwok, and Alisa Michelle, hand-in-hand with model Sierra Skye, both donning waved locks by Sarah Potempa's The Beachwaver Co.
 
Prey Swim
[portfolio_slideshow id=33322 align=center width=699 click=advance thumbnailsize=40 showcaps=false]
 
The models walked out to tunes by DJ Jessica Who, transporting them to each exotic collection location. Other notable influencers in attendance front row included supermodel Tyson Beckford, Khloe Terae, Kier Mellour, Sarah Potempa, Roman Palumbo, Harmony Carter, Carmen Carrera, Nick Montealegre, Alana Greszata, Seth Browarnik, and Audrina's sister Samantha Patridge, who cheered her on from the front row.
About the Collections
The Joya Collection (Resort 2018) – Known as the mecca of understated boho fashion during the 1970s, Peru is the main inspiration for the Joya Collection (means jewel). From its exotic fruits and flowers, Incan ruins, colonial palaces and indigenous designs, the muted jewel tones and geometric shapes, plus the rich layering of textiles, have been meticulously applied to make this one of Prey Swim's most sultry collections yet. Featuring custom Peruvian inspired prints, the color palette incorporates pink, red and blue shimmers, glittering gold, matte black and smokey gray, along with animal prints that attribute to beautiful South American wild cats.
The Riviera Collection (Pre-Fall 2017) – Prey Swim's Riviera collection evokes the alluring coastline and glamour of The French Riviera during the 1950s and 1960s, when it was the crown destination for elevated tourism by Aristocrats, Actors and Bohemians alike. This collection is dedicated to the woman with effortless style and an insatiable desire for inspiration and relaxation, featuring hand-drawn prints, decadent colors, and new custom silhouettes such as The Biarritz deep v one piece, The Grace Top, and Bardot Bottoms – high waisted French cut bottoms with rear bow.
The Marrakech Collection (Summer 2017) – Prey Swim's signature styles, which continue to be available through summer 2017, draw inspiration from the colors and textures of 1960s and 1970s Marrakech, The Rolling Stones, and designer Audrina Patridge's captivation with the influence of this artistic time period and city, reflected through the prints and silhouettes created. The line's signature St.Tropez one-piece continues to be a best-selling style as well as the fringe embellished.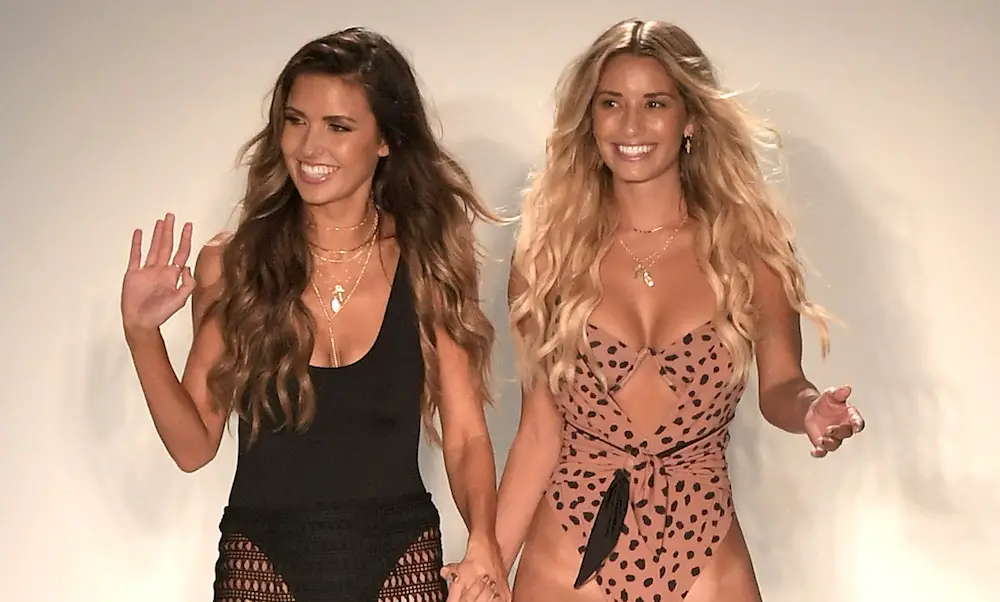 "We are so excited to show Prey Swim to Miami Swim Week!" said founder Audrina Patridge. "This is something I dreamed of when planning our initial brand debut, so to be showing here so soon after launching is a dream come true. There are so many amazing swim designers showing collections that I have been a fan of for quite some time, so to be showing my line in their company, as a fellow swim designer, is an honor. Miami is such an amazing city with so many incredible cultures represented, so it is the perfect setting to showcase our Prey collections which draw inspirations from cultures and countries all over the world."
to be showing my line in their company is an honor
The show featured a slew of sun-kissed models and swim influencers such as Sierra Skye (@SierraaaSkyee), Ashlen Alexandra (@AshlenAlexandra) and Tiffany Keller (@TiffanyKeller) rocking Prey's new suit silhouettes, paired with platform sandals by ShoeDazzle that perfectly complemented the collections (ShoeDazzle.com). The runway looks, styled by fashion stylist Ali Dariotis in collaboration with Prey Swim's brand director and technical designer Kat Zepeda, were accessorized with jewelry designs by Luv AJ, Alisa Michelle, Les Deux, and Briwok with hats by Gladys Tamez Millinery and sunglasses by Wildfox.
For hair, celebrity hair stylist Sarah Potempa of The Beachwaver Co. created the perfect collection-inspired runway look featuring tousled long waves, in collaboration with Hair Stylist Adam Bogucki of Living Proof. Models showcased makeup by Stroke of Beauty led by Makeup Artist Amanda May, and nail designs by Deco Miami Nail Lacquer. Audrina's makeup was by Tony Touch.
##
Learn More
With love,
FWO