Thrifty Business
Most people are poor when they're young. Or at least the lucky ones are, anyway.
Being poor has a curious benefit not often heralded in our riches-obsessed culture, where we marvel at celebrity suicides and meltdowns as if they were a violation of our religion that more, by definition, must be better.
More attention. More likes. More followers. More praise. And — of course — more money.
I don't think I'm cut out for these shows, which is probably why I look like a lunatic in the audience. I loved my vintage Courrèges visor, and the outfit made for me by brilliant Lithuanian designer Inga Skirpka, but all I can really do at these things is wish the show would start so I could see the clothes, then get the heck out of there.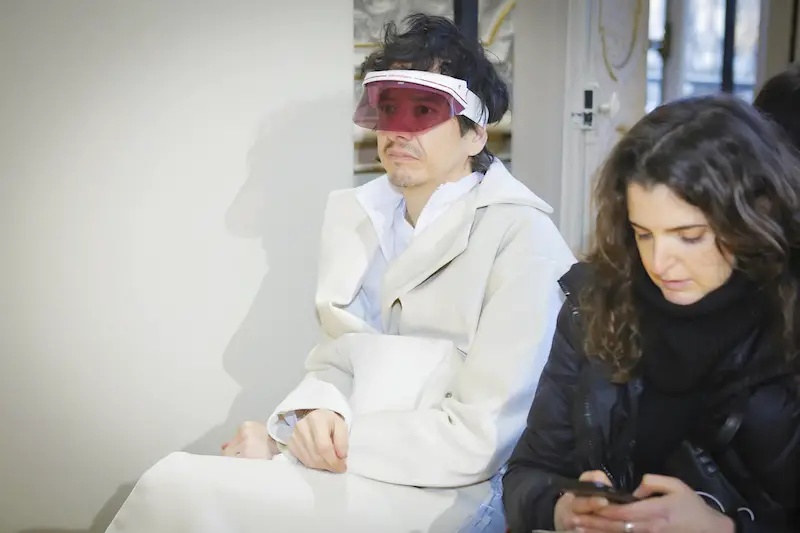 The soundtrack was "Goody Two Shoes" by Adam Ant, mashed up with some Sex Pistols. (Last season it was Oasis from Definitely Maybe, back when they sounded like a weird Beatles-Pistols hybrid.)
 
Walk on the Child Side
[portfolio_slideshow id=27200 align=center width=600 click=advance thumbnailsize=40 showcaps=false]
(Photos: NowFashion.com)
Sometimes it takes a bit to piece together a collection, to the find the unifying elements (especially in the absence of any show notes — a bold move on Bill Gaytten's part) and that can be a good thing.
For AW17, Gaytten worked with a palette of textures, colors, and fabrics that seemed to have been gathered from thrift stores, and assembled with the help of pure imagination and ingenuity. There was a charm and innocence to the collection that belied the brand's luxury status, recalling a bit of Vivienne Westwood's walks on the wild side, breathing in a world unfettered by rigid classifications.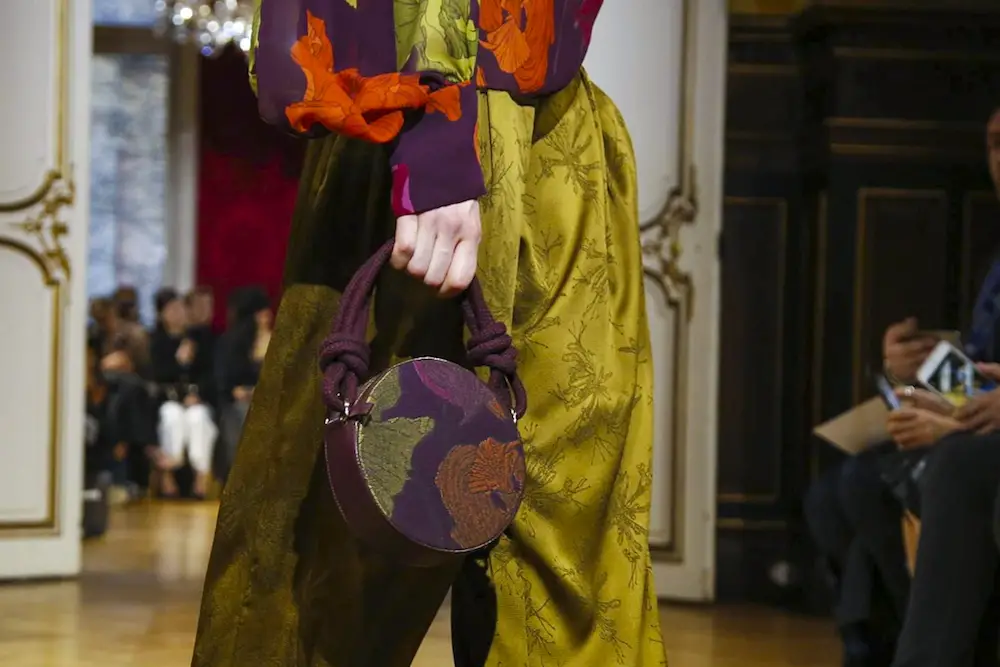 One of the great joys of being poor — not destitute, of course, but having a normal and necessary struggle to create and sustain your way in the world — is improvisation, compromise, forced slowness, and appreciation.
Anyone who has been young knows the joy of discovering treasures in vintage stores, and finding ways to combine them in ways that work, even while they enable dreams of better things to come.
Indeed, savoring everything is one of youth's great joys, and paves the way for greater appreciation later.
Savoring everything is one of youth's great joys.
The new Fall-Winter collection — with its quirky curtain-cut patterns, antique ruffles, clunky shoes, and enveloping silhouettes — spoke to that rebelliousness, that privation, that magical era of youth where things are difficult … even as we don't know how good we have it.
##
Learn More
With love,
FWO