Publishing positions you as an industry expert and leader, creating a competitive advantage, and can drive more traffic to your website or social media profiles, leading to more sales, increased revenue, and more.
hiTechMODA is known for publishing its designers, models, and sponsors. We are the only Independent Fashion Show with a dedicated Fashion Week Online channel, an industry magazine (The Industry Magazine), the ability to publish in higher-end luxury fashion publications, placing designers on Getty Images online (which pushes out to other online sites, and distribution), and providing an opportunity for post-event press coverage in top fashion magazines.
Fashion Week Online®
Featuring your business, brand, or product on the Fashion Week Online Channel, an exclusive New York City brand with millions of international viewers, creates awareness for your brand and establishes credibility. It is a signal of 'arrival.' Initially shown on the home page of Fashion Week Online in the 'First Looks' section, your feature is also top of the page on hiTechMODA's channel. Because of hiTechMODA's unique relationship with Fashion Week Online, we can make this available to our designers, models, sponsors, and others in the fashion industry.
Getty Images Online
Finding yourself or your brand on gettyimages.com is a thrilling experience for anyone. With NYFW hiTechMODA being one of the only independent fashion event producers and having Getty Images as the house photographer for all major hiTechMODA productions, there is a great chance you will find your brand on the pages of gettyimages.com.
https://www.gettyimages.com.mx/editorial-images/entertainment/events/775937363/child-events
After Event Publication
The Industry Magazine
After each fashion event, hiTechMODA publishes The Industry Magazine, a magazine read by people worldwide. Fashion looks from each runway are featured, along with glimpses from behind the scenes that go into making a successful fashion production. Having an ad or being featured in the magazine can help raise awareness of your brand and increase its visibility. Advertising opportunities are available to the public.
Cover and Designer's Feature: Sonal Couture
Iconic Fashion Publications
hiTechMODA provides designers from all our productions an opportunity to publish looks straight from the runway to the pages of international iconic fashion magazines such as Harper's Bazaar and Elle.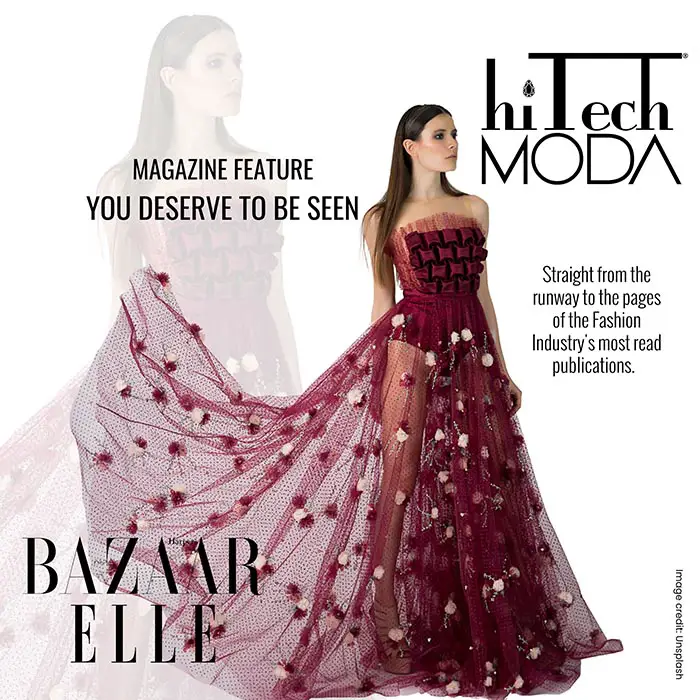 Press Release
hiTechMODA provides designers from our big four productions an opportunity for after-event press releases to over 20,000 industry press, with a guarantee of publication in three top-tier industry magazines.
Fashion Anytime – All the Time
For those looking for even more exposure, we provide high-end Publication Opportunities in major industry magazines such as International Harper's Bazaar, Glamour, L'OFFICIEL, and many more! The opportunities are robust and varied.
Jose put in an email us button that goes to opportunity@hiTechMODA.com
About hiTechMODA
hiTechMODA is an award-winning fashion show producing its 10th NYFW this coming September 2023, with a high-profile stage to maximize exposure for its sponsors, designers, stylists, and models. They aim to inspire, empower, discover, and encourage fashion talent worldwide by providing a professional, affordable runway with high-quality production at a state-of-the-art venue. NYFW hiTechMODA Season 10, September 2023, will be their 18th production, and Paris hiTechMODA Season 2 (September 2023) will be their 19th production and third international Event.
About hiTechMODA Producer, PS Privette
Privette is an award-winning producer with over 18 years of experience in industry production and ten years in fashion production. Her diverse professional career experiences have allowed her to adapt and excel in many industries. With a keen understanding of the latest trends and the ability to keep the company agile, she can stay ahead of the status quo and lead the company to the forefront of the
industry. An American disabled veteran, PS Privette served 20 years in the United States Coast Guard. She gained additional experience in the industry by successfully guiding her daughter to become a successful professional New York City model.
Upcoming Shows
July 21, 2023
Orlando Swim Week, Season 3, Hilton Buena Vista Palace, Orlando
July 22 & 23, 2023
hiTechMODA Orlando, Season 3, Hilton Buena Vista Palace, Orlando
September 8-10, 2023
NYFW hiTechMODA Season 10, Gotham Hall, Manhattan, NYC
September 29 & 30, 2023
Paris Fashion Week, Season 2 SARL Salon Des Miroirs
##
Learn More
With love,
FWO