This
Is Your

Edit
Here Are Your NYFW Favorites
Here it is. Your "edit." 
Okay: New York Fashion Week is not a competition. But the simple fact is, not everyone can "love" everything equally, all of the time. (Just ask Anna Wintour, who's made a career out of making frank choices.) But the good news is, sometimes, people do want to show a little extra love. And that's where you, our readers, come in.
So with that aside, the voting has been closed, and here they are, for Spring Summer 2016: the ones you loved to "love" — and loved to watch, regardless of whether they ended up being your favorite.
Here are the ones you loved, and loved to watch.
While you're at it, be sure to take a longer look at some designers who may be new to you. Because they might be right here: in the Top 10.
Some designers who may be new to you are right here: in the Top 10.
 
Top 10 Most Loved
 
Here are the NYFW shows that made you smile, whisked you away to a magical land o' dreams, or just caused you to say a small, inward "hurrah." (A minimum of 15 "loves" was required.)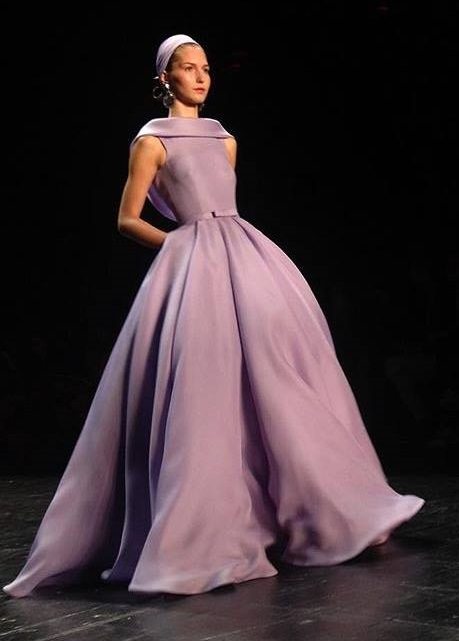 1. Naeem Khan
There was almost universal love for the Mumbai-born designer whose timelessly elegant NYFW collection would make Cinderella blush.
Reader Comments
"One of my favorite collections for the S/S 2016 season!" — Monica Hampton
Click the designer's name to watch the replay.
The American label from by Mark Badgley and James Mischka presented an imminently wearable NYFW collection that was at-once youthful, inventive and timeless. This was a collection that would be equally at home at the opera, having brunch with friends, or while strolling the Avenue George V. (You, wearing the collection, we mean. Not the clothes all by themselves. That would be kind of cool, though.)
The legend continues, with a collection that evoked Old World glamour and stayed true to its Dominican namesake's roots. The man may be gone, but the tropical-by-way-of-Spain, Hispaniola looks live on, under Creative Director Peter Copping.
Herrera's collection was svelte and minimalist, with sunglasses that seemed to combine Paris chic with just a touch of steampunk. (We know: it made us kind of nervous, too.)
Wylde's collection was decidedly American, with elements of '70s and '80s vintage rock-chic. When you bring your Rubik's Cube to the disco, better be wearing Thomas Wylde.
When you bring your Rubik's Cube to the disco, better be wearing Thomas Wylde.
Reader Comments
"Amazing — smart, sexy modern! 10 10 10!!" — Marta Jamison Chaner
"Beautiful and fashion forward!!" — Oa8PtEInHr
6. Givenchy
Givenchy gave the most memorable presentation of the season (with the exception perhaps of Prabal Gurung's 30 monks: see #10). Certainly the most lavish (and rumoredly expensive) production of any NYFW to date. The collection also included menswear, prompting extra love from readers.
The collection was carried by Fritz Lang-inspired, 1920s-era Art Deco embellishments. But it was the ornate Byzantine face masks that really pushed Tisci's latest collection into the stratosphere.
Reader Comments
"I'm really liking the men's suits." — Tony
"This is a statement, that must make people all over the world think. The most beautiful statement ever made in the fashion industry." — Kirse
"This collection is so romantic and elegant! Joan definitely sported the night's best piece." — Michael Carr
"Just beautiful! One of those WOW moments." — Jade
American designer Valvo presented a smart, balanced collection made up of his signature evening-wear and high-end cocktail dresses, with some sharply cut menswear pieces for good measure. It's no wonder the designer has a best-selling swimwear line at Victoria's Secret.
We loved Bibu Mohapatra's breezy, colorful, fun collection. (So did Michelle Obama on her recent trip to India.) And so did readers.
Reader Comments
"Just love it, it was made for me." — Dulce Irber
Although Max Azria's BCBG collection wasn't received as strongly this season as last, there was a lot of love for Hervé Léger, and a lot to love. A sexy moog number provided the musical backdrop for a geometric collection with Azria's always gorgeous patterns and silhouettes.
Reader Comments
"Always a fashion week favorite!!!!! The line never fails to disappoint me. In awe from start to finish. The details are to die for!!" – Michael Carr
Our 10th favorite show (of 272 shows, no small feat) — as chosen by readers — was by Nepalese-American designer Prabal Gurung. Showing the wearability that brought him to Target, his collection was introduced by 30 monks from Tibet and Nepal, assembled with the help of the Dalai Lama (no less). The collection itself was minimalist, sleek and sexy, with Eastern-inspired fabrics and patterns reminiscent of 1970s fabric art.
 
 
Top 10 Most Watched
 
Just seeing how many "loves" these designers had should give you some idea of just how popular they are. Givenchy, on their first New York Fashion Week appearance, was edged out by perennial favorite Alexander Wang's more poorly received collection … but not by much.
 
1. Alexander Wang (162 "votes")
Alexander Wang garnered mixed reviews — and a range of "loves," from "I'm Melting" to "Maybe Next Season" — for NYFW Spring 2016.
Reader Comments
"Wow, they're so tough and 'street.' We get it." — Jillson
"Honestly one of my favorites so far! Alex's enthusiasm and love for everything real and streetwear transcends. The music is great, the pieces are great, and I loved the tribute at the end! He's definitely had a great 10-year run." — Michael Carr
"Very old school feel and the music gives it a great intensity. I give it 5 hearts." — Tony
"LOVE IT" — Thomas E. Ruffin
"Just breathtaking! The fabric is exquisite!" — Deborah Netzela-Jenkins
 
4. Victoria Beckham (64 "votes")
 
5. Betsey Johnson (61 "votes")
For NYFW SS16, Michael Kors ended up with 3 hearts ("Warm Fuzzies"), at 59 votes. Viewers seemed to feel the collection was disjointed and unflattering. Although we aren't Kors fans per se, we saw an awful lot to like in this collection.
The instrumental version of Joni Mitchell's "Ladies of the Canyon" probably didn't hurt.
Reader Comments
"Disjointed and certainly not complimentary to the female body." — Jane Schlachter
"Yes and no … the no's outweigh the yes's though. There's soooooomething off about this … I can't put my finger on it." — Michael Carr
"Maybe Next Season Michael :(" — Tony
 
7. Monique Lhuillier (49 "votes")
 
8. Hervé Léger By Max Azria (48 "votes")
 
9. Carolina Herrera (47 "votes")
And here are the full results, for the archives: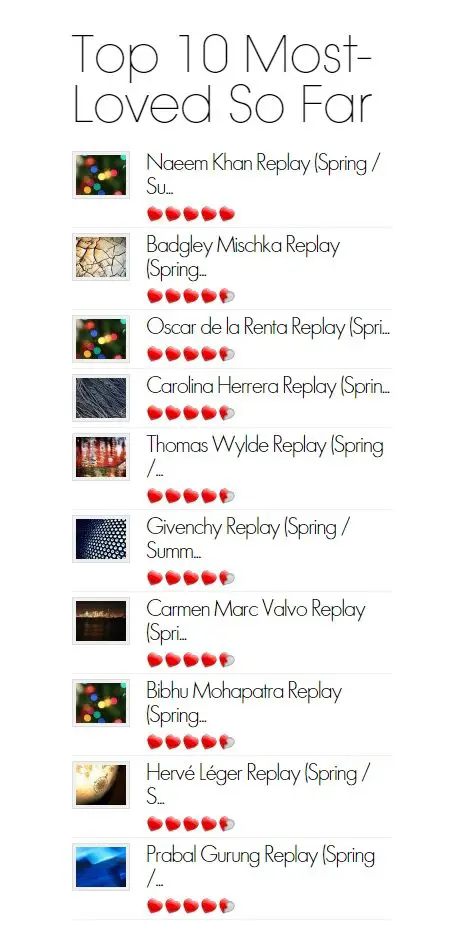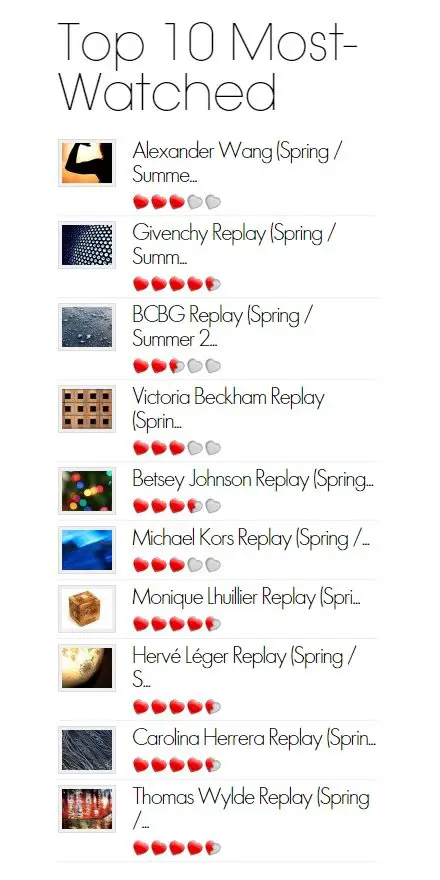 With love,
FWO