Six Australian Brands Take Over the Weekend at NYFW with Fashion Palette
Represented by The Riviere Agency.
Sunday at NYFW felt a burst of energy, as Six Australian designers hit the runway to a packed house at Pier 59 with the Fashion Palette. Australian fashion, known best for it's boho-chic, feminine, and carefree attitude, dazzled guests with refreshed and luxurious takes on classics for SS2020. Fashion Palette aggregates top designers from their home country of Australia to shine a light on each look on the NYFW runway. Brands included: Torannce, Dea the Label, House of Campbell, Portia & Scarlett, Made with Love Bridal, Sonya Swim.
Notable Attendees included: Miss J. Alexander (Top Model), Vina Mills (Recording Artist), Farrah Abraham (Teen Mom), Francesca Curran (Orange is The new Black), Sunny Malouf (Recording Artist), Sam Hurley (YouTube Influencer)
Sonya Swim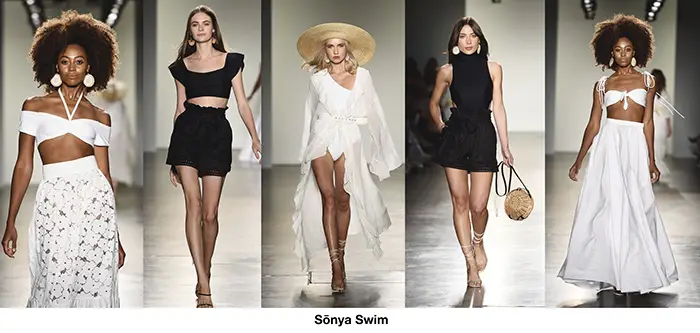 Founder of Fashion Palette and designer, Sonya Mefaddi, of Sonya Swim showed resort, swim, and ready to wear. Sōnya Swim is exotic, timeless and flattering swimsuits for women all over the world chasing the sun. Crisp linens, flowing silks, and chiffons made the audience want to jump on a flight for a holiday down under. Combining her years of fashion observation, with the x-factor she possesses, it was a natural progression for Mefaddi to utilize her creative skills, eye for fashion, and her love for the ocean into a namesake brand; Sōnya Swim.
TORANNCE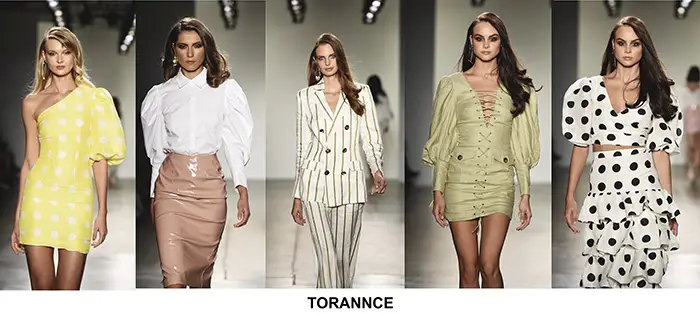 TORANNCE was established by Julia Torannce Hemingway, a Melbourne based creative, with a passion for the luxurious and the bold. The collection was inspired by the seaside Italian province of Cinque Terre. TORANNCE showcased a clear emphasis on quality, all garments are designed using premium materials, including high-end silks, ethically sourced leathers, sustainable linen, and beautiful, hand embellished materials. Avoiding trends and focusing on timeless fashion, TORANNCE aims to provide its consumers with a unique and masterfully crafted collection that will journey with you throughout time.
Made With Love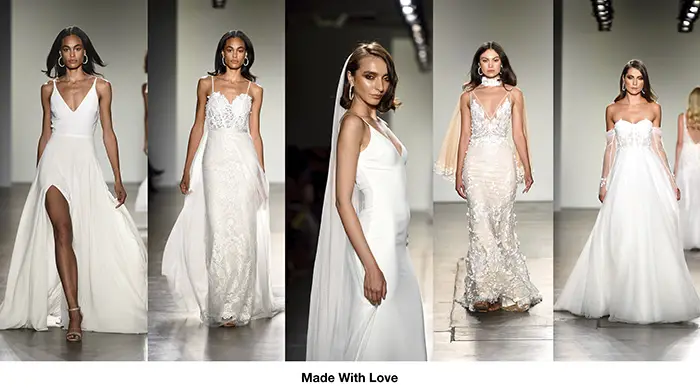 Made With Love is made for the fashionista bride. The family run business since 2013, is committed to making each dress with love. From small boutiques to over 100 stockists worldwide, MWL's ethos hasn't changed. "Our biggest desire is that our brides' natural beauty will take the spotlight on the day so we create designs that highlight their different personalities. Our #MWLgirls become part of our extended family." said designer, Carla Jenkins. The very best textiles like French crepé, silk chiffon, 3D lace, delicate tulle, hand-beaded lace and European laces all are woven together to create these works of art.
DEA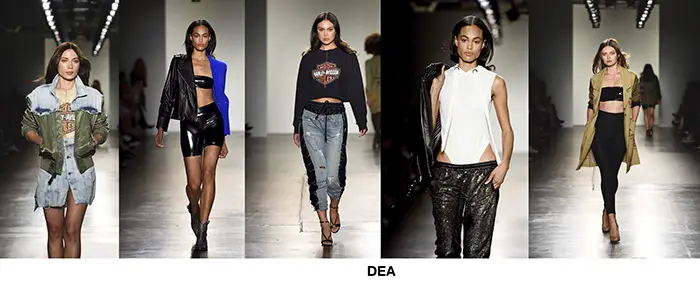 DEA is an independent womenswear brand, based in Melbourne, Australia specializing in tailored leather garments. Launched by Julian Ferro in 2010, DEA has seen incredible International success. DEA's global influences have translated into a fusion of everyday and modern-innovative core styles, and has now expanded to include DEA Vintage, including bold graphic t-shirts, sweatshirts, reworked leather and denim jackets – all packed with plenty of attitude, and the want to push the boundaries of contemporary style. DEA has taken treasures that were discarded, and brought them back to life with an abundance of fabrications whilst reinventing their original styles to replicate the transformative culture of underground Melbourne nightlife. The collection represents a modern gender fluidity, proving that clothing doesn't have to fall into a category of masculine or feminine.
House of Campbell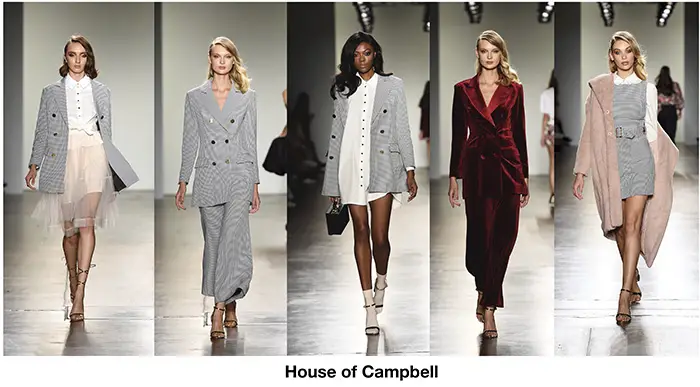 House of Campbell speaks to the leaders, innovators and visionaries – not simply fashion followers. We believe beauty does not exist in one size. Confidence is not found through comparison. House of Campbell's signature style, combining vivid, daring statement pieces coupled with soft, dreamy aesthetics, empowers women to tell their story. "Our commitment to tailored, well-crafted fashion means that we offer an inclusive sizing range, created to celebrate women of diverse shapes, ethnicities and lifestyles." said Creative Director, Abby Potter before the NYFW show. Abby thrives on quality standards and meaningful customer relationships. Through House of Campbell, she seeks to combine innovative, forward-thinking designs, aimed to embolden and disrupt, with accessible, sustainable fashion for all women.
Portia & Scarlett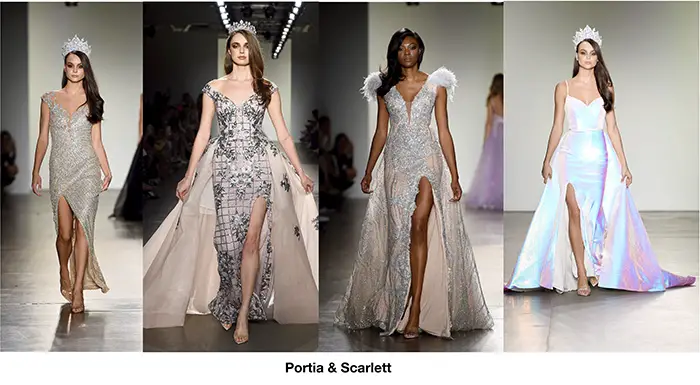 Last but certainly not least, Portia & Scarlett specializes in ornamented evening-wear esteemed by its unique, in-house designed prints, fabrics and impeccable silhouettes accentuating the allurements of a women's figure. The Portia & Scarlett philosophy is founded on affordable, luxury evening wear. Encrusted Lace and Handmade Crystal Mesh gowns hit the runway in lavender, rose gold, red and neutral tones.
About Fashion Palette
Established in 2009, Fashion Palette is an Australian fashion agency designed to help fashion designers expand their businesses via annual runway platforms by connecting designers with industry professionals, consumers, media and buyers.
Fashion Palette New York Fashion Week (FPNYFW) serves as a platform elevating and celebrating Australian fashion as a unique creative international platform, and reinforcing its integration into the industry by offering showcasing designers rare opportunities, tools, contacts and base to network and establish an abundance of connections within the global market.
FPNYFW has rapidly become a high-end, all-inclusive trusted international springboard, focused on establishing innovative independent Australian labels into the US market. Connecting designers with global buyers, media, stylists, bloggers and industry professionals to help designers gain a bigger slice of their market.
##
Learn More
@fashionpalette
fashionpalette.com.au
With love,
FWO