KIA STYLE360: Seeing Stars at New York Fashion Week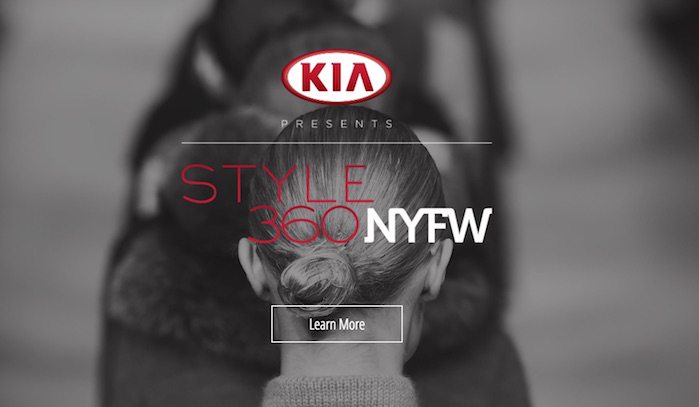 From Kanye West to Serena Williams to Rihanna, celebrities are making headlines as they take to the drawing table and runways. The amount of famous names joining the design world — and not as a presence in the front row, but behind the scenes of couture — is astonishing. The trend isn't new, not by any means, but it seems that fashion design as a form of expanding one's brand grows each season. But how is technology driving this trend: and fashion week as a whole?
We spoke to David Manning, owner of KIA STYLE360, who for 12 years now has played host to numerous celebrity collections, and been a launchpad for designers from Rodarte to Rebecca Minkoff.
Q: Why are celebrities deciding to move from the position of a spectator to designer?
This is not a new phenomenon, nor is it something we're seeing on a large scale relative to the industry.
What we are seeing is more talented artists partnering with a broader range of capable producers and companies with new distribution means (e.g., online vs. retail), which are creating new portals for success.
This paves the way for more and more celebrities to pursue their passions with more confidence and conviction, to the point they can put their designs on the runway. Look at what Adidas is doing with Kanye, and Puma with Rihanna, and HSN with Serena.
We're thrilled at Kia STYLE360 to be one of those portals that offers celebrity designers a turnkey solution to NYFW.
Companies with new distribution means are creating new portals for success.
Q: Do you think celebrities have been able to "hold their own" as designers? Do they have to?
All very successful designers are celebrities in their own right, so I don't think there's any special treatment or benefit if you're a music icon, or actor, coming out with a new fashion line.
If anything, you're more "under the microscope," so your talent really needs to shine for a collection to sell, and withstand the scrutiny of the media.
If anything, celebrities' designs are more "under the microscope."
Q: Is it important for the name behind a brand to be able to sketch, design, and sew?
It helps, but it's not critical. Many top rockstars and songwriters don't play an instrument as well as their bandmates, but they do write the great songs: so it is with creative designers.
I'm sure the purist will cringe when they read this, but thanks to the tech boom, we do half the things we used to do for ourselves. We outsource — Uber, Blue Apron, etc.
Q: It's clear that celebrities and designers have a symbiotic relationship; you've said celebrities who enter the industry often need help with production work for lines — do you see Kia STYLE360 as a platform for this new wave of collaboration?
Well, it's hard for anyone to be a "one-person show" in fashion design. With that said, yes, it is our purpose to be a partner and "one-stop shop" for all designers. It takes a lot of work to produce a fashion show. We want to help alleviate that pressure and let the designers focus on the clothes.
We want to help the designers focus on the clothes.
Q: Kia STYLE360 is where many celebrities have found a venue for their ventures. What has been your experience with them?
We've been doing this for 12 years, and I can say my most pleasant and courteous experiences have all been with celebrity designers. I think by nature they understand collaboration and are clear, decisive, and courteous in helping to get to the end goal.
My most courteous experiences have been with celebrity designers.
Q: Do you think celebrities like Rihanna, who won the CFDA Style Icon Award in 2014, create their own lines as a way to produce lines that match their specific taste in style? Do they fill a niche in the industry that "traditional" designers do not?
I can't speak to exact motivations or on behalf of any celebrity designer, but my belief is they do it not to fill a hole in the market, but purely to scratch their own creative itch. Rihanna doesn't write a song to fill a hole in the market; it comes from within her, and when it's good enough, and authentic, people enjoy and buy it. Fashion works much the same way.
Q: Celebrities are arguably more in-touch with the public, being so heavily entrenched in pop culture. Do you think that gives them more insight into what the public wants to see?
Again, hard for me to speculate, but for the most part, celebrities are "people persons" and people pleasers. They connect with large audiences in high frequency, so I'd have to assume they get to collect vast amount of feedback and information about the human spirit, and that definitely gives an edge.
Q: Does Kia STYLE360 try to strike a balance between celebrity designers and trained newcomers? Do you think having both is beneficial to the industry?
Yes, I think we always need to curate a season that has a balance of different kinds — and styles — of designers, so we're connecting with levels of the fashion industry … and fans. 
In fact, we're most proud of doing the very first shows for some emerging designers that have now become top brand names: like Rodarte and Rebecca Minkoff, for example. Pretty sure our runway was one of the first Kendall Jenner ever walked!
We're proud to have producer debut shows for Rodarte and Rebecca Minkoff, for example.
Q: NYFW was once centralized by the "tents," but that's now a thing of the past. What do you think about this return to the decentralized "New York Fashion Week" that existed for many decades, as organized by Ruth Finley, for example? What other changes do you foresee in our concept of "fashion week?"
I say hooray.
Fashion week is getting more creative — and pushing the boundaries creatively — in terms of how we get to see and experience a fashion show, and this will continue to evolve in a huge way.
We're excited to debut 360 viewing and virtual reality at one of our fashion shows. Virtuality may be the game change for years to come.
Fashion week is now getting more creative and pushing the boundaries.
##
Learn more
With love,
FWO