Romanian Talent on the Rise
Romania is already known for its manufacturing skill. And now, Romania is becoming known for its creative talent, as well.
Leading the charge is FTL Moda, the International Multi-Purpose Fashion PR Firm, who will be working to represent a number of these cutting-edge Romanian designers.
We had a chance to get to know some of the designer with the help of FTL Moda.
The Interviews
We first spoke with Mihai Lupu, director of the program ROFTL (Romanian Hub at FTL Moda), working directly with the government of Romania, and coordinator of all Romanian designers for this project.
Q: You started this activation to penetrate the US market with Romanian designers, who are renowned for their manufacturing excellence. What changed, why is now Romania investing in its own labels?
I think it is only natural to have this switch toward actually promoting our own brands.
Yes, we have this major advantage at being very good manufacturers, but we also have amazing and creative people in Romania.
we have this major advantage at being very good manufacturers
The fact that Romania is rather new to the creative industries by having our own brands has been beneficial for us, because we learned from other people's mistakes. We have a very serious creative movement in Romania.
Of course, the Romanian market is not enough for its creative designers. We are still not an extremely rich country so it is easier for us to buy from other countries' producers and designers who are mass producers.
We are making unique designs that are actually very fresh. The American market is in need of fresh ideas, and this is our take.
Irina Schrotter
Q: We know that Irina Schrotter is one of the leading labels in Romania, with several retails and great manufacturing quarters. What is the secret that keeps the brand so cosmopolitan and well structured in a country that has been focusing on manufacturing for third parties until recently.
Irina Schrotter has been in the fashion industry for about 25 years. We began in 1992.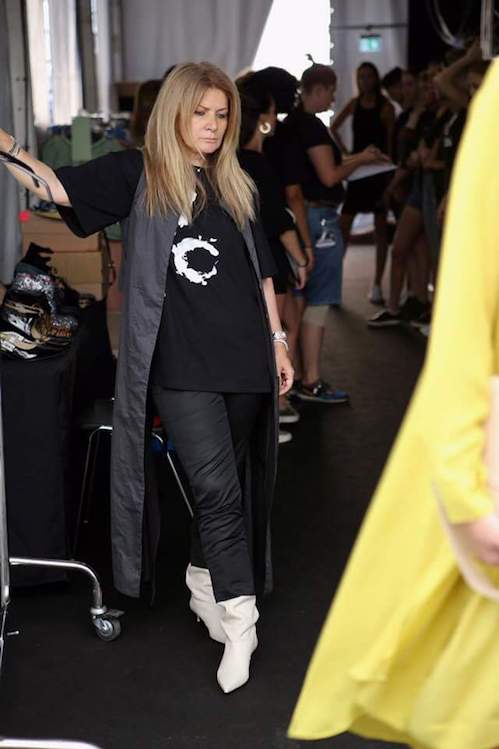 We manufacture in Romania and have five shops there and one shop in Switzerland. We sell in 40 countries and have many clients in Italy and France.
We sell in 40 countries
We work a lot and Irina is very dedicated to fashion. She knows very well what women want to wear and she is a very talented designer. She is a very nice, elegant, and positive woman. Her personality is expressed through the collections, and this is probably our secret.
Thais & Stroe
Q: Thais & Stroe represents possibly the youngest generation of designers in Romania. How important was your technical schooling/training in Italy to the level of success that your brand sees in the style/appeal and excellence in production?
It was very important because we found people who could teach us the best skills in the whole world.
Europe is one of the leading fashion industries so it was a really good experience for us. For example, we had the chance to meet people who work for D&G and organize their shows. It was awesome.
we had the chance to meet people who work for D&G
We also worked with some teachers that had their own labels and teach us how to market our own designs. We were very inspired by the art museums, the city and the architecture in Italy.
PassionbyD
Q: Do you define yourself a couturier? What led you to styles that are so extravagant and yet so well finished? What is the difference between PassionbyD and a general couture?
Yes, I usually introduce couture into my work.
I have an accent on details and handmade work. I have tried to simplify some pieces but it never works because I usually go back to couture. Even my RTW pieces become couture-to-wear.
I don't really like to be extravagant, I like items to be different and original. I like the finishings to be really well done and to dress the female body very well.
I put the body first in order to represent the real woman. I like to make the woman who wears it to feel comfortable, sexy, feminine, bold and courageous. And for me, the details always make the difference between the garments you are wearing.
I put the body first in order to represent the real woman
I am trying to combine modern and couture and create something very versatile. I want the pieces to be worn both as evening wear and everyday wear. You can wear the pieces during a special occasion but if you accessorize it well you can wear it in a casual moment too.
If it is a dress, you can wear it with elegant shoes and jewelry and you can go to a restaurant. Or, you can wear some boots and a leather jacket to make it very cool and RTW but chic at the same time.
I think it is important to have items in your wardrobe that you can wear for more than just one occasion.
Dorin Negrau
Q: It's wonderful to see a male designer with such care for details in ready to wear conceived for independent strong women. What inspires you as designer of Dorin Negrau?
Women inspire me, of course. My traditional elements incorporate the contemporary with the traditional. I show my collection at NYFW every year. Each year, my clothes are inspired by traditional art.
I show my collection at NYFW every year
Maison ChouChou
Q: We saw beautiful coats in your display. Can we hope to find trenches, and light jackets next Spring Summer at Maison ChouChou? we think it would be outstanding.
Yes, we have a wide range of light jackets and trenches that we regularly include in our look book. This season we run a bit short of time in preparation of Coterie, but we are preparing a really strong Fall Winter collection, to present in February.
Exe
Q: Exe's line is very forward thinking, contemporary, streetwear almost underground. Yet, so chic and elegant. What is that led you to this unique approach to fashion?
I am a traveler of the world, I love to incorporate a cosmopolitan approach into my vision, and keep it updated.
Today men can be dressy and yet very comfortable.
Petite Coco
Q: Petite Coco is a luxury collection for children, covering newborn to pre-teen age. How important is the luxury aspect for this segment of the industry? And do you focus on the "mommy-daddy and me" concept, or you think that children should have designated collections? Do you find inspiration at all in contemporary womenswear and menswear?
People who are interested in the luxury aspect of this industry for themselves, are also interested in luxury fashion clothing for their kids.
Their kids' image should match their own. And a special occasion, which is our area of expertise, is the best time for expressing and showcasing their testes and attention regarding the children's outfits, and also the whole family's image.
Matching outfits concept, mom and daughter, dad and son, are very trendy right now, but we are a fashion house dedicated mind and soul only to the little ones.
Children's fashion has special requirements and their own sense of fashion, so this is why they have their designated collections, even if inspiration is seldom found in the adults' clothing design area. To be more precise, almost all the time, but adapted, as I said, to kids' needs.
##
Learn More
With love,
FWO