Beauty and the Best
There is beauty in confidence. Designer Parisa Wang lets that beauty shine with her signature handbags tailored for women on the go.
Parisa Wang and her eponymous brand is most known for her Addicted Bracelet Bag, a minimalist cross body handbag with a ring buckle worn around the wrist– a bag elevated to a jewelry aesthetic. The hands-free design is meant for carefree whimsy for a multitasking boss. "The functionality and versatility are definitely why customers love it so much," Wang explained. "It's definitely a unique piece made for every woman to appreciate."
The idea of an empowered woman carrying one of her designs is the driving force for Wang. Originally a Business Accounting major at Miami University, Wang felt confined to cultural expectations. "I grew up in urban China where arts were seen as a waste of time," Wang admitted. Wang secretly took painting classes while in college, and upon graduation, decided to follow her true passion for fashion design at Parsons School for Design. "[Parsons] is where I learned to harness my allusive aspirations into tangible objects," Wang mused.
Wang worked with ready-to-wear brands like J.Crew, 3.1 Phillip Lim, and Pologeorgis Furs, but again felt confined to a particular pre-determined aesthetic. "I soon found myself disappointed and stranded," Wang reminisced. "Brands seemed to be less interested in innovating and more interesting in hitting rigid sales goals and replicating established trends. I wanted to do things differently."
Wang launched PARISA WANG in 2016 with the mission to "create singular, luxurious handbags with accessible price points that women instinctively reach for." Wang was drawn to handbags as her medium due to their historical significance. Wang cited the fact that clothing lacked pockets until the 17th century, with women having to rely on men to carry their belongings. "Women's handbags appeared asa symbol of independence and status for women," Wang explained. "I love the story behind handbags."
Wangs bags are very much so for the modern woman while carrying this tradition of independence and empowerment. PARISA WANG created the #PWWonderWomen campaign to create a social media community to celebrate inspirational women who follow their own paths to success. "We believe in championing women, and hope that our designs can help instill in them the strength and confidence needed to succeed each and every day," Wang said.
The Addicted Bracelet Bag, PARISA WANG's first style.
Wang's designs are also uniquely personal. The iconic full-grain calf leather and suede-lined Addicted Bracelet Bag was PARISA WANG's first product, inspired by Wang's own love story. The bag's placement on the wrist parallels the phrase "wear your heart on your sleeve"; the shape of the bag resembles a wine bottle, symbolizing the feeling of being drunk in love. "It's meant to capture the honeymoon stage," Wang explained.
For her vaster collections, Wang looks to classic artists for specific elements: Brancusi's sculptures for gentle curves, Tadao Ando's architectures for clean lines, and van Gogh's "passionate" color palettes. The brand itself also encourages a dialogue between the customers and manufacturers, prompting feedback for new materials or testing sustainable approaches.
PARISA WANG's latest creation– the Belt Bag– came to fruition due to such customer feedback. Professional model and photographer, and Addicted Bracelet Bag customer, Zanita Whittington reached out to Wang to work on a design collaboration for a day-to-night bag. "Zanita is jet setting around the world, and she told me she couldn't find a chic accessory that allows her to be hands-free and to effortlessly transition between on and off-duty looks," Wang summarized. The Parisa x Zanita Belt Bag was their combined solution for a compact approach to luxury. The Belt Bag recently debuted on August 15th, exclusively on parisawang.com.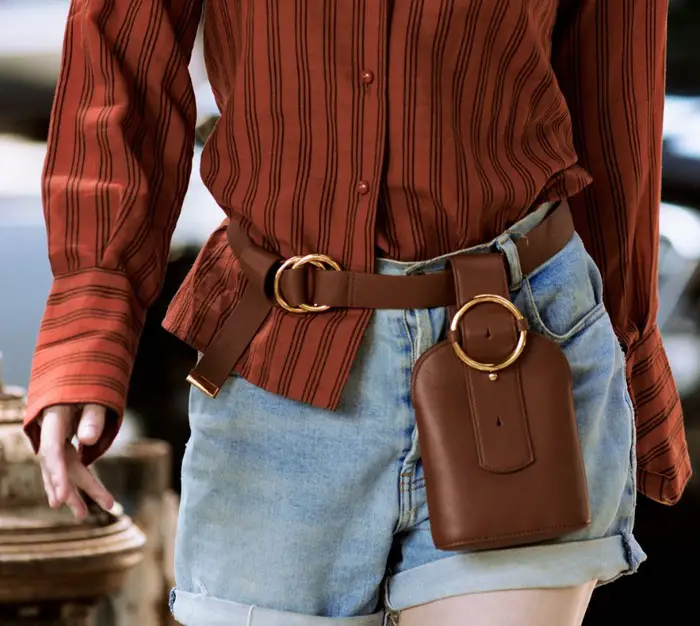 The Parisa x Zanita Belt Bag, launched August 15.
All of PARISA WANG products are handmade by artisans in Hong Kong using natural biodegradable calfskin sourced from renowned international tanneries to merge a delicacy with industrial. "I hope that my classic minimal designs help instill in you an indomitable confidence laced with a feminine edge," Wang explained.
Wang looks to expand the brand into ready-to-wear and shoes, among other projects. But just like any Business major, Wang knows not to spread herself too thin. "We hope to continue to build the brand slowly and steadily. Regardless of what we do, our mission will remain the same," Wang said. "I wanted to build a brand that we not only create beautiful fashion, but also celebrate the things that are important to us and women we admire."
On a personal level, Wang hopes to also expand her family. "I hope to meet a special someone to eventually build a family together," Wang admitted. And, like her powerful Addicted Bracelet Bag, Wang is all about romance. "Love and work, work and love. That's all there is, isn't it?"
PARISA WANG handbags are available at parisawang.com.
##
Learn More
With love,
FWO