Paris City Fashion Week 2019
Runway Fashion Tours (RFT), in association with ML, is proud to announce Paris City Fashion Week (PCFW) 2019, a fashion show inside the wonderful Eiffel Tower at Paris, France, the fashion capital of the world. It will showcase the amazing creativity, extraordinary designs and world class production of the well established as well as upcoming star designers from every part of the world on 27th of September, 2019.
"PCFW is bound to attract international attention of consumers, enthusiast and media, providing a solid platform for both the established and the aspiring talented international designers, to showcase their creations to the world", says producer Ishika Chaudhary.
This great show will feature sixteen international designers, including the amazing Michael Lombard, Lily Marotto, Willette Battle, Sylvia Dahi, Natacha Van, Sofiya Mozley and Nadia Azumi. With a renowned designer like Michael Lombard headlining the show, PCFW is bound to be the center of attraction and the king of Fashion Shows in Paris this year.
ABOUT THE DESIGNERS
A few details about some of the designers participating in Paris City Fashion Week 2019, follows:
MICHAEL LOMBARD
Designer: Michael Lombard
Model: Sarah Respass
Photographer: Aaron HX
International celebrity fashion designer Michael Lombard started as a record label executive and quickly realized his passion for designing and creating something unique in the fashion industry. Dubbed "The King of Leather" by Huffington Post, Michael Lombard's Collection has been worn by professional athletes to music stars around the world. Michael Lombard is the first fashion designer sponsored by Monster Energy Drink around the world on his fashion tour. Michael Lombard signed with HarperPR which is the style fashion house to Lady Gaga, Beyoncé, Nicki Minaj, Jennifer Lopez and many more. Tiffany Young, LianeV and Brittney Palmer are just a few celebrities rockin his collection. Using the highest grade leather, his designs have graced the runways worldwide from NYFW, LAFW, London Fashion Week, Paris Fashion Week, Amsterdam Fashion Week, Milan, Budapest and many more. Michael was the first designer ever to host BBC World live at London Fashion Week House of iKons Show. Published in over 70+ magazines including Vogue, ELLE, Dolce, Trend Prive, 7Hues and many more. Michael Lombard's designs are renowned around the fashion world. With innovative cutting-edge designs, Michael Lombard is revolutionizing the luxury game.
LILY MAROTTO
Designer: Lily Marotto
Model: Elena Zorn
Photographer: Eugene Polyak
The renowned designer has presented her highly-creative collections at LAFW, multiple times at NYFW, and participated in other NYC and SF fashion shows and events. She has created couture gowns for pageants and galas, supported charity auctions, and won many design awards. Lily is currently working on her printed ready-to-wear line made of cotton and silk, creating two couture collections per year, making special designs for West Coast Leather, and continuing to work on custom orders.
WILLETTE BATTLE
Designer: Willette Battle / Fit2BTied Couture
Model: Sierra Nicole McGinnis
Photographer: Jerry A. Barnes
Is an artist with B.A in Studio Arts and B.S in Computer Science, with a Business Emphasis from Albany State University in Albany, Georgia. She was also granted full scholarship to attend Howard University in Washington DC earning an MFA in painting with electronic studio emphasis. Willette Battle is a highly trained, highly skilled award winning and experienced artist of many talents with the most interesting among them the ability to translate experiences from her life into visuals. Willette almost exclusively conveys her ideas with a vibrant color and freeing sense of play. As an avant-garde fashion designer who has designed collections using men's neckties and synthetic hair, she has showcased her work as a headlining designer during multiple fashion weeks in Alabama, Georgia and New York, in which she has received many honours for her designs.
NADIA AZUMI
Designer: Nadia Silk Couture
Photographer: Frank MacDonald
An Italian Fashion Designer married to a Japanese gentleman. She studied art for thirty-five years with Japanese Designers and has taken non-credit courses at the San Francisco Academy of Art. She has travelled around the world in fifty countries and uses her Italian Background of Italian Renaissance and Japanese culture to create her wearable art. She is also influenced from the colors and designs of all the countries she has been. All of her pieces are one of a kind hand painted on silk which is completely white when it arrives at her studio. She uses an extensive variety of silks. Nadia has been painting on silk for over sixteen years.
CAMELLIA COUTURE
Designer: Camellia Couture
Model: Brooke
Photographer: Joseph James
A luxury children's clothing brand, specializing in custom pieces to suit any occasion.
JUS10H
Designer/Tailor: Justin Haynes
Photographer: Scott Parker
Model: Joshua Rosen Gardner
Designer Justin Haynes is the CEO and Founder of JUS10H which specializes in Men's, Women's and Children's wear. Justin's Modern Vintage designs have been featured in local, national and international shows with models strutting on runways in his hometown of Springfield, Massachusetts to Fashion Weeks in New York, Los Angeles, Miami, and Milan. This September, JUS10H will be shown during Paris Fashion Week. Justin recently received the 2019 National Fashion and Life Style award from the National Business Association, Best Female Ready To Wear Designer 2019, and was named as a "Natural Born Artist of 2019" for his creative use of patchwork, pattern, color and tailoring.
SYLVIE DAHI
Characterized by a mix of art and fashion that gives a result of an abundant universe. Passionate, creative, professional and ambitious. For Sylvie Dahi, cloths are a means of expression, an image projected into exterior. Amazingly, she has never touched a needle or sew, but models abound in her head like sand of the beach. Since the Sofia Antipolis University in Nice (France) where she got a bachelor of sciences in 1996, Sylvie never stopped making gowns. Two great fashion shows have staged her work, one in Ottawa (Canada) and the other in Sydney (Australia).
SOFIYA MOZLEY
Photo: David Carrico
Model: Shayla Marie
An International fashion designer based out of the United States. She designs clothing and jewelry for women. Having been in the fashion world for a while, Sofiya's fashion show accomplishments include, Atlantic City Fashion Week, Society Fashion Week in New York and House of Ikons London Fashion Week show. Her most recent feature was in Vogue Island Media Magazine. She is inspired by many things including texture and architecture and will surprise you with each design.
CHRISTOS FURS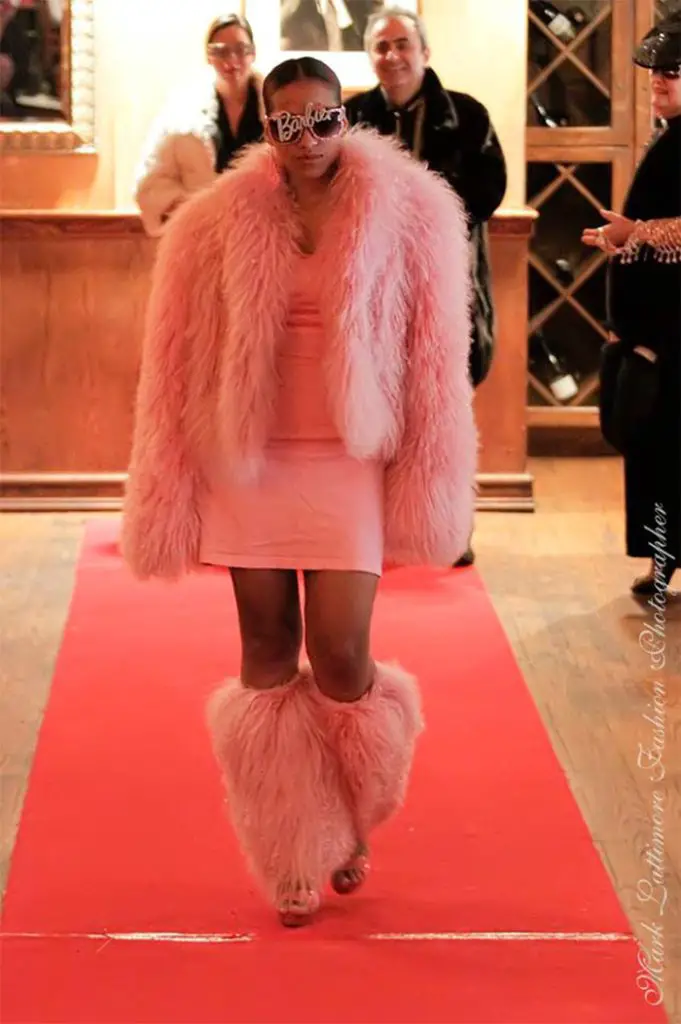 Photo: Mark Lattimore
Model: Joanna Lynn
Christos Taltsidis is the Fur Artist and Founder of Christos Furs. Born in Kastoria, Greece, he learned the art of fur trade from is father. Christos wanted to share his talent with others across the big blue ocean, and opened up a shop in Westchester, Illinois in May of 2005. All Christos Furs creations are made on premise at his in-house design shop. With talented craftsmanship and a devoted mind, Christos and his team's daily purpose is to satisfy the "life sources" (clients, patrons, and consumers) that walk through his doors.
NATACHA VAN
Photo: Natacha Van Collection
Natacha has emerged as a leading fashion designer based in Cambodia with a distinctively feminine aesthetic. Merging classic evening gown elements with an uptown chic attitude, she has created a supremely womanly and unapologetically glamorous sensibility. She debuted her Ready-to-Wear Collection in 2010. The materials used for her collection are 100% handcrafted in London/Hong Kong using the highest quality materials. In 2013, she had her first fashion show in Bangkok, Thailand. In 2014 she showcased her collection at Fashion Illumination, one of the biggest fashion show in Cambodia. From 2015 to present, she was appointed as the Ambassador of Cambodia representing ASEAN Fashion Designer showcase. In Feb, 2017 Natacha was selected to be one of the fashion designer during London Fashion Week which hosted by BBC News for BBC Children in Need Organization.
QUEEN'S FASHION GLAM LINE
Photo: Queen of Queens Productions by Leviticus Ra'Za Mien
Model: Simone Latrice
The hottest, new, up and rising designer named Lea Marie, currently living in Columbus, Ohio, an author/writer/singer/songwriter/model and production coordinator and consultant.
STAR LIFE FASHION CO.
Photo Credits: Steven Shipley- Starlife Fashion Co.

The hottest, new, up and rising designer named Lea Marie, currently living in Columbus, Ohio, an author/writer/singer/sngwriteor/model and production coordinator and consultant.
FEMATA COUTURE
Photo: Femata Couture
Femata Couture a fashion label with a purpose, we want to ensure that we cater for all human beings. Come as you are and let us ensure that you will never ever feel anything less than your best. It begins with LOVE yourself, LOVEGod and LOVE Godspeople.
Lulu et Gigi Couture
Photo: Photasia Photography
Model: Isabel Buiron
Founder and Creative Director, Eni Hegedus-Buiron, has powered the brand, since it's conception 5 years ago. With inspiration, from her own three daughters, world travel, and an open heart and mind, she pushes the boundaries. Leading the way in design and setting new precedents in the world of children's luxury. Featured in Vogue Italia, Le Petite, Kids Magazine, Milk Magazine, Hooligans, Mini-Maven Gladys to name a few, to dressing hollywood celebrities and mini fashionista's all over the world. The brand has graced international stages from NY, Paris, LA, Beijing, Toronto, Montreal and London.
Delise'Ana Custom Designs
Photo: Delise'Ana
Models: Various
Delise' Ana Custom Designs is lead by, the creative fashion talent, Delise' Ana Parker of Beaufort, SC. Delise'Ana relocated to Los Angeles California to expand her business and further her fashion education in 2007. Since then, Delise' Ana has created custom pieces for the most elite international music artists and actresses including Nicki Minaj, Faith Evans, Karen Civil, Danai Gurira, and many more. Delise' Ana's work has been featured in magazines including, Elle, Glamour, Paper, Galore, and more.
HAVIIC COSMETICS (SPONSOR)
Haviic Cosmetics LLC is a minority owned beauty brand Founded by Latina, Aleah Alvarado, in New York City. The independent brand strives to empower clients to embrace their individuality at all times while stripping society's perceptions of beauty. Featuring highly pigmented products that are mainly talc and/or paraben free, Haviic is designed to elicit the free spirit in you. "Every makeup lover will go crazy looking for the perfect shade". This thrill that we yearn to wreak "HAVIIC" is derivative of the Company name. Haviic Cosmetics has been featured Nationwide in Fashion Gxd Magazine, Hype Hair Magazine, Sheen Magazine, Pix11 News and more. Now, Haviic will showcase its products at the world renown Eiffel Tower during Paris City Fashion Week SS20.
LES TRANSPORTS PARISIENS (SPONSOR)
Official Transportation Sponsor/Partner of the Paris City Fashion Week 2019 in Paris, France.
##
Learn More
With love,
FWO