Friday morning was a typical chilly day in New York City, giving amazing weather for the events planned for that day, the return of hiTechMODA to New York Fashion Week (NYFW) at the iconic Gotham Hall, in the Heart of Manhattan.
The show hosted 34 national and international designers during the two-day event. Crowds gathered outside the hall as early as 7AM and continued crowding throughout the event days. The event showcased 55 runways, with over a thousand international and national models and was broadcast live for those who could not attend and wanted to watch.
Royalty came to watch the hiTechMODA show, as Prince Mario-Max Schaumburg-Lippe joined Producer, PS Pamela Privette in hosting the 5 PM show. The prince was joined by his mother, Princess Antonia Schaumburg-Lippe.
During the New York City's own, Heritage India Fashions runway, Prashant Goyal was presented the "Royal Art Award", by the Prince.
Here are more highlights from the show.
Ukrainian violinist Assia Ahhatt played live as models walked the runway for Marc Defang Couture Friday 7PM show. Assia finished the runway with a beautiful solo performance. Assia Ahhat is a Kyiv born and raised violinist, who has mastered the violin at the age of five. She has won numerous European competitions and became a soloist for the Ukrainian National Philharmonic.
Miami based Polish model and influencer Caroline Derpienski, with over five million followers on her Instagram page, walked the runways for Mexican designer Alonso Maximo. Caroline is known for the positivity she spreads through her Instagram page. She has gained popularity after some of her fashion related posts went viral.
Lyla and Peyton Wesson – sisters from Oxford, Alabama, walked the runway for LP Couture, a brand they co-founded) with "SunglassCat". SunglassCat, otherwise known as Bagel, is a rescue cat from a Los Angeles Country shelter and is known for her collection of sunglasses. Bagel has a condition where she was born without eyelids, and cannot produce tears, so to protect her eyes her owner puts sunglasses on her. Bagel has almost a million followers on her Instagram page.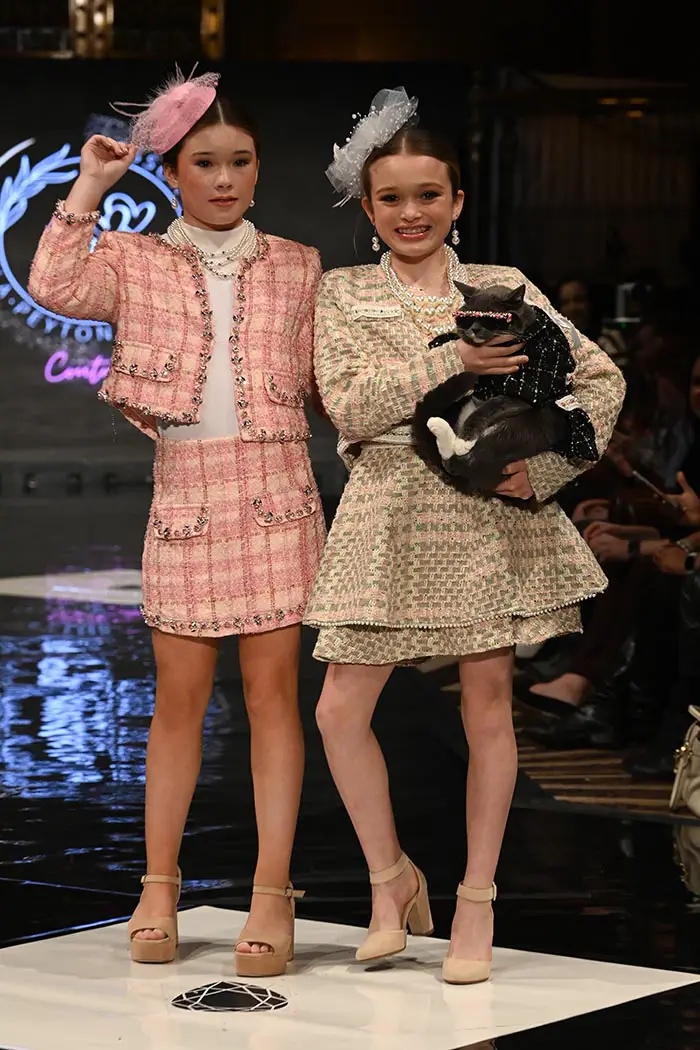 Ukrainian designer Vel Yurchenko showcased her line By Vel with gorgeous bold designs, inspired by international model and renowned dancer Madonna Akhtar. According to her website, By Vel is a brand that is bold, daring, stylish, magical and charming. The show was a beautiful and authentic tribute to the charm and style of the designer with international Ukrainian violinist Assia Ahhatt performing live as models walked the runway.
Throughout the event audiences were treated to performances by artists Ava Breeze, Angelina Stanek, Carolina Rial, Sasha Anne, and .MV La Diva.
All photos: Photo by Slaven Vlasic/Getty Images for hiTechMODA
hiTechMODA shows next in Milan on February 25, 2023.
More Upcoming Events
July 21, 2023
Orlando Swim Week, Season 3, Hilton Buena Vista Palace, Orlando
July 22 & 23, 2023
hiTechMODA Orlando, Season 3, Hilton Buena Vista Palace, Orlando
September 8-10, 2023
NYFW hiTechMODA Season 10, Gotham Hall, Manhattan, NYC
September 22 & 23, 2023
Milan Fashion Week, Season 2 (Venue to be announced)
September 29 & 30, 2023
Paris Fashion Week, Season 2 SARL Salon Des Miroirs
##
Learn More
hitechmoda.com
New York Fashion Week
New York Fashion Week tickets
With love,
FWO