When talking about fashion, the first thought that comes to mind is usually fashion aimed for adults or late teens. Runways focus on items that are to be worn by adults, rarely do kids come to mind when runway shows are brought to light.
Yet, children's fashion is just as important as adult fashion, especially with kids who love to express themselves and their talents with what they wear. Clothing is an expression of who they are, where they are from and who they will become. Most importantly, they are the next generation of designers, models and consumers.
hiTechMODA, understands the importance of children's fashion, the designers and how a runway supports their talents. That's why, on their season 9 NYFW hiTechMODA show, they made the present and future of fashion on the runway, as well as the designers who created the collections for them. The February show at Gotham Hall consisted of 34 designers and 55 runways, with a little less than half being children focused.
Here are the highlights of ones that were there.
LP Couture, a brand made by 11- and 12-year-old sisters Lyla and Peyton Wesson is a colorful brand aimed for kids/tweens, made by tweens. The sisters have started out with their modeling career, and diving into some acting. The colors they brought to the runway both days consisted of pinks, greens, and reds. Their Friday show was a beautiful take on the classic cowboy aesthetic, and their Saturday was a classy business aesthetic, giving a very nice early 2000's feel to it. They are up-and-coming, and one to watch.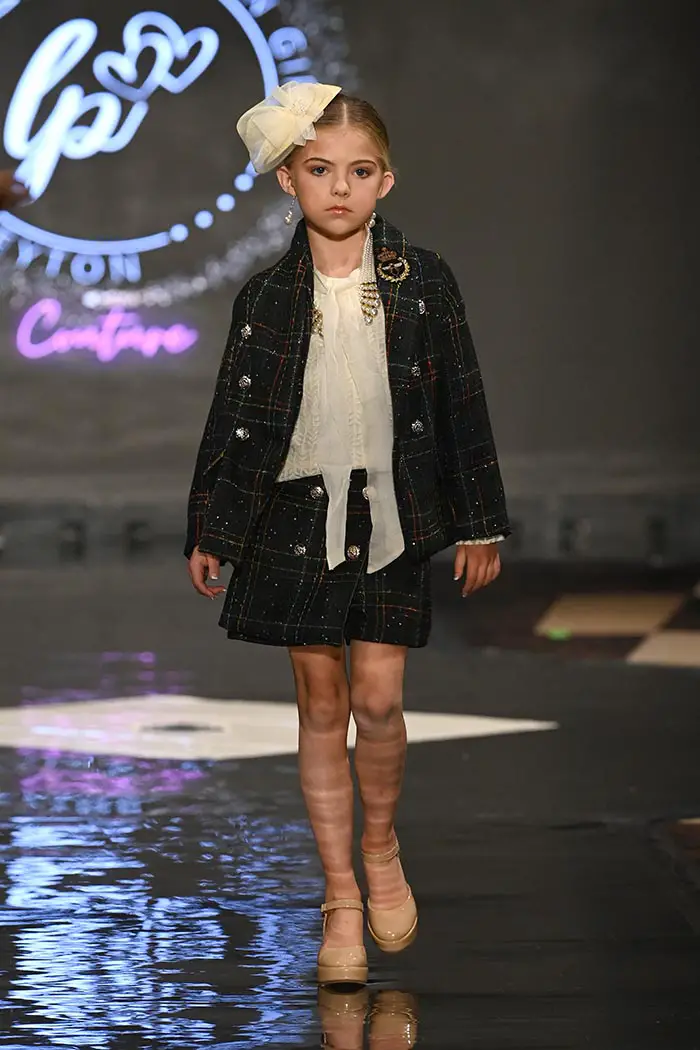 A Houston based brand focused on formal, bridal, and runway looks for kids. The luxury and vibrance that Bibianè brought to the show on Saturday was incredible. The brand is owned by Tohan Bibianè, whose background is in Finance rather than fashion. A hobby that developed ten years ago in a successful attempt to make clothing for her sensitive skin child opened a door to a beautiful brand with breathtaking gowns for any luxurious event.
By Vel, a Ukrainian designer that brought in a different flavor for the runway. By combining traditional Ukrainian looks with bold and daring designs and colors, By Vel brought in a different feel to the runway. As noted on her website, these stylish and magical designs really did show their charm.
Kat Couture has brought in colorfulness into the runway with bright colors. The whole collection had a very flowery theme to it, as the gowns shown down the runway were both warm and cool colors that blend together beautifully. The collection gave a big magical feel to it as the models walked down – from the colors to the silhouettes of the dresses.
Camellia Couture, a brand founded by Debbie Holden to fulfill her dream of becoming a fashion designer and make gorgeous custom dresses and fits for any possible occasion, brought in some classic and gorgeous elegance to the runway. The dresses that were showcased truly fit any possible occasion that comes to mind.
No matter your shape or size, Charjean Couture will have something that will fit. Bringing in beautiful colors and fun designs, the beautiful pinks, greens, and yellows that Charjean Couture brought to the runway really showed how fun these designs can be.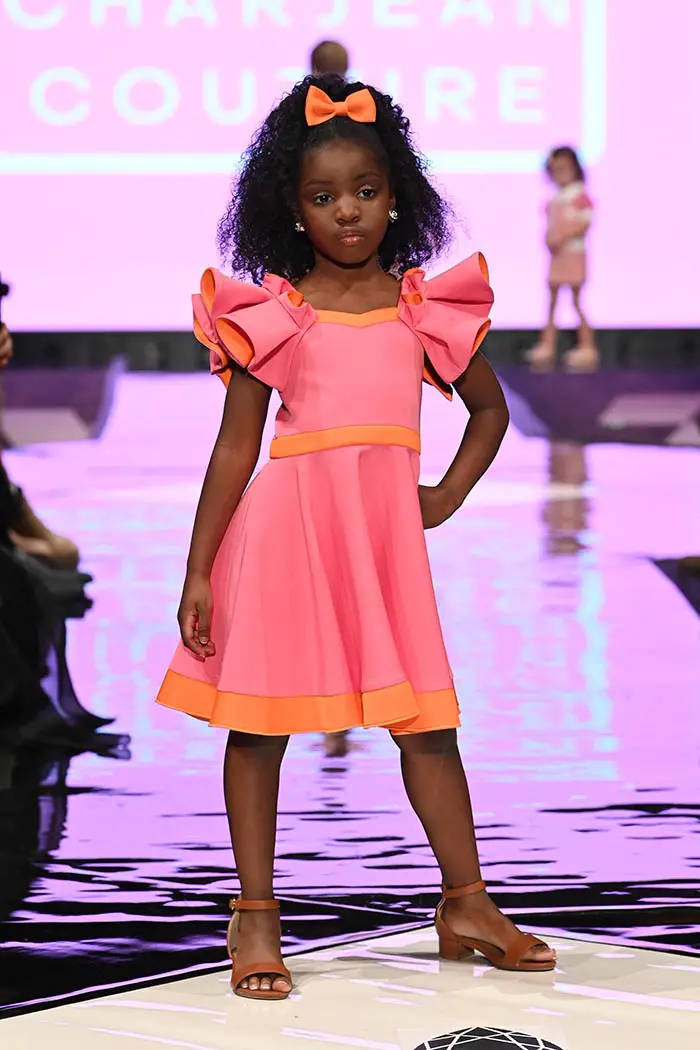 Homespun couture brought in a gorgeous collection to the runway, with beautiful dresses that were accessorized with angel wings for props. Different wings were on the runway, and they all complimented the dresses perfectly, adding some spark to that angelic look.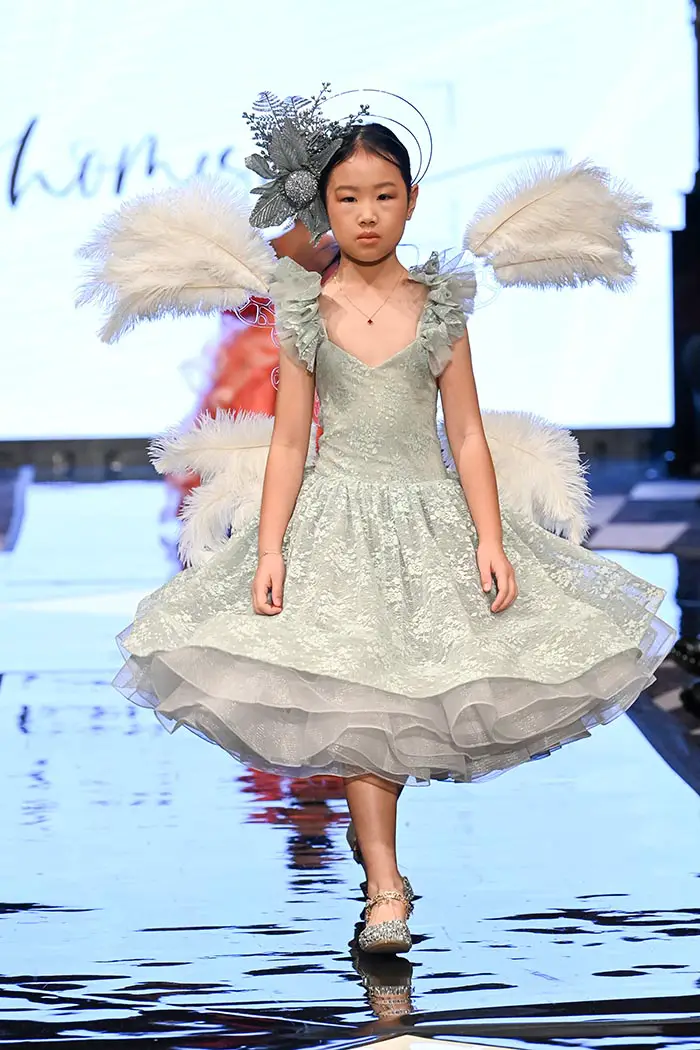 When you think of kids' fashion, you typically think of stuff more colorful, but Kayzie Couture showed up with bold reds, blacks, and whites, making a statement on the runway. The brand offers timeless pieces, inspired by everyday beauty with a focus on diversity and beauty. This collection really showcased it, as it complimented the models perfectly.
Lorraine Ortiz is a designer who came all the way from Puerto Rico, and with her she brought in a collection that is hard to ignore and harder to forget. Flowy colorful gowns graced the runway as the models walked down, with bold colors and gowns that fit every occasion.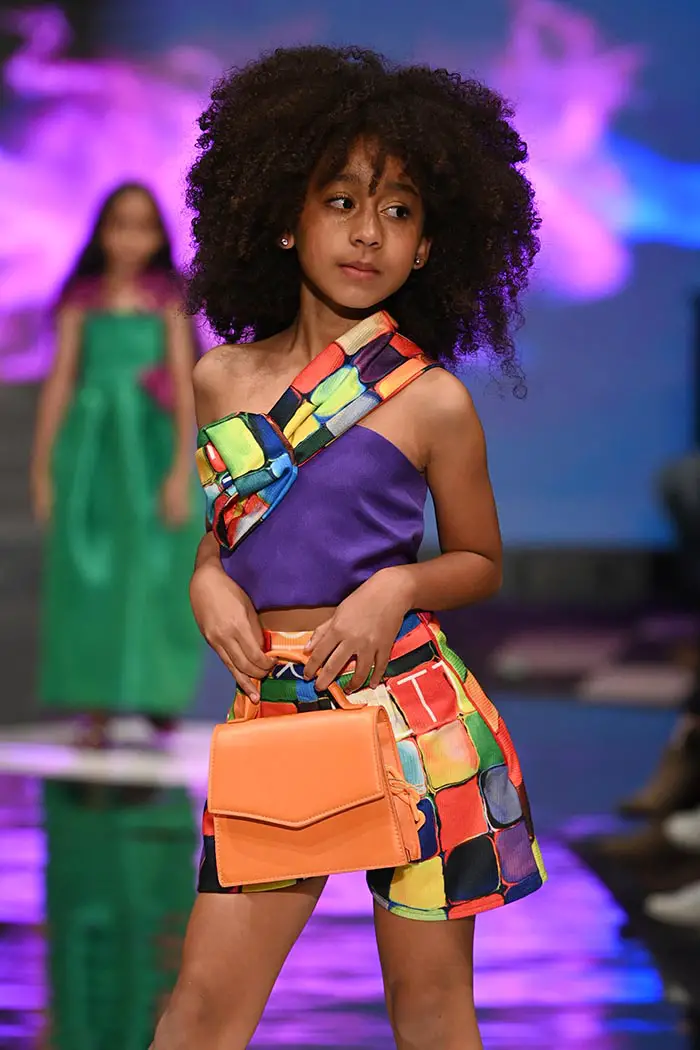 Neal's Ensembles brought in a collection with a large inspiration by the elements with absolutely breathtaking dresses, from A-line to princess gowns in all sorts of lively colors such as yellow and pink, and some other pieces being silvers and blacks.
Brought from a child's love for competition and pageants, Nita Belle's Closet brought in a colorful collection with great inspiration from East Asian culture. The beautiful pastel colors bring life to the traditional clothing, and the soft materials give off a gorgeous flow to the garment.
A Texas based designer brought in a magical feel to the runway. Regina's Couture brought a collection that felt like a beautiful mixture of the night sky meets luxury as the models walked down the runway. From the whites to the dark blues and blacks, these dresses will truly make any girl feel like a princess.
Steadfast Designs came with a simple, elegant collection. Ready-to-wear pieces that are clearly fit for any possible occasion that can come to mind, simple yet still gorgeous with the soft colors, and every piece being well thought out.
Reds and pinks were the dominants in Willow Bean Studio's collection, making it perfectly fitted with the fact it has been showcased several days before Valentine's Day, as well as perfect for anyone who would want to get their own piece. Willow Bean Studio makes custom designs, and wedding gown conversions – the prefect designer for anyone who wants to pass on a family dress.
Young Gods is a luxury award winning designer children's brand, made for future icons. It did not disappoint on the runway with the iconic looks that were brought in. The Heaven and Earth collection brought in golds, silvers, whites, and blacks, drawing inspiration from different iconic looks throughout history.
A model walks the runway wearing Young Gods during NYFW hiTechMODA Season 9 at Gotham Hall on February 11, 2023 in New York City.
##
Learn More
With love,
FWO