Agentry PR is excited to announce that NYMD's 19th bi-annual menswear collective, presented by CROSS EYED MOOSE, will kick off on Friday, February 10th, from 10:30am to 12:00pm ET, and 4:30pm to 6:00pm ET. Returning to Location05 and Daylight Studios, located next to Hudson Yards, NYMD will occupy three floors spanning seven different studios.
For this season, NYMD will present a total of 12 brands leading with presenting sponsor CROSS EYED MOOSE debuting its fall/winter 2023 collection in both sessions. Also showcasing in both sessions, outerwear sponsor Nobis will be presenting its Off-the-Grid-inspired fall/winter 2023 technical apparel systems. This season, NYMD will inaugurate six new emerging brands and four returning designers.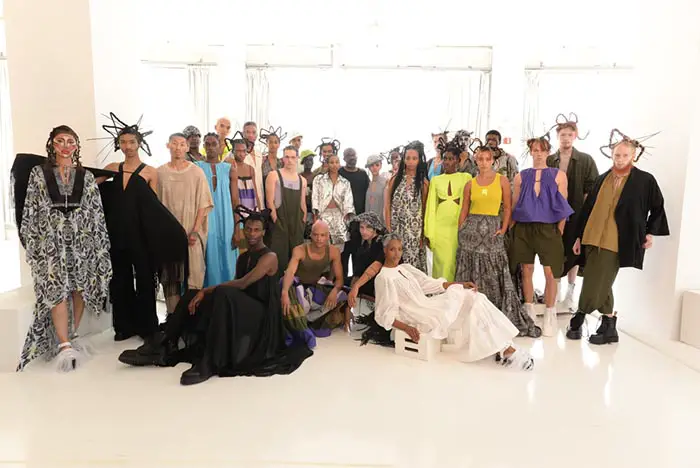 "CROSS EYED MOOSE is proud to be the title sponsor of New York Men's Day, FW '23. Born in the city, made for the wild – CROSS EYED MOOSE is a mashup of rugged nature and street culture that is sure to shake up menswear. We are thrilled to debut the Fall '23 line at this notable event." Jack Gross, CEO, One Jeanswear Group.
Conceived to nurture emerging talent and to consolidate top menswear/genderless designers in an easy-to-view venue, NYMD will feature 12 designers collectively. Each participating designer will present in their individual studio space designed to highlight the label's identity and inspiration. Taking place simultaneously over two-hour periods, two brands will present for the entire day, five designers in the morning session, and five in the late afternoon. The format of showcasing all presentations at the same time creates ease-of-flow for media, buyers, influencers and VIPs, allowing them to move through studios and spend time with designers as their time allows. Please note, CROSS EYED MOOSE and Nobis will present across both timed sessions.
In addition to the physical event, all 12 brands will also feature their fall/winter 2023 collection lookbook images and/or videos on the CFDA's RUNWAY360 digital platform. RUNWAY360 continues to be the online destination for domestic and international press, retailers, and industry to discover the latest collections of participating official NYFW schedule brands and designers. The designer collections can be viewed at https://runway360.cfda.com.
Participating designers include (in alphabetical order by brand):
All Beneath Heaven* (menswear)
Atelier Cillian (menswear)
A.Potts (genderless)
Bulan* (unisex)
CROSS EYED MOOSE* (menswear)
Dionysus* (androgynous)
Jahnkoy* (menswear)
Kent Anthony* (menswear)
Nicholas Raefski (menswear)
Nobis (menswear + womenswear)
Raleigh Workshop* (menswear + womenswear)
Terry Singh (menswear)
Showing for the first time at NYMD
In a continual partnership with PROJECT New York—an industry-leading event organized by Informa Markets Fashion that features a curated presentation of men's and gender fluid apparel, footwear, and accessories brands—NYMD will have a static mannequin display in the upcoming edition of PROJECT New York as part of the men's market on January 24th and 25th, 2023 at Iron23 showcasing one look from each NYMD designers. Additionally, this collaboration also features one look on model from each NYMD designer at the PROJECT New York opening night rooftop party at The Skylark, slated to be held Tuesday, January 24th from 6:00 pm – 8:00 pm. This collaboration between the two organizations continues to anchor PROJECT's mission to focus on the men's and gender-fluid community, providing a platform to engage and spark inspiration in the industry.
Nobis returns as the official outerwear sponsor with their Off-the-Grid inspired fall/winter 2023 collection, pushing forward the modular wardrobe with innovative outerwear, technical knitwear, and multi-functional accessories.
Other sponsors include luxury haircare brand, Oribe, as they return providing their products and teams; AOFM Pro will provide make-up teams and products for designers to use on models during their respective presentations.
Agentry PR, which was founded in 2010 by fashion visionary Erin Hawker, produces and executes New York Men's Day.
"We are thrilled to kick off FW23 Fashion Week with an expanded New York Men's Day this season, showcasing 12 emerging brands to the community. As a platform aimed to highlight distinct voices and points of views across menswear, genderfluid, and ever evolving industry, we are able to bring talents to the forefront through the support of like-minded partners who share our mission. With our new class of New York Men's Day designers, we hope to continue to inspire and create conversations within the community as we look forward to the future" said Hawker.
ABOUT AGENTRY PR
Agentry PR is a full service marketing communications agency, founded by Erin Hawker in 2010, headquartered in New York City. Agentry PR specializes in the fashion, lifestyle and entertainment
sectors across specializes in the fashion, lifestyle and entertainment sectors across all facets of marketing and public relations, from brand strategy and media outreach to events, sponsorships and VIP relations.
ABOUT NYMD
New York Men's Day (NYMD), is a bi-annual collective fashion initiative intended to help nurture emerging talent and consolidate the showing of contemporary menswear and gender fluid collections. Each season, NYMD features a collective of menswear or gender fluid brands in a group presentation format over two-hour periods. The format of showcasing multiple presentations at the same time will create ease of flow for media and buyers, allowing them to move through the studios at their own pace. NYMD was founded in 2014 by Agentry PR, and is now in its 19th season.
ABOUT CROSS EYED MOOSE
CROSS EYED MOOSE is a bold menswear brand for the hybrid lifestyle of men of today and tomorrow. Inspired by the terrain of the outdoors and the expression of city cores.
A mashup between rugged nature and the street culture, CROSS EYED MOOSE institutes practicality and functionality in street-smart styles.
While the brand is full of attitude, spunk, nerve, and humor, the offering couldn't be any more relevant for what men of today are looking for: a cross-functional, cross-piece, and cross-street that can fit the climate changes and its crossability.
CROSS EYED MOOSE is the cornerstone brand of One Jeanswear Group's newly formed menswear division. One Jeanswear Group is a leader in designing, marketing, producing and distributing a distinguished portfolio of branded and private label jeanswear and apparel brands throughout North America.
ABOUT NOBIS
In 2007, "Nobis"- Latin for "us" was launched. Nobis is a globally renowned Canadian outerwear and accessory brand that embraces the conviction that trends may come and go but style, function, and quality will remain forever timeless. Collections are designed for the ever-changing global winters, unpredictable seasonal conditions, and the growing need for fashionable and functional outerwear. Developed and designed with a people-first mentality, each garment is crafted with performance and versatility in mind, sourcing top quality materials and producing in world-class facilities. Under InnoVision Holdings Corporation, Nobis continues to test new boundaries in the fashion outerwear and accessories markets. Nobis is available in over 35 countries, including the US, UK, Germany, Sweden, Norway,
ABOUT INFORMA MARKETS FASHION
Informa Markets Fashion connects and inspires the global fashion community through online experiences, industry insights, and worldwide fashion trade events, including MAGIC, COTERIE, PROJECT, and SOURCING at MAGIC. From more effective manufacturing and supply chain opportunities to creative design inspiration and retail on the wholesale floor, Informa Markets Fashion's diverse portfolio supports the entire fashion ecosystem – fostering innovation and driving creativity year-round. For more information on upcoming events, please visit: www.findfashionevents.com
ABOUT ORIBE
Since 2008, Oribe Hair Care has set the standard for hair care within the prestige category. Blending award-winning packaging and its signature Côte d'Azur fragrance, the collection is designed with talented hairdressers, sophisticated salons and discerning customers in mind. Represented in more than 40 countries, Oribe has become synonymous with best-in-class product performance and technical education, sparking deep connections with its consumers. These are the products of the hair-obsessed.
ABOUT AOFM PRO
AOFM Pro is a high-profile creative agency specializing in supplying teams of beauty professionals such as makeup artists, hairstylists and nail technicians across the globe.
If you have a project, a show, a magazine shoot, or a simple beauty creative, look no further than the AOFM Pro Creatives Agency. Founded by Jana Ririnui in 2006, the AOFMPro agency was created to support clients with the best freelance creative beauty talent out there to deliver high-quality and professional services. Over the years, AOFMPro has become known as the go-to agency to book backstage and editorial elite teams. The agency provides an unrivalled variety of talent, coupled with a level of experience and expertise that has led to them becoming the first choice for countless brands and designers globally. With contact centres in London, Paris, New York, and Milan, AOFMPro can deliver teams of professionals within the four main fashion capitals of the world.
AOFM Pro's work spans London, New York, Paris, Milan, Tokyo, Moscow and Berlin. AOFM Pro teams have worked with designers such as Victor & Rolf, Bora Aksu, Eudon Choi, Moncler and Paul Costelloe, and trunk shows for Dior, Pucci DKNY, and Max Mara, as well as countless celebrities and fashion magazines.
ABOUT RUNWAY360
RUNWAY360 is a unique and innovative digital platform from the Council of Fashion Designers of America (CFDA) to support American designers by bringing together every aspect of a collection launch in a one-stop-shop environment. The groundbreaking portal incorporates key aspects of the designer business, from show to press, sales, and consumer activations, in an effort to help drive sales while providing the industry with a simple tool to experience the best of American fashion creativity. The 360-degree platform is seasonless and will serve as a permanent fixture and main destination for consumers, press, trade, and retailers from around the world to explore and engage with American collections.
ABOUT ALL BENEATH HEAVEN
With a belief that dressing can be a conduit toward self-actualization, Jimmy Alexander creates pieces with the intent to earn a lifelong relationship that goes beyond that of subject-object: all beneath heaven. all beneath heaven was born from a search for meaning; an experiment for learning. What began as sketching my own ideas for garments started feeling like a mirror of my reading and practice in Eastern philosophy. These melded into a wardrobe that I would want to wear to tell my story; there was no separation of instinctive sketching and a knowing of how all beneath heaven would take form in identity, principles, and meaning; the two came together.
The aesthetic is playful, poetic, and hyper-real employing classic shapes with exaggerated features and an overall focus on the wearer's ability to flow. all beneath heaven was conceptualized in Los Angeles and brought to life in South India alongside Vogue 100 Innovator Nishanth Chopra, a leader in ethical sustainability who runs Oshadi Collective, all beneath heaven's manufacturing partner.
All bespoke fabrics are 100% organic, as are the dyes. Silk thread, metal, and glass are the materials for embroidery. Linings are pure silk; buttons, mother of pearl. All the prints are hand-painted before being engineered for printing and tailoring. Luxury is in the details. The shapes of the garments are inspired by menswear tailoring yet deeply embrace feminine notions -made to work across body sizes, genders, and
wearability.
all beneath heaven's philosophy (values) and its actualization (garments & presentation) are one. Its collections reflect a narrative that is human; they are about looking inside. While the clothes are distinct and loud, all beneath heaven is about paying attention to 'self' over seeking attention from others. "Clothes can be a trigger to allow yourself to flow, to find your inner child, to get closer to your big I; your full self". Through search for meaning, all beneath heaven aspires to translate metaphysical values and universal nature to garments and personal effects. Its quest will be revealed in further 'Chapters' (the
preferred term for Collection).
ABOUT ATELIER CILLIAN
A British-American, Stephen Mikhail spent his life split between both countries. From a young age, Stephen could be found painting and drawing opulent scenes and portraits of historical figures. The suppressive religious atmosphere of his Catholic upbringing forced his mind to escape into daydreams, while the religious mythology was endlessly intriguing and thought-provoking.
Stephen's penchant for art and creativity led to fashion internships from the age of 17, with stints at Catherine Malandrino and Diane von Furstenberg in New York before going on to work under Alexander McQueen in London. Subsequently, he made the decision that he wanted free reign over his own line. He started in womenswear at the age of 19 and garnered success dressing noteworthy names from Paris Hilton to Jane Fonda.
Atelier Cillian was conceptualized as an amalgamation of Stephen's past experiences and the imagery and ideas that inspired him from the time he was a child. From religion to sexuality, to his British-American background, Stephen pulls endless inspiration from such subjects.
The brand makes its debut at NYFW with its AW22 Collection titled "The Misdeeds of Dashwood", inspired by the legendary Hellfire Club. Prior to launch, Stephen has been fostering relationships with celebrity stylists and VIP clients, creating custom pieces for the likes of Steve Aoki and Machine Gun Kelly.
Atelier Cillian can be recognised for its inherent duality between masculine and feminine. From strong tailoring to delicate draping, there is a harmonious paradoxical aspect to the clothing. Whether it's drawing from womenswear fabrics and techniques as inspiration, or reinterpreting what has been considered quintessentially "masculine" from the time of antiquity through the modern era – the clothing becomes unmistakably sartorial menswear with a dark, nontraditional twist.
ABOUT A.POTTS
Aaron was born and raised in Detroit, MI to a working class family with roots in the American South. A childhood filled with church, weekend fishing trips, going to work with his carpenter father and shopping with his dress-loving mama would shape his future view of art and design. He discovered fashion in high school and never looked back. He graduated from Parsons School of Design and went on to intern for Marc Jacobs and Donna Karan. After an international career designing for Emanuel Ungaro, Anne Klein, Ellen Tracy, Escada and Tamara Mellon and helping to launch brands such as Kaufmanfranco and TOCCIN, the time was right for Aaron to create A.POTTS. The brand embodies his embrace of creativity, diversity, artistic community, self expression, unisex sensibility and practicality. A.POTTS was awarded the 2020 Fashion Group International Rising Star Award for All Gender collections.
ABOUT BULAN
Bulan is a New York based unisex knitwear brand started as a side project in 2020 by Beam Ratchapol Ngaongam. Beam caught his attention in textile, design, and stitches in knitwear. With his passion, he has soon begun to emerge in 3D knitwear design. In addition to traditional knit techniques, Beam was struck by the luxurious aspect that knitwear volume can offer, even more than the tedious knitting process itself. Beam aims to design knitwear that is new to the industry.
ABOUT DIONYSUS
Founded by Colombian fashion designer and documentarian photographer Julian Octavio Medina Alvarez, the New York based brand uses Medina's work as a reflection to life, creating essentials with couture garments and leather. The brand uses the color black as an emphasis on the feelings of absence and alienation.
ABOUT JAHNKOY
JAHNKOY is a NYC based, family fashion brand by Burkindy and Marusya Tamboura. JAHNKOY is a global movement towards craftsmanship and cultural restoration. The purpose of JAHNKOY is to redefine and rebuild creative expression in adornment and to restore the tremendous variety of skills and techniques that our ancestors used for the garment's creation. JAHNKOY stands for the cultural unity of all nations and emphasizes craft as an ultimate tool towards the healing of mankind. JAHNKOY garments are hand-crafted in Brooklyn, NYC, with the hand-made materials sourced from artisanal communities around the world.
ABOUT KENT ANTHONY
Kent Anthony uses multidisciplinary design to craft contemporary luxury menswear. We are dedicated to pushing creative boundaries, making timeless pieces that integrate fine art while focusing on comprehensive silhouettes and soft tailoring. Through our garments, we work to create a dialog that represents marginalized communities and transcends expected cultural norms.
ABOUT NICHOLAS RAEFSKI
Nicholas Raefski currently lives in New York City. He graduated from Fordham University in 2021 with a degree in economics and a master's in media management.
Without a formal education in fashion and design, Raefski has put together a team of autodidacts, with a learn-as-you-go moto, and launched his namesake label out of his dorm room in 2020.
"Meet Me By The Bleachers", Raefski's second full-scale collection, marked his first appearance on the NYFW calendar with New York Men's Day in February 2022.
ABOUT RALEIGH WORKSHOP
Raleigh Denim Workshop is the American enterprise / art project / romantic adventure started by Victor Lytvinenko and Sarah Yarborough. It began as a quest propelled by Lytvinenko's fascination with denim and turned into a full-fledged business when in 2008 Barneys New York discovered and praised their jeans. The company's core designs are made by "non-automated jeansmiths" in their workshop in downtown Raleigh, NC. They believe in making clothes to awaken people's creativity and their products often begin as late-night art projects in collaboration with fellow creatives. Raleigh Denim Workshop apparel is sold online at RaleighDenimWorkshop.com, in select boutiques across the country, and in "The Curatory," the company's own retail store located in front of their workshop.
ABOUT TERRY SINGH
New York City designer Terry Singh is reshaping how the world views masculinity. Through freedom, luxury, and peace, Singh desires to diminish society's utopia on how a man should look and feel. After a trip to India, Singh has reached the realization that tranquility regardless of the rules around you is the best way to achieve your high self. This trip was so life-changing that it inspired the designer to recreate this liberated feeling all through a skirt.
"I was inspired by the freedom of wearing a dhoti because it flows and it also kind of took me to that space," said Singh. On this trip, he learned the purpose of living life through his own eyes in terms of what it meant to be a man playing by your own rules. Once he returned to New York City, it opened new perspectives for the designer as he embarked on a mission of reclaiming his masculine agency.
He did this simply by continuing to rock his dhoti. His hope is to shift the culture by incorporating Indian culture into a new space. According to Singh, the dhoti is a symbol of his transformative experience and how we come into ourselves over time.
The dhoti is a garment typically worn by Hindu men. The motivation behind his latest collection presented at Fashion Week took a refined yet elegant approach. He worked with the best clothes from Paris and Italy. While designing, Singh always makes sure to keep some masculinity in the piece. However, he constructs it in a way that is evolutionary so that the viewer can capture the uncomfortable versatility. Terry Singh is a free man living his best life during times where conformity is the new norm.
##
Learn More
With love,
FWO