Gift Guide for Mom
The best way to make a last-minute gift more meaningful is to give something that does good. These items come from brands that have a positive social impact, or who partner with a charity that does.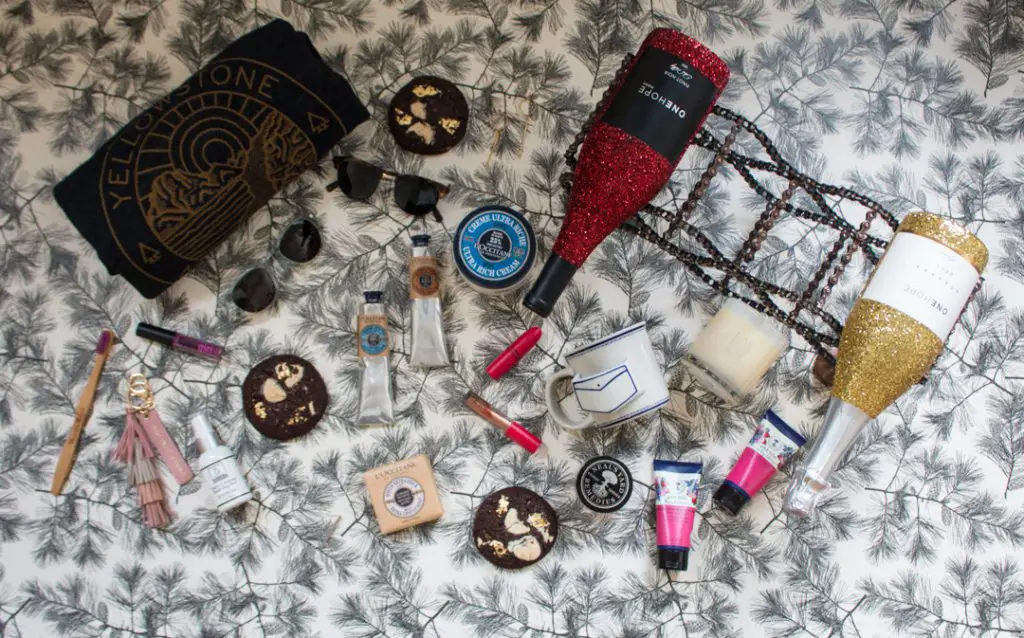 Parks Projects funds various projects from habitat restoration to wildlife conservation in the national parks. Everything from this cool crewneck to their hats help fund a project.
Love Goodly curates bimonthly subscription boxes to help you discover healthy and cruelty-free beauty products like this lip gloss, toothbrush, face mist, and keychain. With each Love Goodly purchase, you're giving back to a cause — as if shopping already couldn't make your heart feel more whole. The gifts literally keep on giving.
Extraordinary Desserts has partnered with fashion and lifestyle blogger Emily Schuman of Cupcakes and Cashmere to create these fashionably delicious cookies for a good cause. The "All of the Above" Cookie is expertly crafted with dark Valrhona chocolate as the base, sweetened with chunks of Valrhona white chocolate, mixed with caramelized cocoa, and topped with French sea salt and a 23 3/4 ct. gold leaf — an incredibly thoughtful gift that is literally too beautiful to eat. 25% of the proceeds goes to Global Fund for Women, an organization that advocates for women's human rights.
25% of the proceeds goes to Global Fund for Women
Share the gift of sight these year with Warby Parker. The Carraway and Hammond frames are the perfect gift for any guy or girl in your life, and with Warby Parker's Buy A Pair, Give a Pair initiative, you are giving a pair of glasses to someone in need with each purchase.
Crafted with love and locally sourced natural or recycled materials, Ten Thousand Villages is a brand that is dedicated to improving the lives of makers around the world. The non-profit organization partners with skilled artisans from all throughout the globe to create beautifully hand-crafted accessories and decor like this wine rack and cookie mug along with so many other pieces. Every purchase improves the lives of makers by providing a stable income for them and their families while supporting their craft.
The Love Heals Holiday Candle from Thistle Farms has a warm, woodsy scent and is made with sustainable fibers for a 35 hour burn time. Be the light at the end of the tunnel by supporting women survivors of sex trafficking and prostitution. With each purchase, you are providing safe housing and an opportunity for economic independence for women all over the world.
The Radiance Wild Rose Collection from Neal's Yard Remedies are the perfect gifts for anyone in your life who loves natural and organic beauty. This company campaigns for various causes and charities such as Breast Cancer Haven, World Land Trust, and DEC East Africa Appeal to support and protect the many lives and beings of our planet.
Spread the flavor of love this year with glittery bottles California Brut Sparkling Wine and Edna Valley Pinot Noir from One Hope Wine. This company partners with many non-profit organizations; when you donate, you are saving the lives of animals, humans, and the environment by supporting various causes. Each non-profit organization is paired with a wine to directly fund and support each company's initiatives.
Give the gift of glam with this matching VIVA GLAM lipstick and gloss from MAC. Since 1994, the infamous VIVA GLAM red lipstick has helped to raise money and awareness for HIV/AIDS and it still does to this day. With a purchase of any VIVA GLAM product 100% of the proceeds goes towards the MAC AIDS fund.
Last but certainly not least, help a friend stay moisturized this brisk holiday season with the Nourishing Shea Butter Body Collection from L'Occitane. Made with sustainbly-sourced shea butter from Burkina Faso, this set helps to support the women entrepreneurs of Burkina Faso through the L'Occitane Foundation by providing them with literacy programs, financial and technical resources, and by helping them create and develop their small businesses.
There is no better feeling than the gift of giving, and with these last-minute ideas for gifts that give back, you're spreading love and holiday cheer to people all around the world.
See you at New York Fashion Week!
##