Kenneth Nicholson presents "Grasp" a Short Film
Represented by The Hinton Group.
The film, which he wrote, conceptualized, co-directed and produced, was created as a love letter to the brand and shows a vibrant landscape in which the Kenneth Nicholson man exists.
There are many symbolic elements in the film that touch on themes of toxic masculinity, holding on to your dreams and destiny through life's struggles, and the importance of art and beauty.
Kenneth Nicholson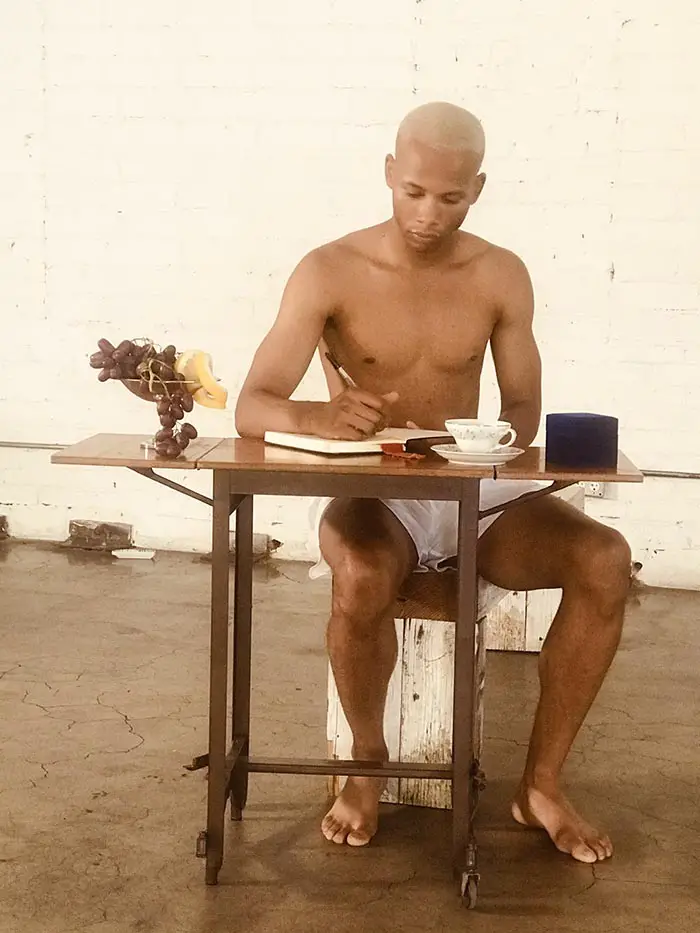 Photo: Kenneth Nicholson
The film features Kenneth Nicholson's fall collection titled "From Grandma's Couch," widely considered as a breakthrough collection for the brand since its launch in 2016. The collection, drawing from an array of reference points including digital public spaces, current and historical events, politics, and pop culture, incorporated Kenneth's signature long, loose silhouettes, blazers featuring oversized lapels, and flared, textured trousers. "I actually ended up revisiting the inspirations behind From Grandma's Couch a lot during lockdown," he notes when discussing the film. "The slowdown has made me question myself and say, 'did you tell the story? Is there more depth you could find in that?' What's been inspiring to me has been going deeper."
CREDITS
Written by: Kenneth Nicholson
Directed by: Kenneth Nicholson and Stefan Colson
Produced by: Kenneth Nicholson, Brooke Nicholson and Stefan Colson
Cinematography by: Stefan Colson
Additional Cinematography by: Ashhad Agyapong
Music Production by: Greg Pearson and Jeremy Pearson
David Played by: Dorion Wordlaw
Jonathan Played by: Jonas Wendelin
Special Performance by: Harper Waters
PR: The Hinton Group
ABOUT KENNETH NICHOLSON
Kenneth Nicholson is an American fashion designer advancing the approach of menswear. In his work, Nicholson challenges the often narrow rules that accompany the genre by evolving historical points of reference with empirical application. With an emphasis on superior construction, movement, textures, strong silhouettes and innovative techniques, Nicholson's collections are wholly unique unto the brand. Worldly details, art history and the precision of military culture has become a reference point for his namesake label, which launched in 2016.
##
Learn More
With love,
FWO