Pamella Roland: Fall / New York
When asked about the inspiration behind this collection, designer Pamella DeVos proudly stated just one word- "Prague".
A trip to Prague that was originally just for her son's hockey game resulted in an opportunity to gain great inspiration for this collection as she was able to explore the city in depth. The jewel toned colors that she saw throughout Prague are very much reflected in the collection with ruby, amethyst, sapphire, and emerald as the focus of this season's color palette. Baroque motifs are translated into luxe fil coupes and jacquards to represent the royal Prague interiors in fabrication.
The show exuded nothing short of elegance as the models walked gracefully down the runway, each gown glistening with pearls, sequins, crystal appliqués and a variety of feathers. Embroidered ornate metallic threading, a mix of metallic gold and gunmetal elements and tulle were prominent throughout the looks to help create a crown jewel resemblance as well as to keep with the signature sleek and extravagant style that is Pamella Roland.
After the show, I was able to catch up with Pamella in the bustling backstage scene to ask a few questions about the collection.
The Fall Collection
[portfolio_slideshow id=50253 align=center width=600 click=advance thumbnailsize=40 showcaps=false]
The Interview
Q: What was your inspiration for this season's collection?
It was a visit I've had this summer to Prague. I've been there many times. Usually I'm there for business and I don't have the time to explore but this time I took a boat tour and realized "Wow, this city is so beautiful" as I experienced both the modern and historic part of Prague. I explored some amazing buildings with great architectural designs and saw lots of golds and metallics, amethyst and ruby and I said to myself "This needs to be the inspiration for my collection."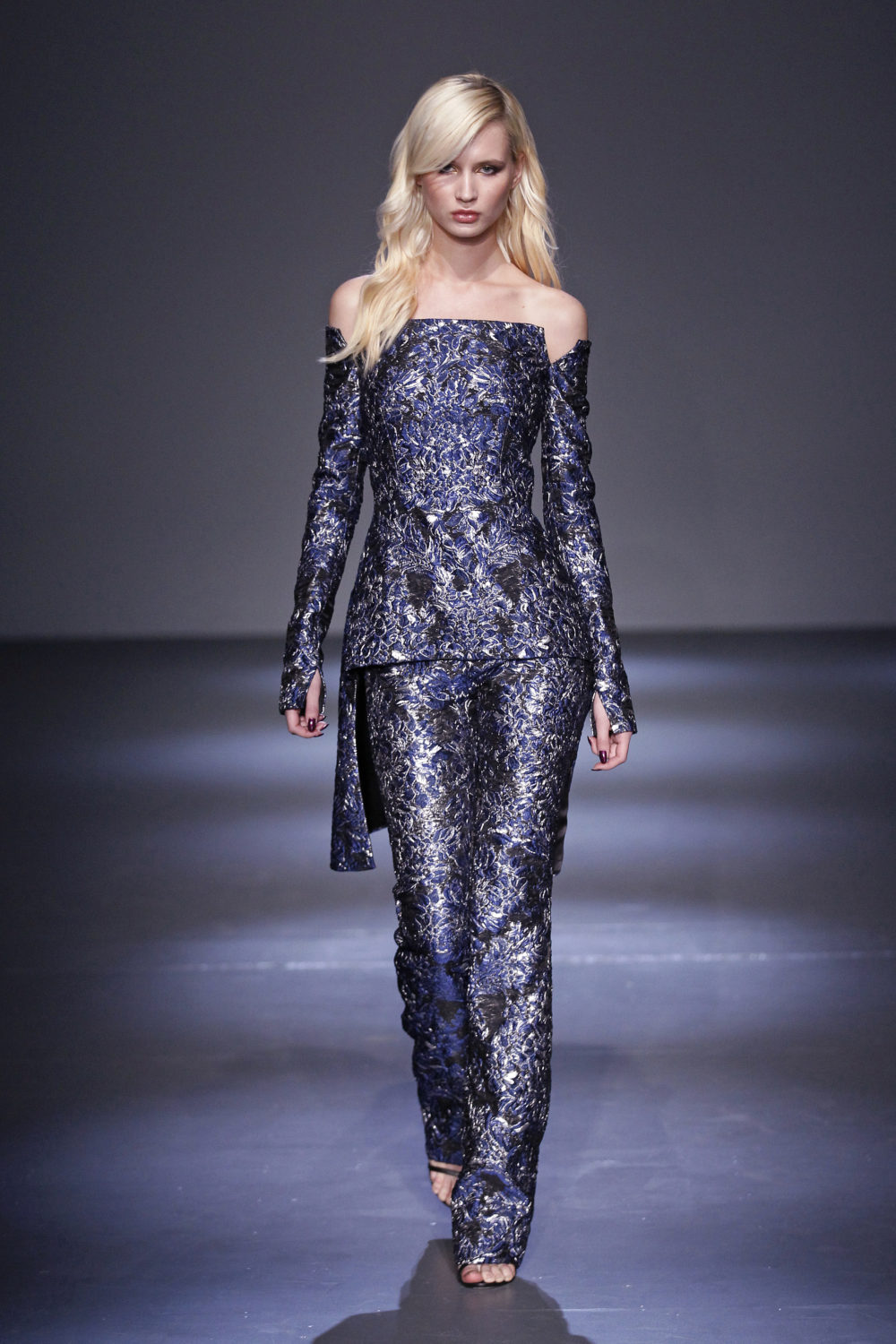 Q: If you had to choose, which is one of your favorite looks or a "hero piece" in the collection?
Oh gosh, there's so many and for different reasons. Like I love the coats in the beginning because I'm a person that loves coats. I love the blue two-piece (Look 3) because that's very young and modern. But then I love the gowns too, I really have to say- I like everything, and I don't say that about every collection.
Q: How would you say that your brand has grown or changed overtime?
Well, when I first started I was more of a sportswear designer, and then we found that our dresses were selling better so then we became a dress designer and now we're kind've doing a little bit of everything. But, it's all luxury and high-end.
Q: So, what's next for Pamella Roland?
We'll have resort, and I think our inspiration is Bali.
Q: That sounds incredibly exciting! Thank you!