Holiday Gathering Guide
We all understand that the holidays are stressful … between what to serve your friends at your holiday party to how to smoothly sail through family time without pulling your hair out. Either way, with these tips and tricks you'll not only impress your guests, but you may just have a great time.
First, the table. I always find a thick, waterproof wrapping paper that is neutral in color, so I can use it to cover tables. Pier 1 always has an amazing selection of ones like this. I find that tablecloths can be ruined, in spite of washing. We all know that one person who manages to always spill wine on everything. This way you can simply throw your table cover away after the party.
tablecloths can be ruined, in spite of washing
Living in New York City, most people don't have a fireplace or room for a huge tree to provide holiday fragrances. I hate tacky, artificial-smelling candles. Brooklyn Candle Studio has a mossy, musky cedar wood based candle that gives the whole room the scent of balsam with their Christmas Tree Candle. Their Champagne Toast Candle smells of a fruity champagne with hints of black currant and creamy vanilla. It's the perfect candle for the bathroom, or a door entry to properly greet guests.
I always like to have a couple of drink options on hand, and Swish Beverages has all holiday gatherings covered. Can we just take a second to acknowledge how amazing their Pinot Grigio is? They literally call it "Family Time Is Hard." At a very affordable price, it tastes so good your snobby aunt will be happy, and will never know it wasn't her favorite bottle from the vault.
even your snobby aunt will be happy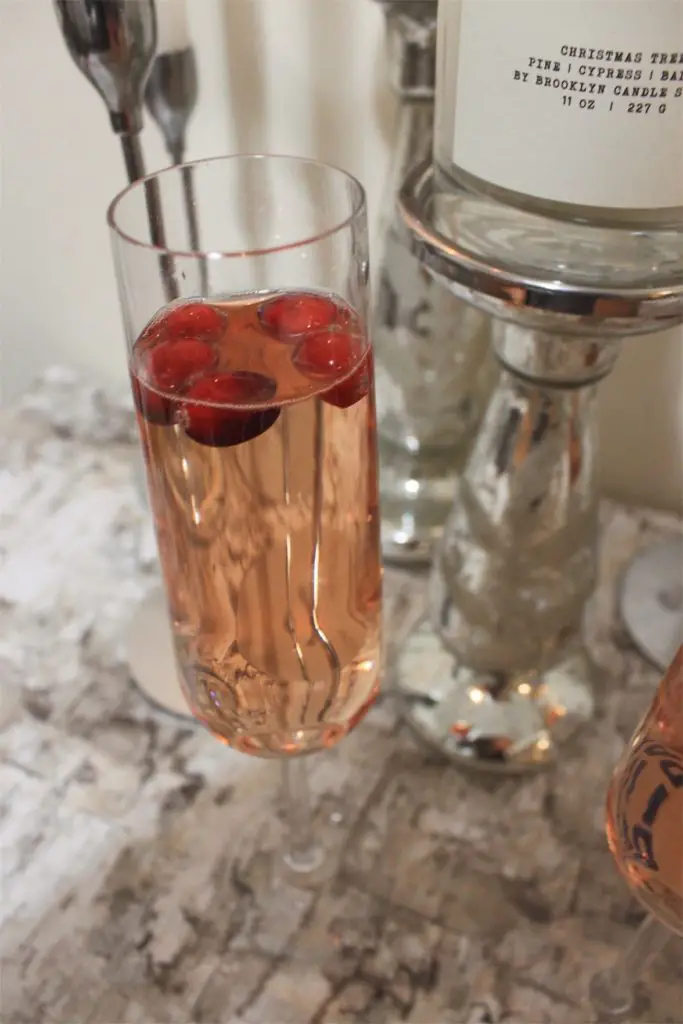 My personal favorite is their new "Pink Party" sparkling Rosé. This is a fun opportunity to upgrade your champagne to a fruity base. This year try a DIY Rosé bar with lavender, fresh cranberries, pomegranate seeds and juice, grenadine, and you can even add in gin! Rosé is an easy year-round drink that you can really have fun with. Bonus points because these bottles and DIY drinks are so Instagramable.
Rosé is an easy year-round drink
Decorating doesn't always have to so intensely holiday that you do use it once a year. You can even use many of tips, and hosting strategies, for a New York Fashion Week soirée. Opt for a simple silver color palette like these candle stick holders and pedestals from Cost Plus World Market. Focus the holiday décor on fresh items like pine wreaths, mistletoe, and even by decorating food trays with rosemary.
Spend your time cooking the main dish or desserts, and keep the sides and appetizers very simple. An easy update on the caprese is by sticking a rosemary sprig through the middle; see the full details here.
Always have a variety of desserts that you can start preparing the week of your party, in all different flavors. Whether your guests like chocolate, hate cranberries, obsess over caramel, or think the smaller cookies means less calories, you should have something for everyone. I always make an Italian rainbow cake once a year that is a family tradition. Not only does my family love reminiscing over old memories, but new friends always leave asking for the recipe.
At the end of the day, the holidays are supposed to bring everyone together no matter what religion or heritage. This holiday hosting guide is a sure way to get you through any gathering, excited to do it all over again next year.
##