When it comes to glasses, it's not just serious options that are available! Funny glasses are a fabulous accessory for a big night out, a festival, a concert, or a wide range of other events. Having a few novelty pairs of glasses in reserve is a great idea to be sure you'll always be ready for a last-minute party!
Below we've rounded up all your options regarding funny glasses, from LED flashing specs to anti-social media glasses that make you untaggable online, so you can find your perfect pair! You'll also find some of the world's craziest glasses styles, just in case you really want to push the boat out!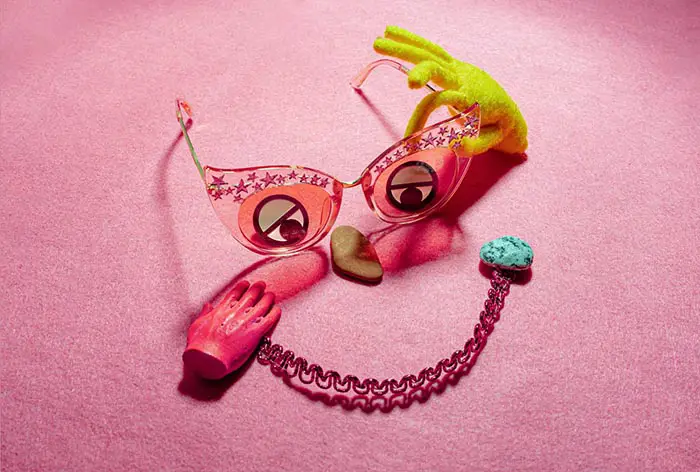 Novelty Funny Glasses
First up: novelty glasses! These are perfect for fun parties, fancy dress bashes, hen or stag dos, and festivals – the opportunities to wear comedy eyewear are endless!
Celebrating St Patrick's Day with friends? Opt for a pair of shamrock-framed glasses. Out with the lads? It's time for some beer steiner frames! Whatever you're looking for, whether it's a pair of unicorn shades, star-framed specs, or the classic wobbly eye comedy eyewear, you'll find glasses online to suit!
Classic Funny Glasses with Comedy Nose
Keep it classic with a pair of comedy plastic glasses that feature a nose and even an incorporated set of bushy eyebrows! You can't go wrong with this option – kids will love wearing them, too.
Shutter Shades
Are you looking for something colorful to wear to a beach party, a club, or a New Year's Eve celebration? Shutter shades are a great call! These fun glasses are usually made of plastic and incorporate thin bars running horizontally across the 'lenses.'
Light-Up Glasses
Light up the party – literally! – with a pair of light-up glasses. Choose fun specs with flashing frames or an LED light-up option. Alternatively, choose glow-in-the-dark frames, which can be worn to fab effect at a festival when the sun goes down.
Fancy Dress Eyewear
Perhaps you're heading to a fancy dress party as a particular character from a book, tv show, or movie, and therefore need a very specific set of novelty glasses. It's easy to find what you need online, from an authentic-looking pair of Harry Potter specs to a nerdy, taped-bridge pair of glasses or some Clark Kent-type eyewear.
The World's Most Extreme Funny Glasses
It's not just death and taxes you can count on. There's also the fact that there's always someone out there who will take things to the extreme. And it's just the same with novelty glasses as it is with everything else. Here's our pick of the world's most extreme glasses. Brace yourself.
Tattooed-On Glasses
Really. A Flickr user recently posted his exploits at a tattoo studio, where he went to get a pair of spectacles tattooed onto his face. He opted for a chunky pair with black rims. At least he'll never have to worry about misplacing them…
Chopstick Glasses
Fed up of losing your chopsticks? Aren't we all? But designer Brad Gressel has come up with the solution: a pair of wood-colored plastic-framed specs that incorporate a holder for your utensils, so you need never worry again.
Pierced Spectacles
This concept is currently in development, but there's a chance it could be rolled out to those interested in a permanent solution to glasses that constantly slip off the nose. Wearers will need to get a small metal implant inserted into the bridge of the nose – magnets on the glasses frames then provide a secure fit.
Lego Sunglasses
Possibly the least crazy option on this list (although that's not saying much) is the Lego sunglasses! This eyewear is the result of a collaboration between Lego and Lynx Optique: they feature Lego bricks on the side, so you can literally build your own style!
Anti-Social Media Glasses
Our personal favorite: anti-social media specs effectively make you untaggable on Facebook et al., so for those who prize their digital privacy, these are the glasses for you! They're also known as the Embarrassing Photo Spectacles.
Sticker Spectacles
You thought you'd heard it all, right? Wrong! How about some sticker spectacles from the British duo Azumi and David? This option is exactly what it sounds like: you buy a roll of stickers emblazoned with life-size sunglasses and literally stick them on your face for the ultimate in silly glasses.
Glasses for Pets
Funny glasses aren't just for humans; they're also available for your furry friends! But it's not just about making your pet look as silly as possible. Doggles is a company offering a range of pet accessories, including sunglasses for dogs designed to provide eye protection from small stones or other debris when your best friend pokes his head out the window on a drive!
The Takeaway
Everyone needs at least one pair of funny glasses in their accessories drawer, ready to whip out for a fancy-dress party, hen or stag do, or other fun events. Once you have them, you may be surprised just how many opportunities you have to wear them!
Use the above guide as inspiration to get your funny glasses selection started – although you may want to rule out the tattooed-on option!
##