Digital Fashion Week NY Takes Fashion Into The Metaverse
Digital Fashion Week New York (DFWNY), a lens through which we view the future of fashion, announces it will hold its third virtual Fashion week from Thursday, February 11 till Sunday, February 13 in a curated Metaverse space.
Step into the future with a Metaverse fashion show featuring some of the world's best digital designers.
Wander through the exquisite Metaverse fashion experience, chat with the designers, visit their boutiques, buy NFT fashion, take a ride in a virtual hot air balloon and watch a fashion show with music from DJ Cherish the Luv. POAP airdrop for all Metaverse fashion attendees. This awe inspiring showcase of ingenuity, expression, and innovation WILL BE HOSTED BY Queendom.io in partnership with Digital Fashion Week NY and WILL FEATURE WORKS BY top digital fashion designers from around the world.
WHAT: An immersive fashion show in the decentralized metaverse that celebrates the creativity, sustainability, and innovation of digital fashion and the skilled designers that create them.
WHEN: Thursday, February 11, 2022 to Sunday, February 13, 2022
WHERE: The Metaverse
Register to attend the show and RSVP for a futuristic experience filled with inspiration, awards and live music by visiting the website. Tickets are available online via https://www.digitalfashionweek.nyc/.
To partner with Digital Fashion Week New York, please visit https://www.digitalfashionweek.nyc/contact.
About Digital Fashion Week New York
Digital Fashion Week New York (DFWNY) is a hybrid physical/virtual fashion exhibition. Through the optics of IRL X URL, the audience is immersed in the shifting realities of fashion through AR, Web 3.0, holograms, Metaverse runway shows, virtual exhibitions, digital screenings, panel discussions and workshops. The curated Fashion Tech event celebrates the voice of design leaders at the vanguard of artistic, creative technologies influencing the future of the fashion industry. To learn more about how DFWNY is integrating the world of fashion and technology, visit www.digitalfashionweek.nyc.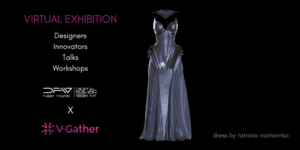 About Queendom™
Queendom™ is the first-ever decentralized metaverse platform created and led by women and minorities that is onboarding and empowering women, LGBTQ, BIPOC and individuals with differing cognitive or physical abilities by offering them a safe and thriving environment with minimal barriers to entry. www.queendom.io
Queendom's™ hyper-realistic virtual world and seamless NFT marketplace are powered by Chief Metaverse Officer™, a leading metaverse consultancy working with the world's top brands and retailers on strategizing, designing and executing their web3 presence through metaverse, NFTs, gaming, virtual fashion, and other technology solutions in sustainable, accessible and inclusive ways. Visit www.chiefmetaverse.co
##
Learn More
@digitalfashionweeknyc
digitalfashionweek.nyc
queendom.io
chiefmetaverse.co
With love,
FWO