Naeem Khan Fall 2017 Bridal
the
'70s
revival automatically presents fertile ground for a someone with a history like ex-Roy Halston protégé Naeem Khan. But international travel also occupies a certain top-of-mind awareness for a man who has dressed everyone from Kate Middleton to Michelle Obama to Queen Noor of Jordan.
It's no wonder, then, that for Fall 2017, Khan created a collection that channeled '70s-era, form-fitting, bias-cut glamour, while taking us on a tour of international destinations.
The show was fun and the dresses were sexy, thanks to elegant pearls, swinging fringes, and lots of transparency.
To keep it playful, he even added in little Star Wars-inspired touches for good measure (Leia Amidala wedding, anyone?).
Leia Amidala wedding, anyone?
After all, there are space princesses among us, too, right?
The Show
We loved the ornate, Castilian-inspired looks best, followed by the '70s eveningwear pieces.
One thing Naeem does best is allow a bride to look both sexy and on-point at the same time. For a perfect example of this sensibility in play, look no further than the bridal boots, which he created in collaboration with Christian Louboutin, and the statement earrings by Ranjana Khan (@ranjanakhannyc).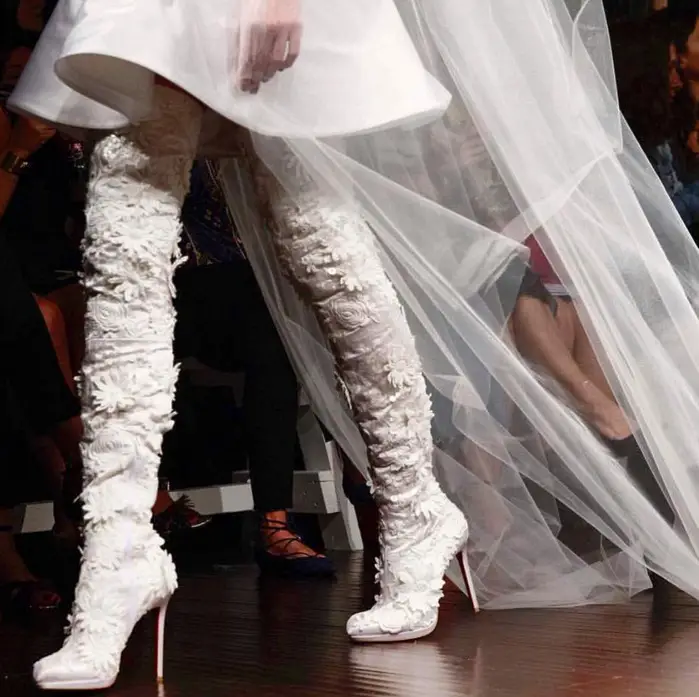 Naeem allows a bride to look both sexy and on-point at the same time.
Surprisingly refreshing were Khan's last two pieces, in canary yellow, and one with a diagonal hem that looked ready for a night of salsa right after the ceremony.
From IG @NaeemKhanNYC
Want to go bold? When you say "yes" next season, take a break from the expected, and try a bright yellow wedding dress — Khan dares you to try.
##
Learn More
NaeemKhan.com
IG @NaeemKhanNYC
IG @NaeemKhanBride
With love,
FWO