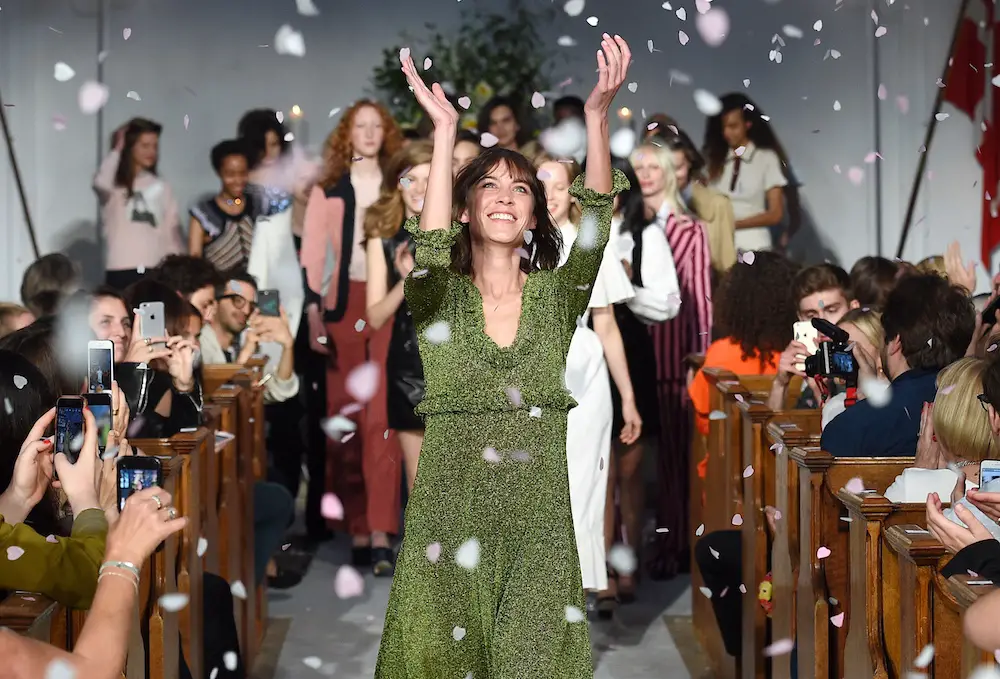 Alexa Chung Celebrates the Launch of Her Eponymous Fashion House with Friends
We still think Ringo is just a smidge cooler than George — if you remove the Pattie Boyd-driven Hindu element, anyway — but anything with a non-John or -Paul Beatle is likely to get an automatic thumbs up from us.
Alexa Chung clearly knows her market, as she showed once again last night at the debut of her new ALEXACHUNG Collection, which was both runwayed and fêted at London's Aviary Bar.
Although the guest list reads like a who's who of hip London society, the real standout was the collection, which was surprisingly good.
 
The Collection
[portfolio_slideshow id=29766 align=center width=600 click=advance thumbnailsize=40 showcaps=false]
 
The show was live streamed via www.alexachung.com, and the event was joined by some of her closest friends: Pixie Geldof, Daisy Lowe, Amber Anderson, Natasha Lyonne, Henry Holland, Jack Guinness, and Tallulah Harlech.
The focus was clearly on wearability, with a collection of looks that were chic, cheeky, and fun. Thrift-store cool with a rock edge — à la Bill Gaytten or Saint Laurent — was presented side-by-side prep school chic that recalled Band of Outsiders. As if that wasn't enough, a little Joan Jett-inflected punk, Studio 54 disco, and 1980s shoulder pads were thrown in for good measure.
Joan Jett-inflected punk, Studio 54 disco, and 1980s shoulder pads
A collection like this can risk becoming incohesive, but a sense of playful, tongue-in-cheek sass tied it all together. The "Screw You" t-shirt in funky, early-'70s letters, and the "I Love U, I Hate U" tee were standouts in the smoking-in-the-girl's-room category. But there was some very lovely knitwear as well, such as the stripy mohair jumper (very smartly styled with a leather skirt), and mixed crochet top a la Hervé Léger.
Finally, the ALEXACHUNG Hooded Floral Dress was a real standout for us.
Alexa Chung shows that her strong sense of style can indeed translate into a full collection. But more importantly, she seems to be able to design clothes that people would actually love to wear. The fits were sharp, silhouettes on point, and the energy and sense of fun palpable.
She seems to be able to design clothes people would actually love to wear
If this is what Alexa Chung is up to, we can hardly wait to see more.
 
Everybody Alexa Chung Tonight
[portfolio_slideshow id=29768 align=center width=600 click=advance thumbnailsize=40 showcaps=false]
 
##
Learn More
With love,
FWO