Ever tried glamping? In a nutshell, it combines the joys of camping and being out in nature with more of the home luxuries we're used to. A bed, electricity, and sometimes even a hot tub! This formula attracts many British holidayers, from couples to families, particularly given the rise in staycations. How luxurious you go is up to you – there's a reason why many celebrities such as Shay Mitchell and Solange are big advocates for the glamping lifestyle.
Without further ado, here's how you can prepare for an upcoming glamping trip.
Who's coming?
Glamping is a hugely versatile activity that attracts many groups for different occasions. You might be going with family, your partner or your friends. Glamping is also a popular choice for hen dos and work socials.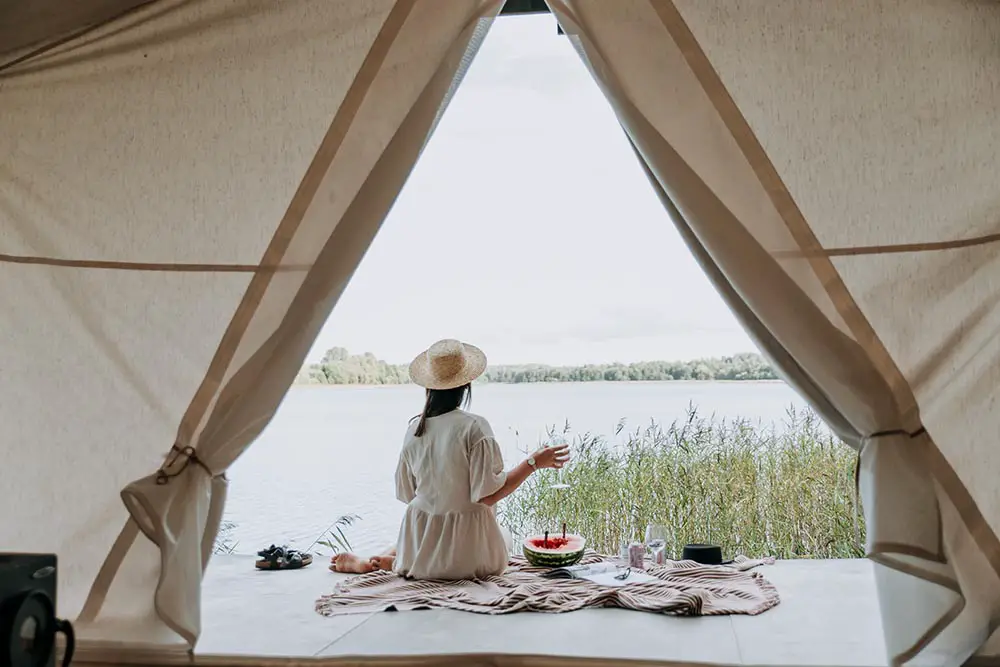 The location and venue will largely be dictated by who's going and what you see yourself doing during your stay. Some glamping spots are well-placed for hiking, while others are based near activities such as adventure trails or alpaca walking. Alternatively, your glamping trip may be viewed as a relaxing escape, in which case you may want to seek out facilities such as a hot tub and complimentary extras like champagne.
Luxury locations
Glamping accommodation can range from practical wooden pods to boutique yurts or expansive domes. Some of the best glamping sites in the UK feel like a fairy-tale retreat! This references sturdy, pre-made accommodation as opposed to a glamping site set up by hand, although the latter is certainly a more cost-friendly option.
Itinerary
When thinking about your itinerary, bring your focus back to the purpose of the trip. If you're going with the kids, think about how you can keep them entertained with plenty of exploring expeditions, outdoor games, and board games. Depending on the location you've settled on, you can have a lot of fun with this. Stargazing, wildlife hunting, and hide and seek can all be embraced during your nature-filled getaway.
Groups of friends might want to swap gifts, toast marshmallows over the fire pit, or host a themed barbecue night. If you're going away with your partner, you may want to go out for a meal, whether that's onsite or in a nearby venue. Make sure you pack in line with your itinerary, remembering to bring anything from walking boots to sophisticated evening dresses that tie in with the setting.
Make it memorable
Capture memories a little differently with a disposable or Polaroid camera – this way you can keep physical keepsakes from your time away. This will also help to keep people off their phones or social media during your retreat. Fancy getting creative? You could host a sketching or painting evening to create more take-home memories.
##