7 Of The Most Outrageous & Interesting Moments NYFW FW18
Hijabs, Abayas, and Baseball Caps Modest designer, Vivi Zubedi, showed her collection of Westernized abayas with hijabs at NYFW. And while we could have guessed the modest designer would have shown her collection with Hijabs and Abayas, we could not have predicted the baseball caps adorning the hijabs.
She utilized the baseball cap to bring attention to Banua Borneo, an area of Indonesia very close to the designer's heart – she is currently working to increase the wages for women who work in the textile industry there.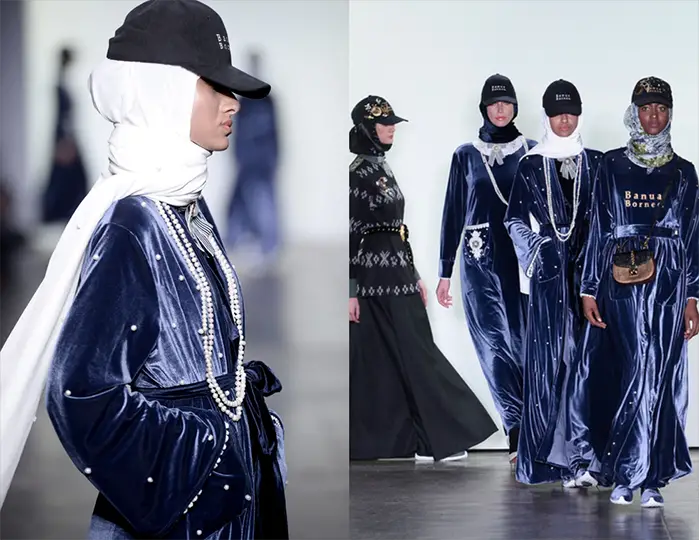 Ready For Blast-Off?
The caps in the Anveglosa runway show for Fashion Kong Hong were giving us major Astronaut vibes. (ref: Astronaut Communication Cap)
Power Tule
There were tule accents galore during Heaven Please+'s runway show with Fashion Hong Kong.
All Puffed Up
Puffer Jacket are perfect for Fall, but we are obsessed over these exaggerated puffer scarfs from Harrison Wong at the Fashion Hong Kong show.
Bond Girls On The Runway
The lights dimmed and a elegant remix to the classic Mission Impossible theme song came on as a see of runway models resembling Bond Girls hit the catwalk for Dan Liu.
Anna Wintour Fat Heads
Front row seats were held by Anna Wintour fat heads at the Leanne Marshall show. The heads are now going viral on Social Media, and have even been credited as THE Anna Wintour by Getty Images.
A Sea of Pink Paper Trees on Valentines Day
Custom Lovepop cards were on every seat at the Leanne Marshall runway creating a tiny pink forest surrounding the runway and inviting guest to a Valentine's Day they would not forget.
##
Learn More
With love,
FWO