6 Standout Trends Seen During Paris Fashion Week
Represented by The Riviere Agency.
Fashion Month is over, but we are still swooning over the trends we saw on the runway in Paris, France! Paris is home to some of the most unique fashion seen of all of Fashion Month's big 4 shows. We have reviewed looks from designers who have come from all over the world to show during Paris Fashion Week and here are the top 6 trends from the runway as seen at Oxford Fashion Studio and by Independent designer Dara Senders. These trends have been seen through out fashion month from designers like Marc Jacob, Miu Miu to Versace…they say 3 is a trend, but more is a movement.
Take a look at 8 stand out trends from the runway.
1. Lovely Lavenders
This feminine shade of purple was everywhere in Paris from vibrant lavenders to steel toned shade, we are picking lavender for Spring. Other Notable Shows With This Trend From Fashion Month: Christian Cowan, and Rodarte
Left To Right: Barak Lahav, L'Elegante by Marie Linker, Berth Number 66, Riikka Couture/Heili Bridal/By Laura Darth ,Glancez, Rayray Goetia (as seen at Oxford Fashion Studios)
2. Rose Quartz
If millennial pink was the color of seasons past, this shade of pink is her older sister, softer and beautiful on every complexion. Other Notable Shows With This Trend From Fashion Month: Miu Miu, Dan Liu, Stella McCartney
Left To Right: Dara Senders, L'Elegante by Marie Linker, Lore, Myoo Couture,Noah Christian, SheShea
3. Crowns & Unique Headpieces
Designers are obviously here for the feminist movement and showing it by crowing all the female models with their version of a crown or shield of armor. Yassss Queen! Other Notable Shows With This Trend From Fashion Month: Coreta Louise and Marc Jacobs
Left To Right: L'Elegante by Marie Linker, Fabrosanz Creations, Le Cattleya, Silent Siren Bridal, Riikka Couture/Heili Bridal/By Laura Darth, Myoo Couture, SheShea, Xiao Fen, Noah Christian (as seen at Oxford Fashion Studios)
4. Bow Accents
The bow so simple, but is a traditional touch of femininity and during Paris Fashion Week designers showcased the details on necks, backs, waist, and bust in sizes big and small. Other Notable Shows With This Trend From Fashion Month: Emilia Wickstead, Erdem, and Preen
Left To Right: Dara Senders, Barak Lahav, Dark Thorn Clothing, Lore, Le Cattleya, Riikka Couture/Heili Bridal/By Laura Darth
5. Ruffles
Ruffles ruffles everywhere, this fun detail enters a room to be noticed. Other Notable Shows With This Trend From Fashion Month: Marc Jacobs, Tory Burch, Jason Wu
Left To Right: Dara Senders, Barak Lahav, Nasheli Juliana, Berth Number 66, Lesunja, Cobilee J West, Glancez, Silent Siren Bridal, Xiao Fen
6. Romantic Reds
Red says I'm here…get used to it. From rich fire engine reds to hues of burgundy. We love the look of red on the runway. Other Notable Shows With This Trend From Fashion Month: Prada, Versace, Salvatore Ferragamo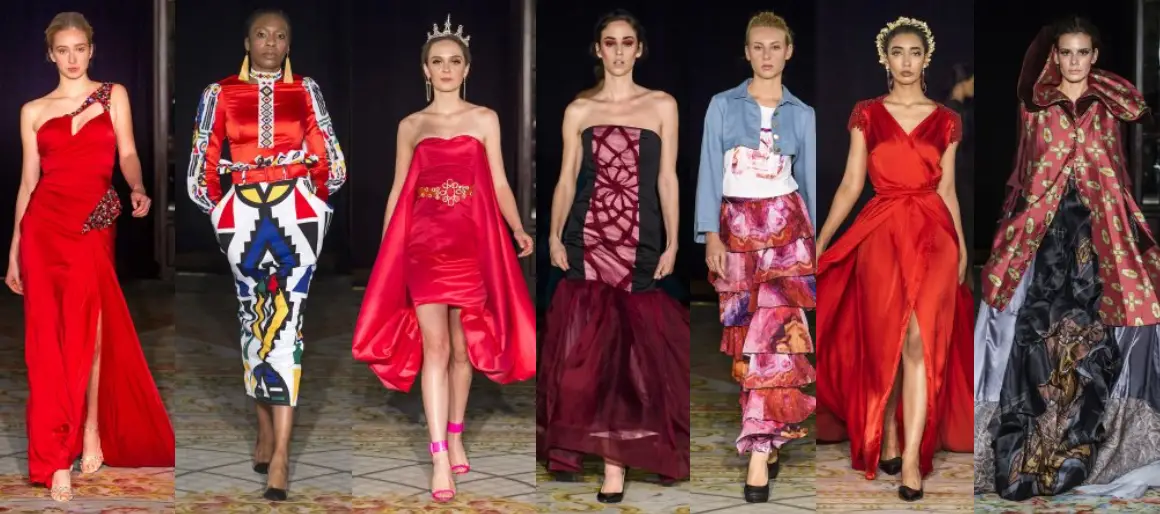 Left To Right: L'Elegante by Marie Linker, Fabrosanz Creation, Le Cattleya, Cobilee J West, Riikka Couture/Heili Bridal/By Laura Darth, Rayray Goetia (as seen at Oxford Fashion Studios)

##
Learn More
With love,
FWO