Your bridesmaids' style should complement your own wedding dress and the overall theme of the big day. To make things easier, we've put together a list of on-trend styles that are sure to please any group of bridesmaids. From classic and timeless gowns to playful and whimsical frocks, there's something for everyone.
Lace Dresses
Whether you opt for classic ivory lace or something more daring, like black lace, these dresses are sure to make your bridal party look stunning. For a more casual affair, consider pairing lace bridesmaid dresses with simple jewelry and nude shoes. In case of a formal wedding, try adding pearls or diamonds and choosing heels in a coordinating color. No matter how you style them, lace bridesmaid dresses are sure to make a lasting impression.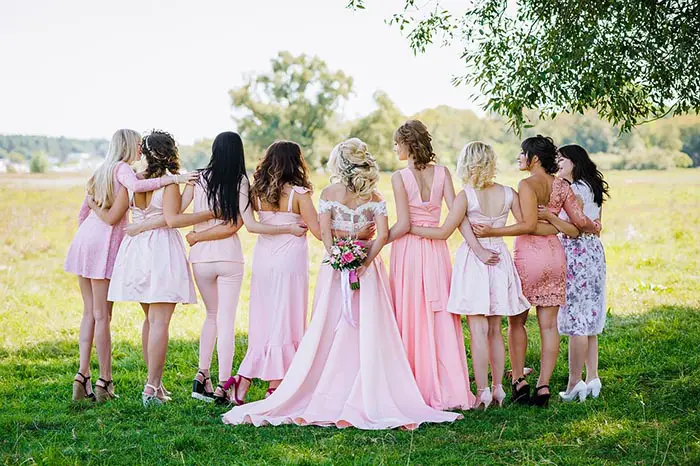 Floral Dresses
From delicate pastel florals to vivid tropical prints, there's sure to be a design that fits your wedding theme perfectly. Flower prints can be easily coordinated with the rest of the wedding party's attire. Plus, they come in a wide range of styles to suit any body type and you can buy them from any top fashion brands. If you're looking for a flattering dress for your maid of honor or bridesmaids, a floral dress is a great option.
A-line dresses are always a good choice for ladies with curvier figures, while empire-waist dresses are perfect for petite bridesmaids. And if you want your maids to stand out from the crowd, opt for a dress with an eye-catching print or color. No matter what your style, there's sure to be a floral dress that's perfect for your big day.
Slip Dresses
Simple and chic, slip dresses are a great choice if you're looking for something less formal than a traditional gown. They can be dressed up or down depending on the occasion, making them perfect for both daytime and evening weddings. Additionally, they come in a variety of colors and fabrics, so you're sure to find the perfect one for your girls.
Sequin Dresses
Sequin dresses are perfect for making a statement and adding a touch of glamor to your wedding day look. Whether you opt for an understated design with just a hint of shimmer or go all out with a full-on glittering gown, sequins are sure to make your girls stand out from the crowd. There are a variety of styles to choose from, so you're sure to find the perfect dress to complement your wedding dress and theme. Whether you choose a classic long gown or a shorter cocktail style, your bridesmaids will look stunning in sequin dresses. Plus, there are a range of colors to choose from, so you can find the perfect shade to match your wedding palette.
Grecian Dresses
Grecian-inspired bridesmaid dresses are timeless and elegant. The flowing fabrics and Grecian-inspired silhouettes are both elegant and figure-flattering, making them a great choice for any bridal party. Whether you're looking for a classic look or something more modern, Grecian bridesmaid dresses are a great option. With their flowing fabrics and draping details, they'll make your girls feel like goddesses on your special day.
When shopping for a bridesmaid dress, it is important to think about the overall theme and style of the wedding. You should also consider the body types of the bridesmaids and choose a dress that will flatter each of them. Remember, it is important to stay on trend by choosing a dress that is stylish and fashionable.
##