Simone Cecchetto:
Shoes
with

Soul
---
FWO Presents: The Simone Cecchetto Interview
I

t is my opinion that Simone Cecchetto is the greatest shoemaker alive today. His shoes are expensive. Very expensive. And I'm proud to say that — in lieu of a nicer car or a larger apartment — I own three pairs (two purchased used). I'm also afraid to wear them, in spite of the message clearly stamped on the box that comes with every pair: "HANDMADE IN ITALY. DO NOT HANDLE WITH CARE." So why buy them at all? Because, to me, they are the works of an artist. An artist whose medium just happens to be shoes.
They are the works of an artist whose medium just happens to be shoes.
There are several things I look for when buying clothes. One is quality: I would prefer to have one item that will last 20 years over 20 items that will last one year. Another is experience. When I touch something, I like to feel like it's something: not another cloneform spat out of a giant machine. That — like an African mask or a vintage box — it has a story to tell, even if I can never know it.
And it's also why the pair of shoes above riveted my attention back in 2014.
$2,000 for a pair of shoes with built-in duct tape? This is either the work of a charlatan, a prankster, or a genius. I was fascinated. As it turns out, however, it was just the tip of the iceberg.
 
Works by Simone Cecchetto
 
[portfolio_slideshow id=8495 align=center width=599 click=advance thumbnailsize=40 showcaps=true]
The man behind the brand — originally called Augusta, now sometimes A Diciannoveventitre, or A1923 — is artist Simone Cecchetto. He's also an original member of Carpe Diem, the studio created by Maurizio Altieri devoted to old world craftsmanship and experimental treatments with leather. The looks have been a smash with the avant garde (sometimes called "streetwear" or "dark fashion") clothing set, sold by specialty purveyors such as H. Lorenzo in Los Angeles, Archive in San Francisco, PNP in Florence, Vertice in London, Anchoret in Beijing, Hide-M in Munich, and Darklands in Berlin (among others).
It intersects with other Carpe Diem graduates and offshoots such as Maurizio Amadei of M.A+ and Luca Laurini's Label Under Construction, and resonates in designers today from Incarnation to Boris Bidjan Saberi. On the more experimental side, he shares aesthetic (if not direct) kinship with artists such as Sruli Recht, famous for creating shark tooth gloves you can never take off (humorously named, "A Lasting Impression").
"Soft spoken and passionate" is how Arthur of The Archive — the men's designer boutique in San Francisco — describes Simone. "His shoes in my opinion exhibit what's known as wabi-sabi: a Japanese term or philosophy of embracing natural irregularities: the scarring, textures, colors, how the hide absorbs the dye, etc."
As a brand, A1923 also has its imitators. But Simone Cecchetto's work and vision remains at the very forefront in terms of quality, originality and color.
Q: How did you become involved or interested in — or obsessed with — working with leather and shoes? How did that bring you to Carpe Diem?
While conducting my studies in History of Art I became preoccupied with the human body toward the end of my studies. Through my research on the human body I discovered my fascination with leather and the animal skin as a medium of expression. My research on leather did not bring me to Carpe Diem, but my interest in the human body and performance art.
While conducting my studies in History of Art I became preoccupied with animal skin as a medium of expression.
Q: I've always been so curious: what does "A Diciannoveventitre" mean? What does "A1923" mean? And why the name change?
The first name Augusta originates from my grandmother. The name was initially meant as homage to my grandmother, and A1923 is the continuation. She taught me the value of simplicity and understanding as well as appreciation for not only basics, but also what is elementary. In terms of what the name means, I believe it tries to embody some of those values.
My grandmother taught me what is elementary.
Q: Do you still make all shoes by hand, or do you have help now?
At this point, my time is spent mainly on sourcing of hides, development of leather through tanning, and the treatment and color process, along with working on prototypes through developing shapes. This is a process with incremental developments, and takes all of my time.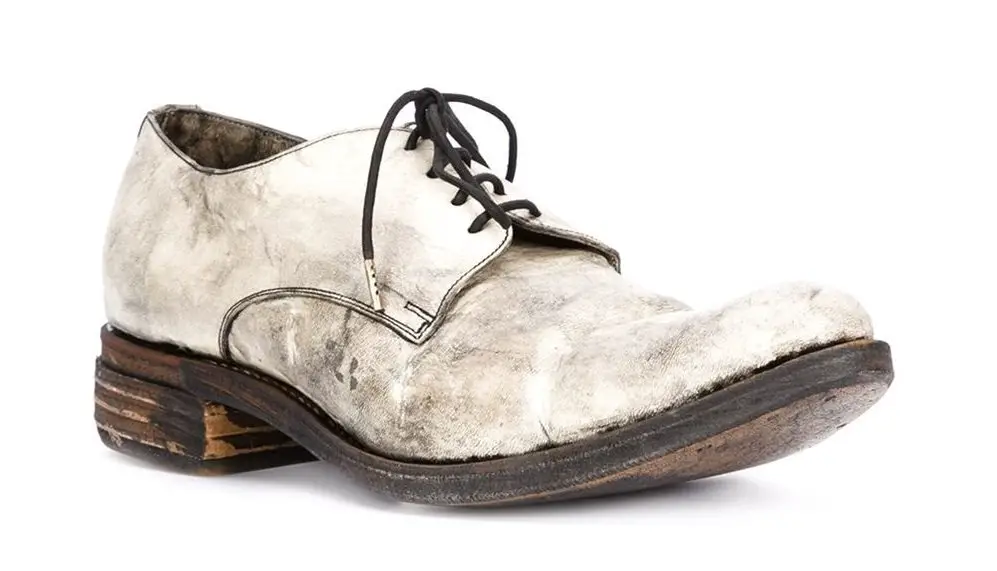 The stitching by hand of the shoes in production is today done by skilled artisans, which do not work in anything reminiscent of a factory. They are able to follow their own traditions and make their own structure in their workshops.
The sourcing of the leather, overseeing and controlling the tanning process — along with treatments and color — is still done by hand, by me, but there is simply not enough time to stitch them all by hand myself. This is a lengthy process, and a very skilled artisan is not often able to stitch more than a couple of pairs in one day.
A very skilled artisan is not often able to stitch more than a couple of pairs in one day.
Q: You're a master colorist. I have a pair of SP1 ankle boots from you that are black, green, ash, or even eggplant colored, depending on the light. My girlfriend and I never get tired of talking about how they change from indoors to outdoors. How do you achieve a complex color effect like this?
Having conducted a lot of research — and working hands-on — has given me the understanding of how different leathers will take different colors. But as touched upon already, there will always be varieties even within the same style and leather for one season. This is due to the individual variation of the leather which becomes much more distinguishable through tanning in the way we do.
Choosing to live where the tanneries are, the creative process evolves organically through daily exchange with skilled craftsmen. Conducting research was always important in my process, and continues to be so. These craftsmen honor their traditions and know their history. While respecting this heritage, I am still able to question how things are done. Through working in this way, incremental changes in the process happen continuously.
Conducting research is always important in my process.
Q: The first time I gave my cobbler a pair of A1923 shoes to Vibram, he was amazed at the weight of the shoe, and at the quality. He kept saying, "This is SO MUCH leather!" What can you tell us about that aspect of the shoes. What makes them so high quality?
I believe the previous answers have touched upon the topics relevant for discussing the quality of the shoes. Different makers choose to work in different ways, both out of financial reasons as well as aesthetic concerns.
Through the process of creating our shoes I am the link through all the steps. There is no production line; no finished leather bought with a specified color. The process rests in my hands, instead of someone else's. Many times these people are skilled craftsmen, but might not necessarily understand why a given end result is wanted, quality-wise or aesthetically.
There is no production line; no finished leather bought with a specified color.
Our process starts with sourcing the leather while it still has the fur on, untanned and un-dyed. My interest has always been in the leather, and by buying the leather in this state we are able to experiment and achieve the individual variation we do through conducting and monitoring the tanning and dyeing processes. Hopefully this shows through to the final product, and people like your cobbler might appreciate it or not.
Q: You have imitators now in the marketplace: brands making shoes that look almost identical to yours. What continues to set A1923 apart?
I do not want to be the judge over other people's work. My wish is for people to understand more fully the process of crafting a shoe, and then decide what is important for them when deciding what to buy.
Q: What do you see for the future?
 
In my new project I'm working with the owner of a tannery. I have carte blanche over the tanning pools in a given period, allowing me to conduct research at a bigger scale. I am currently tanning leather for lengthy periods of time in order to get the results I want, similar to what used to be done traditionally, but a process which has been made faster in the last century.
The idea is to continue this accumulative research on this process by employing it on different animal hides to enhance the properties of the finished leather.
With the leather research project now reaching a point where the characteristics and quality are hard to dilute, I am open to share this accumulative research and see how other groups and individuals will interpret its properties through their work.
I am open to share my accumulative research and see how other groups and individuals will interpret its properties through their work.
##
Pictures from FarFetch.com.
 
Learn More
Web: adiciannoveventitre.com
Facebook: @adiciannoveventitre
Twitter: #adiciannoveventitre
IG: @augusta1923
With love,
FWO