Oval-shaped engagement rings are rising in popularity due to their unique and elegant appearance. The elongated shape is flattering to the hand and looks larger…
With the new year comes new trends, and one trend that is sure to be popular in 2023 is oval-shaped engagement rings. This elegant and timeless shape is beautiful and versatile, not to mention gorgeous, with tons of glittering brilliant sparkle.
Whether you're a traditionalist or a trendsetter, an oval-shaped ring is sure to make a statement. Let's look at the most trending oval-shaped engagement ring styles for 2023 and why this elongated shape is taking over more traditional styles.
Why Ovals Are So Popular
Ovals are becoming an increasingly popular choice for engagement rings due to their unique and elegant appearance. The elongated shape makes hands appear more slender and delicate, and oval-shaped engagement rings tend to be more flattering to the finger.
Ovals are more affordable than other fancy-shaped diamonds like cushions and princesses. They also have more surface area, making them appear larger.
Great on a budget and well suited to classic and non-traditional engagement rings, the ovals are seeing a big rise in popularity due to their elegant appearance. They're a modern and unique alternative to the traditional round and are more affordable.

The Classic Oval
The rise in multi-stone settings has led us right back to number one, and solo stone settings are trending in 2023. This renewed appreciation for the solitaire engagement ring is best celebrated with an unexpected stone.
Ovals have a unique and timeless appeal, like the round, but their elongated shape gives them a modern feel. The shape boasts tons of brilliant sparkle, making them ideal for a single-stone setting as they are unique and interesting all on their own.
The oval shape is the perfect choice for a timeless solitaire setting, celebrating its classic beauty while giving the piece a contemporary feel.
The Vintage-Inspired Oval
Vintage-inspired rings are rising in popularity this year, and with intricate metalwork, diamond accents, and unique styles, it's easy to see why.
One notable return is in art deco-inspired pieces. These rings feature geometric shapes, bold, symmetrical patterns, and milgrain design accents. Made popular in the 1920s & 30s, it seems fitting that they should come back into style 100 years later as we roar back into the 20s.
Halos were also a popular engagement ring setting of the era. The diamond-studded setting might be your style if you're into a more luxurious look.
People are drawn to vintage-inspired designs because they feel unique and timeless, making them a great match for the elegant oval shape. Intricate details make these engagement rings stand out from traditional styles while celebrating a classic appeal.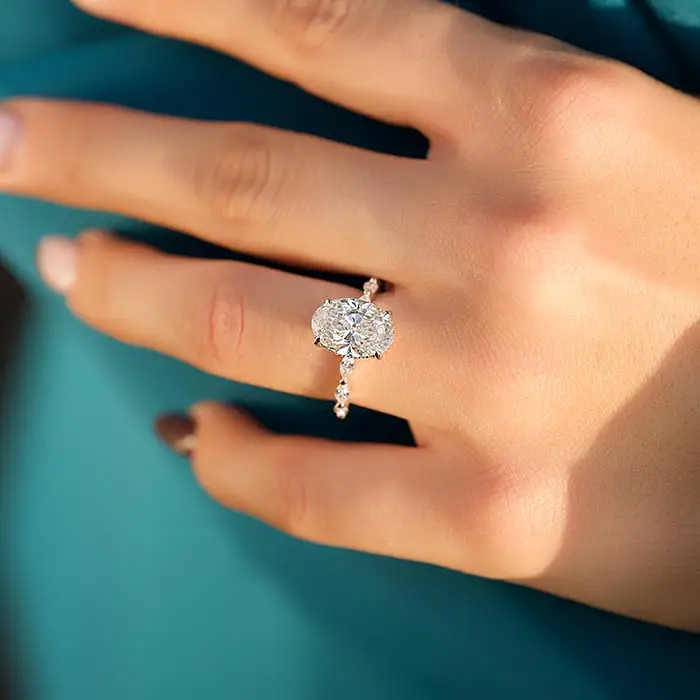 Modern Oval Engagement Rings
The untraditional engagement ring is a big trend this year, with more people choosing modern and unexpected designs.
Bands with asymmetrical bands are coming into fashion, and there is a growing trend toward using colored gemstones. Unique metal work such as textured or sculpted metal can also add a modern and artistic touch.
Yellow gold is a popular choice this year, as are mixed metals. Matching a yellow gold engagement ring to a white gold wedding band is one way to show off the trending style.
An overlapping oval-shaped stone is a great way to tie separate pieces into one unique, conducive look.
Earth-Conscious Ovals
Diamonds might be forever, but so is their impact on the earth. Lab-grown diamonds are an eco-friendly, cost-conscious, and trending big this year, making them an alternative we can all get behind.
More couples are choosing to save on an engagement ring so they can spend on their new life together. At about half the price of natural diamonds, lab-grown diamonds let you have your cake and eat it too.
Both types of diamonds are identical down to an atomic level, but lab diamonds are grown more ethically and eco-friendly. Not to mention they cost a fraction of the price.

Tips For Choosing An Oval-Shaped Ring
Consider the diamond cut: An oval-shaped diamond should have good symmetry and a well-proportioned shape to ensure it sparkles and looks its best.
Decide on the carat weight: A larger carat weight typically results in a larger and more impressive ring, but it also means a higher price tag. So consider your budget.
Think about the setting: There are many options for setting an oval-shaped diamond, such as a solitaire, halo, three-stone, or pave setting. Consider which setting complements the shape and style of the diamond best.
Take into account the side stones: Some oval-shaped engagement rings come with side stones. If that's the case, think about the type of stone you want and if they complement the diamond and the ring.
Personal style: The most important factor when choosing an engagement ring is that it reflects your style and tastes. Make sure the ring you choose is something you will love and feel comfortable wearing daily.
Keep in mind that these are general tips, and you should also consider your budget and any specific features or preferences you have for your ring.
Conclusion
The oval-shaped engagement ring is a trend that will stay in style well beyond 2023. An oval diamond's elegant and timeless shape creates a stunning and unique look, making it perfectly suited to almost any style.
Whether you prefer a classic, vintage-inspired, or modern look, there is an ideal oval-shaped engagement ring out there. Understated elegance, intricate metalwork, and sparkling diamond accents, ovals can do it all.
##