Most Fashionably Dressed Writers
What kind of person do you imagine when you hear the word "writer"? Most likely, it won't be a stylish — or even super-neat — person. You may picture someone with messy hair, in a stretched sweater and old pants.
And, frankly, the profession of a writer is not primarily associated with a fashionable look. However, this is just a stereotype. If the writer leads an active social life, he is simply obliged to have his own unique style. The style of many writers could be the subject of many research papers and other paper writings. The authors we will talk about next will completely break the cliché of men of letters slovenliness and go down in history as the most stylish representatives of this profession.
Truman Capote
The first word that comes to mind when the name Capote sounds is eccentricity. A man who did not hide his unconventional orientation, absolutely did not restrain himself in bold fashion decisions. In his style there was conservatism on the one hand and zest in the form of extraordinary hats and interesting shoes – on the other. You would not meet another such writer on the streets of New York – in a high-necked sweater and a velour vest. Bronzini's scarves and Brooks Brothers jackets were a favorite in Capote's fashion arsenal. He remained fashionable even in the courtroom – after his arrest for drunk driving, he appeared before the judges in sunglasses, shorts and a light summer jacket. Capote lived in the Plaza Hotel and drove a Jaguar. By the way, in the trailer of this car he rode his two pets – a bulldog and a cat. So, Truman Capote deservedly takes first place in our list of most fashionably dressed authors.
F. Scott Fitzgerald
Bathing in the bathroom with champagne and riding on the roof of a taxi are some of Scott Fitzgerald's many antics. In this way he showed his unique style of behavior. His outfits were no less unique. The greatest fashionista of the 20s worked on his style – a double-breasted coat "Chesterfield", open shoes and striped pants. Fitzgerald was interested in fashion trends and their impact on social classes and culture, which is well visible in his works. He adored luxury, collaborated with glossy and was the highest paid fashion writer of his time.
Jacqueline Susann
Suzanne's first book was a bit trivial, but her second work – the novel "Valley of the Dolls" – became an instant bestseller. A year after the publication, the work was filmed, the production was played by the stars of that time – Patti Duke and Sharon Tate, and Jacqueline herself appeared in the episodic role of a journalist. The writer's wardrobe matched her creative nature: kimonos, pink silk sets, large earrings and high-heeled shoes. But we love her look the most in a tweed suit – a turndown-collar jacket with patch pockets and trousers with an arrow – all in mélange wool. And the beret is the final touch!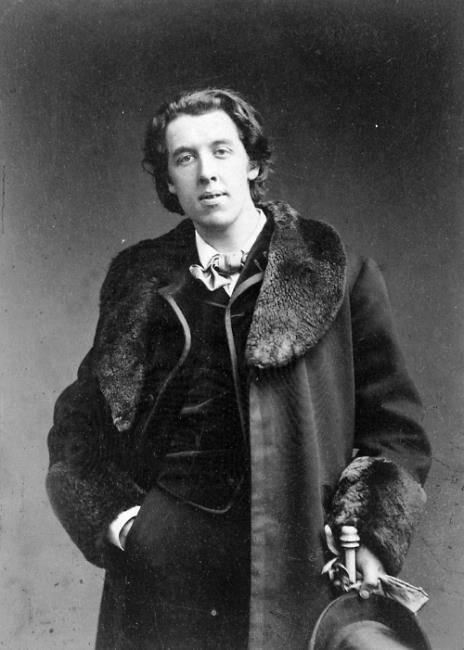 Oscar Wilde
Of course, how could it be without Oscar Wilde in the list of the greatest fashionistas! Devoted fans imitated the writer not only in his literary talent, but also in his clothes. Each new party was a reason for Wilde to come up with a new interesting outfit. Back in university, the young Oscar stood out among others – he had long hair, and as accessories he wore peacock feathers. He liked to wear a jabot, colored vests and silk stockings. And his schtick was a green carnation, which he pulled into the buttonhole. And despite his extravagant appearance, the writer was a real intellectual and just a nice person, whom they were always happy to see.
Simone de Beauvoir
Simone de Beauvoir is a Frenchwoman who seems to have been born with a sense of style. Doubt? Just google her name and see the pictures. It is all the more surprising that in one of the interviews she admitted that she is not at all interested in clothes, because she has "so many things to think about, so many other interests." But nevertheless, the writer's hairstyle has become her calling card along with the most famous book – "The Second Sex".
Tom Wolfe
The creator of "new journalism" has appeared in public in white suits for almost half a century, calling himself a critical dandy. It began after Wolfe drew attention to the heightened reaction of those around him – people were surprised by a man in white in the middle of winter. To these suits (as a rule, made by British tailors), the writer certainly added verified accessories – a silk scarf or a hat. And it always turned out to be in place and in time. Wolfe's addictions evolved into a specific brand, his identity.
Susan Sontag
As with many women writers of this generation, clothing was not for Susan Sontag a way to attract attention or an object of heightened interest. However, as Susan herself said: "A writer is one who is interested in everything," and fashion is no exception. In her youth, she dressed like everyone else: coarse-knit sweaters and jeans, duffle coats and Asian blouses, but with age she was able to develop her own unique style – a mixture of masculinity and bohemian chic of the 70s. In flared trousers, a flowing white blouse with a bow and a straight-cut double-breasted coat draped over her shoulders, she looks no less beautiful and feminine than Brigitte Bardot in revealing dresses.
Françoise Sagan
Sailor's striped vest, basket bags, voluminous knitted sweaters, turtlenecks and little black dresses – Françoise Sagan has fully earned the title of Jane Birkin from literature. She found herself under the scrutiny of the press at the age of 19, when her debut and, perhaps, the most famous novel "Hello, Sadness!" appeared on the shelves of bookstores. After that, it seems, she did not admit fashionable blunders at all. The secret is simplicity. Françoise, without knowing it, followed one of the main advice of Yves Saint Laurent: "In order to be beautiful, a woman just needs to have a black sweater, a black skirt and walk arm in arm with the man she loves." In almost all the photos, she poses in such a laconic way, sometimes, however, replacing the skirt with trousers and adding one bright element.
##