---
Men's Fashion Tips for Summer
by Alex Outlaw, The Idle Man
Summer is beginning to show its face, right when we all have wardrobes built for winter. Which means we're looking in our closets thinking, "I have nothing to wear."
Many men think just throwing on a pair of shorts is a summer wardrobe, done and dusted. But you have to think of footwear, too, and the material your clothes will be made of. I have frequently gone outside in a black cotton shirt on a hot summer day and regretted my decision.
Shirts

Let's start from the top and work our way down. A summer shirt is something that every man must own, as they can take you from day to night with ease. You'll want to opt for a lighter material when it comes to your summer shirts, as heavier materials will weigh you down and make you even hotter, which will then leave you in sweaty armpit territory.
You'll want to opt for a lighter material when it comes to your summer shirts.
Opt for a linen number in white — a classic staple for many men — as this will keep you cool and airy when you're walking about. White is a great color for summer, as it doesn't keep in the heat, and will give your outfit a more summery feel.
T-shirts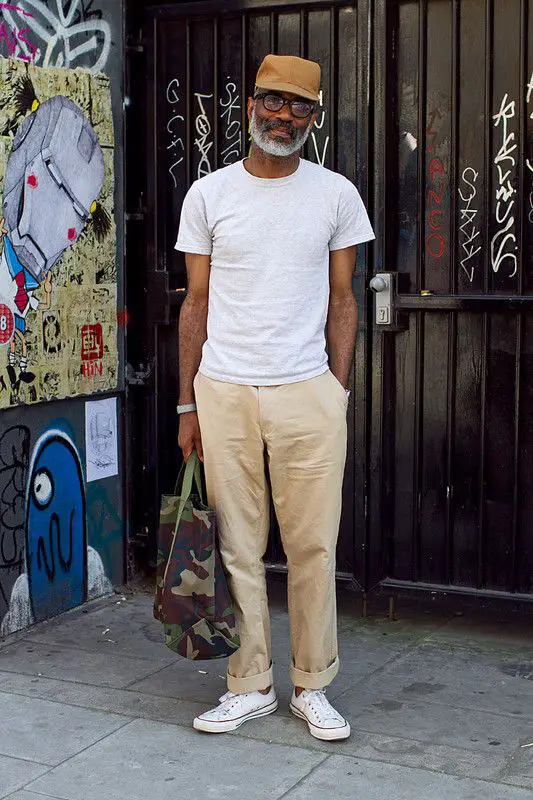 Of course, every man needs to have a few T-shirts for when you want something casual and airy on hot summer days. You'll want to stick to classic colors and styles, as these will last you every season. Go for classic white, navy and grey; you can go for black if you want, but remember to balance it out with a pair of lighter shorts so you're not too hot.
Stick to the classic crew-neck T-shirt, as these are a more stylish and sleek version of the T-shirt, whereas V-neck shirts are a little bit unflattering on most men … especially when they wear a deep V-neck. These should be illegal.
Deep V-neck shirts should be illegal.
Trousers and Shorts
I know most of you will run for a pair of shorts this summer, but there are other alternatives to wearing shorts when warmer weather hits.
If you do opt for pair of shorts, you need to remember that "short-shorts" don't really look good on anyone. You'll want them to sit about four inches, maximum, above your knee: any shorter and you're in hot pants territory.
You can always opt for a pair of lightweight trousers. Trousers are great for the summer as they aren't as heavy or as thick as jeans, so you'll still getting an airy piece of leg wear.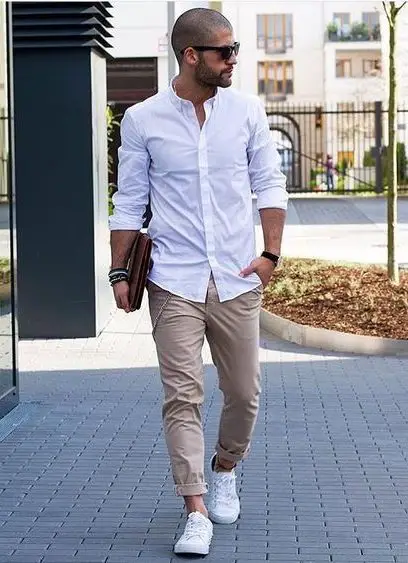 Go for the classic chino in a lighter color, just so you'll have that extra bit of airiness when you're wearing them. Avoid a tighter fitted pair, as these will make you even hotter; instead go for a wider-legged pair in a stone or beige color, as these will be versatile and stylish when the warmer weather hits.
Shoes
When it comes to your footwear, you'll want something light and easy to walk in. I can't tell you how many times I've regretted wearing a pair of boots in the height of summer and wondered why I didn't just wear trainers.
A pair of trainers will be the best investment you'll make over the summer, as they're a versatile and stylish shoe that you can dress up and down. Don't go for a pair of trainers that are too wild in color and pattern; stick to a classic white pair that you can team with chinos and shorts for a casual summer look.
A pair of trainers will be the best investment you'll make.
If you don't fancy yourself a pair of trainers, go for something a little sharper such as a pair of loafers. Loafers are a great investment no matter what the season, as they're a classic shoe staple that every men needs in their wardrobe anyway.
For the summer months opt for a brown pair, as this is instantly a more summery color and will work with the majority of your summer wardrobe attire. Pair it with navy or beige shorts or trousers, add a white button-down shirt, and you've got yourself a great summer look that will keep you cool and stylish.
A great summer wardrobe isn't a difficult thing; you can easily team some classic basics together and create a summer look you can wear season after season, without compromising style and — most importantly — cool.
##