Homecoming is the most important dance of the year and the most exciting part of going back to school. Many start prepping some months ahead to have it all set when the day comes. After long, appalling months of social distancing and lockdowns, many are definitely enthusiastic about letting their body free at this dance at some schools. But, other schools opted for virtual parties. Whatever it is, you reasonably want to enjoy it.
Now is the time to begin rummaging for the most glamorous homecoming dresses for you. It's beneficial to allow yourself plenty of time, so you can unwind and enjoy checking out all those fabulous dresses before you choose which one is going to be unquestionably perfect.
Before you start searching for a homecoming dress, you should have a clear idea or a theme in your mind of whether you're aspiring for a full formal, semi-formal, or fancy casual style. It is a bit simpler for boys as they can opt for a rented tux or an old suit that had been lying in their closets for a while. In contrast, ladies require to go a little more intricate. Their dress is the principal focus for the evening, and it has to be flawless. Fancying between short homecoming dresses or flowing gowns can be confusing. The skill can turn out to be a bit upsetting for the first-timers, but you shouldn't be concerned. With a little touch of fashion creativity and guidance, you will surely find the ideal dress for the evening.
Consider Your School's Chosen Dress Code Or Theme
Homecoming events are based in the school. It is essential to ensure that you'll be finding a dress that you feel comfortable to wear, and at the same time, sticking to your school's preferred code or theme. The experts behind Jovani homecoming dresses explained that dress codes are set in place for a purpose, and they are mandatory to follow. It benefits you to learn which clothing types would be acceptable to wear on arrival to your homecoming dance. When buying a dress, it is crucial to remember what the dress code is. This way, you will be capable of finding a dress that you know will fit the specifications.
Choose The Best Color That Can Highlight Your Skin Tone
Search for clothes in the shades you believe can highlight your feature, especially your skin tone. If it happens that you have a warmer skin tone, pick shades like red, gold, fuchsia, or coral. If your skin tone is somewhat cool, search for purple, blue, green, or silver.
You can learn your skin tone by examining the veins in your arm. If they look purplish or blue, you have a cool skin tone. If they show greenish, you have a warm skin tone. If you cannot recognize it, you apparently have a neutral skin tone, and almost any color will look good on you.
Dress According To Your Body Type
Have you considered a dress that looked superbly perfect in the store window, but realize that it will look terrible on you? Well, it doesn't signify that there's something awkward with your body. You clearly don't dress according to your body shape. Below is a simple guide that will make you a winning crown of your event if you correctly choose the right dress for your curves. It is also a beneficial routine if you search for updated fashion tips and guides to ensure that you are well-prepared to deserve a memorable Homecoming experience.
Apple-Shaped Body
Choose clothes that draw notice away from your midsection and waist. A V-neck empire waist dress and top, wrap dresses, and A-line dresses will do fabulous wonders for you.
Pick tops that conceal the entire stomach area and reach just below your hips. Never opt for double-breasted jackets, large tops, and clingy contours.
Forget about skinny jeans and straight-leg pants if you are top-heavy. Flared or boot cut pants with pockets at the back are the best option for you.
Do not wear a belt around the waist, but wear it just below your bust. It will form curves and will emphasize a slimmer waistline.
Pear-Shaped Body Type
Accentuate your shoulders to feature the form of your figure. You can opt for shawls, pashminas, and colorful necklaces.
Pick patterned and nicely decorated tops and dresses. Highlight a broader shoulder with a bateau neckline, cap, and puff sleeves.
Never wear tight pants, capri pants, short skirts, and pencil skirts. Always pick tailored, flared pants and A-line skirts preferably.
Use dark, solid colors for your bottom half and more vivid, brightly hued tops.
An Hourglass Shape
It's crucial to pick clothes that draw attention and can highlight your waist.
Always remember that drawing attention to your narrow waist is the most concrete way to highlight your hips and bust. So never wear baggy clothing.
Use undergarments that perfectly fit you. If your bust is larger than average, be certain to utilize the suitable kind of bra. Avoid using padded cups or disorganized bras that make your cleavage look like falling.
Opt for V-neck tops and dresses, pencil skirts, and shirts that emphasize your breasts.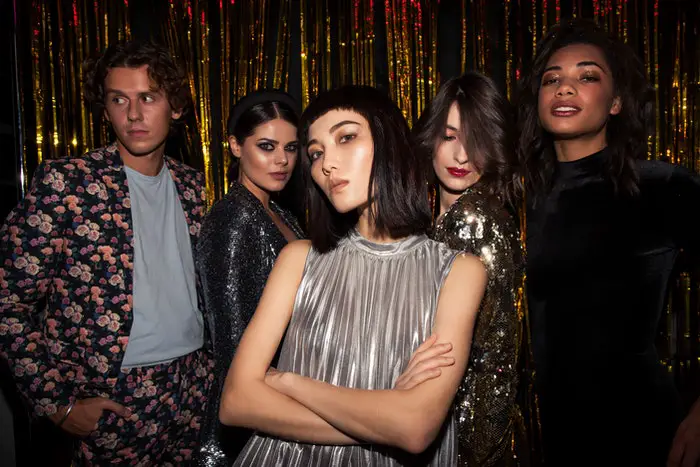 Inquire From Older Schoolmates Or Friends About The Styling
If you require help determining what to wear, it's always a great approach to ask older students who already experienced a homecoming event. If you have siblings or anyone who has attended a Homecoming, do not hesitate to ask them about what they wore or what they saw other people wearing. It will help provide you a good idea of how formal your school's Homecoming dance is. You can also ask experts from well-reputed dress shops in your local area and see their fabulous event collections, or check out this year's most popular homecoming dress styles online from the biggest fashion icons.
Current trends in homecoming dresses have preferred shorter styles, but a long skirt with a crop top or a fitted floor-length attire would be excellent options as well.
Longer dresses are regarded as more formal. If your school imposes a formal Homecoming type, then you may need to pick a long dress.
Match And Pair Your Dress If You Have A Date Or Your Friends
It is not new going on a school event with a date, so if you're going to Homecoming with someone or as a member of a big group of friends, you can work to organize your dress to the colors they'll be dressing.
If you choose a blue dress, ask your date to wear a blue shirt or a blue tie in the same shade.
It is not necessary to match what they're wearing unless you need to. For example, if your best friend is wearing pink, you might decide on a pink dress in a different shade.
It is not really necessary and a requirement to shop for expensive dresses for your homecoming event. Following the guide above will guarantee a profound pattern to achieve, choosing the perfect homecoming dress for you.
##