FASHIONALLY Presentation and FASHIONALLY Collection #12
Represented by Hong Kong Trade Development Council.
Three FASHIONALLY Presentations were held during CENTRESTAGE to offer guests first look at the latest collections by three up-and-coming designer labels, and their full-fledged visions.
Rather than a traditional runway, the presentations took place on a set, giving the designers the freedom to create a story that best served their collections. Guests were treated to an intimate look at the designs, enabling them to take in the choice of fabrics and workmanship at close range.
Tak Lee: A showcase of deconstruction
Tak Lee believes in the connection between form and construction and explores innovative sewing and craft techniques through his eponymous label. Using mainly natural fibres, his first collection "Season I" is an expression of clothing as an artistic embodiment of human sensation and history.
Inspired by an architect's work on war-torn buildings, he uses draping and deconstruction to create unusual items with radical shapes. The neutral colour palette reflects the use of organic dyes such as teas and herbs.
Against a simple set that alluded to abandoned architecture, Lee presented a collection that brimming with conceptual flair and technique. Each item is meticulously cut to defy expectation, with numerous mix and match possibilities.
[portfolio_slideshow id=66676 align=center width=699 click=advance thumbnailsize=40 showcaps=false]
 
REDEMPTIVE by Wilson Choi: Socially conscious rebels
REDEMPTIVE, a new menswear label by Wilson Choi making its debut at FASHIONALLY, carries the DNA of a rebellious younger generation. Choi sees fashion as a way of thinking and uses his design to reflect on social issues he cares about.
Titled "The Stolen Soul", REDEMPTIVE's SS 2019 collection is inspired by the movie "Ondskan", which tells a harrowing story of bullying and loneliness in a Swedish private school in the 1950s.
The presentation was set in a ransacked locker room, the disarray and bruised faces of the models telling a story of restlessness and rebellion. It was a versatile first collection that combines preppiness conveyed by classic stripes and checks, and outerwear that highlights the designer's interest in high-tech, functional fabrics.
[portfolio_slideshow id=66682 align=center width=699 click=advance thumbnailsize=40 showcaps=false]
 
YLYstudio: When baroque meets embroidery
Launched by Lilian Tsang and Matt Hui in 2017, YLYstudio gives the tradition crafts of knitwear and embroidery a modern facelift and new place in contemporary fashion.
The presentation featured the label's second collection, Project B, which utilises French embroidery with metallic sequins to form distinctive shapes inspired by Baroque curves, while sheer tunics, jackets and skirts create rich layering. The candy-coloured palette is juxtaposed with metallic details and loose-fitting menswear styling to offer an interesting take on boyish girliness.
Models posing and taking selfies on the transparent sofa by the ball pond made for some interesting and delightful visuals.
The presentation illustrated that the young label is on the right track: keeping the traditions of embroidery, hand knitting and craftsmanship alive, but always with a contemporary point of view.
[portfolio_slideshow id=66688 align=center width=699 click=advance thumbnailsize=40 showcaps=false]
 
FASHIONALLY Collection #12
Apart from the three presentations, ten of Hong Kong's emerging designers came together to present their Spring/Summer 2019 collections at the FASHIONALLY Collection #12 at CENTRESTAGE in early September. They proposed a multitude of looks for next season ranging from avant-garde and sporty to feminine and sexy, all the while injecting a fresh spin on perennial summer trends including florals, denim and transparency.
Two of the strongest collections in the bunch came from London College of Fashion graduate Kevin Ho and former YDC winner Necro Poon. KEVIN HO's pared down collection included tailored blazers, waistcoats and trousers, which were accented by soft ruffles, folds of fabric or asymmetric hemlines. A stark white cocktail dress became a statement piece with its colourful rose embellishments.
In contrast, NECRO POON experimented with a more casual sporty look that centred around streetwear favourites such as sweatshirts – they were emblazoned with Roy Lichtenstein-style prints – and lightly-coloured denim. Instead of the typical cropped denim jacket he offered a much cooler duster-style coat with frayed edges and a risqué floor-length shirt dress with thigh-high slits up the sides.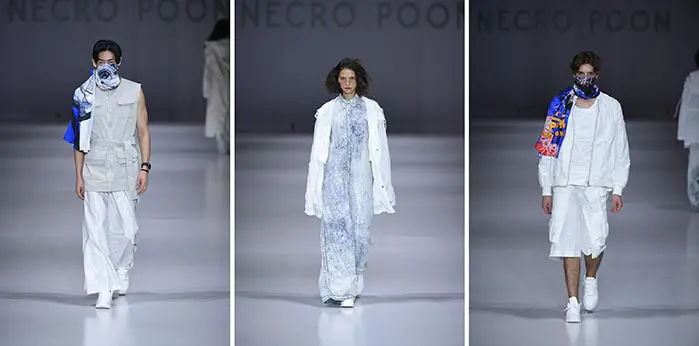 Prints were also a running theme. 112 mountainyam designer Mountain Yam contrasted a stark barbed wire print with a colourful graphic design that depicted birds and other motifs inspired by the natural world. The final look consisted of a skirt and T-shirt with the word "dream," both trimmed in rainbow feathers.
Blind by JW designers Walter Kong and Jessica Lau said that their prints were inspired by popular icons found in local culture. On the catwalk they looked faded or textured, adding an artistic touch to the collection. The printed halter tops and off the shoulder dress ticked all the right boxes, although at times the proportions seemed overwhelming.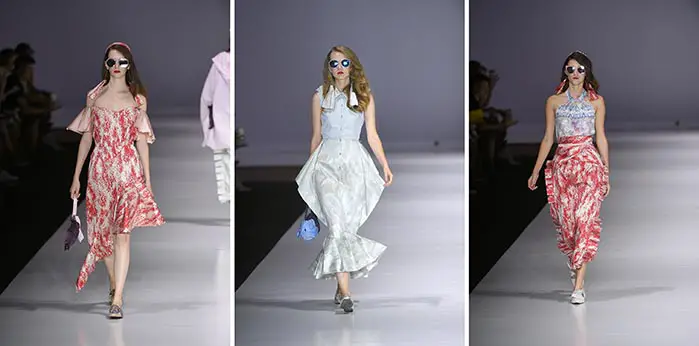 On the topic of dresses – there will be plenty to choose from next season. CAR|2IE designer Carrie Kwok'slayered frocks came in shades of pink and purple, but looked complicated to wear. The oversized sheer nude dress with oversized ruffled sleeves was more appealing. Underneath the model wore a sexy nude slip dress for a cool yet confident look.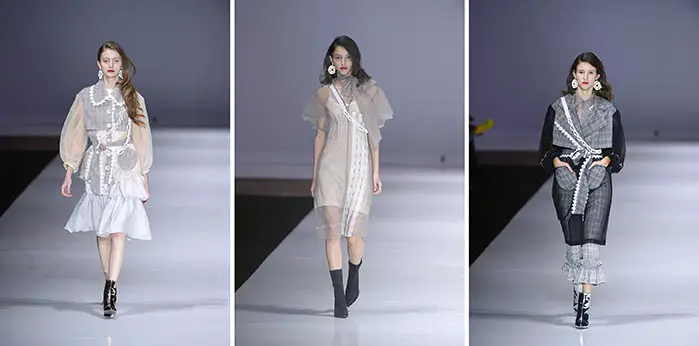 With her background in couture, one would presume that Yannes Wong of Lapeewee would go all out with her eveningwear. Her vision of formalwear for women, however, was contemporary. A little black dress was updated with a panel of pleated navy fabric at the front, while a cocktail dress was re-envisaged in dark denim with a pleated skirt and sheer shoulder straps. Not a dress lover? No problem. She also proposed wide legged trousers that could double as a skirt and tailored pinstriped jackets.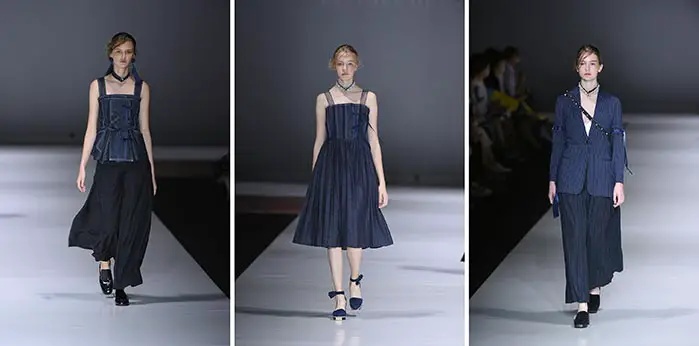 Shirley Wong also sent out some stellar evening looks under her brand, FromClothingOf. She referenced men's wear, specifically from the turn of the 20th century, which she reworked into statement dresses that were both romantic and modern. A simple men's waist coast formed the basis of many fantastic looks including a belted top and origami skirt combo and a sleeveless dress with asymmetric folds at the sides, layered on top of a sheer black blouse.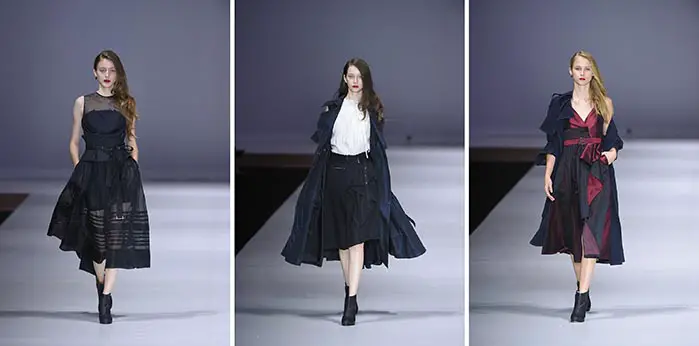 While most of the designers showed women's wear, DEMO. designer Derek Chan took us to Paris for his men's only collection. The berets and neckerchiefs may have added French flair but the clothes were wearable and included oversized trench coats, striped separates and shirts decorated with scripted handwriting (perhaps taken from French love letters?).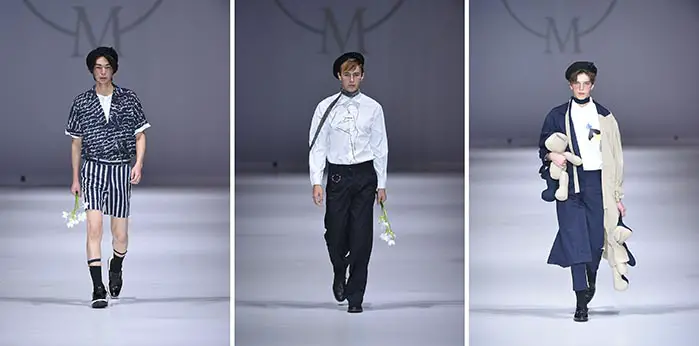 The French weren't the only culture referenced in the show. Designers Yeung Chin and Jane Ng from phenotypsetter embraced a more conceptual approach, as pioneered by Japanese designers. Ng's collection, aptly titled "Shatters and Layers," experimented with looks consisting multiple of layers of colours, prints and even textures. One of the best was the white T-shirt covered with strips of red fabric paired with the red and white tulle skirt layered under crumpled plastic.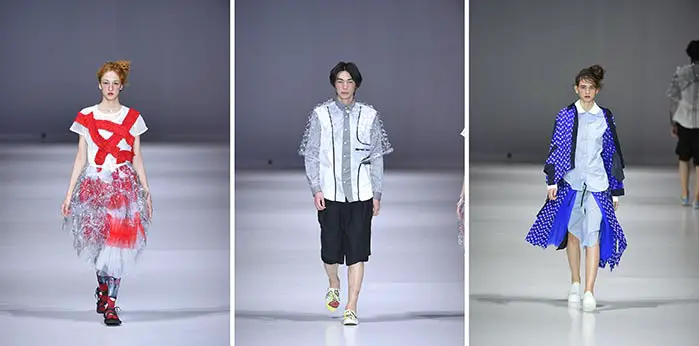 While Ng's designs were playful, YEUNG CHIN opted for more edgy separates including long tops, parachute skirts and ruched dresses accented with ribbon ties and strips of fabrics that bring to mind technical gear. Gold and silver jackets and skirts added a futuristic touch.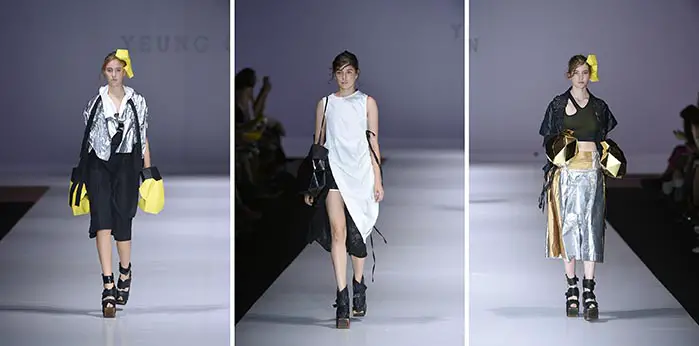 ##
With love,
FWO