Dresses Through the Ages: How One Garment Has Defined Femininity For Generations
A Fashion Icon
Maxis, minis, gowns, and frocks – the dress is the most iconic item of female clothing that is in so many ways, an irreplaceable staple.
Women have many other things in their closets, like jeans, skirts and trousers, but the dress remains a pivotal, important, timeless and eternally stylish piece.
Dresses come in just about every fit, cut and appeal to girls and women of all ages. You can have glamorous gowns for women in their 40s, fun nightclubbing dresses for college students, and really beautiful collections for tween girls and toddlers. On top of that, every culture has their own version of a dress, and women have found a way through the ages to make this garment their own unique expression of who they are. There is no such thing as a one-size fits all dress, and that's what makes it so fun!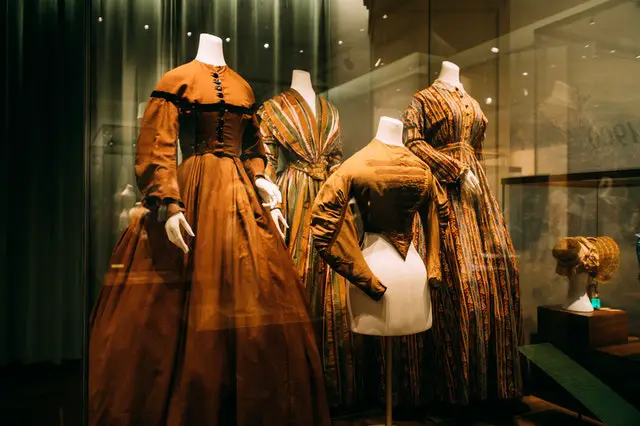 The Driving Force of Fashion
As universal and eternally beautiful as dresses are, they haven't been the same all through the ages. There's a reason why it's so easy to spot a dress from another era and notice how dated it looks. Dresses have changed massively throughout history, and a lot of these changes are driven by forces outside of fashion.
The one thing about dresses and their shapes throughout history is that they have a lot to do with beauty and body standards of that time. In the Western world, there was a time where the idea of women showing off their bodies was not acceptable and this was reflected in fashion choices. Clothing was also linked to one's station in life, with the rich dressing very differently to everyone else. The history of dresses is in so many ways the history of women's freedoms and how they have changed significantly over the decades.
So how have dresses changed over the years, what are the most iconic dress shapes and styles we've seen over decades, and what can we learn from all this? We're going to take a journey back to where the dress began and how this humble garment has come to define women's fashion in so many ways.
Historical Dresses
The history of the dress stretches far back in history, but we're going to start where a lot of amazing developments in feminine adornments began – Ancient Egypt. Cleopatra herself was an early trend-setter in beauty and makeup. She also wore fabric that was adorned with jewels and decorations.
In Ancient Greece, women also draped themselves in fabric, most of them made from linen to keep them cool in the hot Mediterranean climate. In Medieval times, we began to see dresses that were more elaborate and designed. Fabric was tied to one's wealth, so the more fabric your dress had the richer you were. If you look at paintings and portraits of historical figures like Anne Boleyn, you'll see a lot of detailed dresses with generous fabric, really long and full sleeves and skirts. This was very much in line with what noble women had access to.
Women wore a lot of layers, including petticoats and frames that could support the rounded shape of their big skirts. Dresses were still long though, as it was considered unseemly for a woman to show off her legs.
But things were about to change tremendously.
Big Changes
The 20s
The 1920s were the first time we really started to see shorter dresses. As women started to gain more freedom, the heavy, exaggerated silhouettes and over-fabriced dresses of the 19th century were replaced by slinkier, slimmer and shorter hemlines. This is when we began to see knee-length dresses, popularized by the oh-so-stylish flapper girls of that era. Women could show off a lot more skin, and even wear sleeveless, and strappy dresses. Generally, women were starting to enjoy a lot more freedom and this reflected in what they wore.
The 30s to 40s
In the period between the mid-1930 and 1940s, women's clothing became more structured than the flapper dresses. Hollywood had a lot of influence on how women dressed, with women wanting to look like their favorite stars. Ladies wanted to look like Bette Davis, Grace Kelly, and Katharine Hepburn, so outfits inspired by them flew off the racks.
The 50s
In the 1950s, legendary designer Christian Dior introduced a new look and a completely new shape, ultra-feminine, full skirts with a tiny waist. This is the shape we've come to associate with movie stars like Marilyn Monroe, who wore this to accentuate their shape.
The 60s
In the 1960s, dresses changed yet again to less fabric with the sheath shape, and the uber-short skirts that were made popular by the Mod Style. This wasn't short like the 1920s, which was at the knee. 1960s mini skirts were higher than knee-length.
The 70s
In the 1970s, when disco was all the rage, the dresses followed suit with the maxi shape, usually worn with a belt and very often made from a super glamorous fabric complete with sequins. Clothes were designed to look good as you danced the night away. The 1970s were when we started to see funkier cuts of dresses too, with the halter neck becoming very popular, and to this day, people still love it.
The 80s
The 1980s are associated with one thing and one thing alone – shoulder pads. Thanks to TV shows like Dynasty, dresses with a lot of drama on the shoulders became a must have for women all over the world. When you think of the 1980s, you think of really bright colors and over-the-top designs. Fashion was having a lot of fun during this decade, and we saw everything from prints to polka dots becoming popular.
The 90s
In sheer opposition to the more is more-is-more trend of the 1980s, the 1900s were pared back in so many senses of the world. Fashion in general became more minimalist and dresses were more about understated sophistication than anything else. There were no wild shapes or colors, just basic but beautiful pieces.
This is where we began to see the trend of thin breathable fabrics, shift dresses and things like spaghetti straps. Designers like Calvin Klein and the fabulous supermodels made this look a staple. There was something so beautiful about the simplicity of the 1990s, and even today, it has bounced back in a major way.
Where We Are Today
From the turn of the new millennium in 2000, what we would consider the most modern era of fashion, there were less shifts in shape as what we saw before, and more slight changes in trends, fabrics and looks. There are many trends that have come and gone during this time, for example peplums came and went, and in more recent years, cut-outs came and went too. These trends haven't gone completely away though. These days women can pick and choose the styles they can wear and so many different things can look great if they are styled correctly and paired with the right things.
The dress has come a long way through the decades, but what has never changed is how it is a wardrobe staple for women of all shapes, styles and ages. Today, women have a lot more freedom to wear what they want, and there are different styles that appeal to different people. The greatest thing about today is that we can borrow from the past, taking the best of decades past and making them relevant to today. We have seen features from past eras come back, and that teaches us that generations past were onto something.
The most amazing thing about women's fashion is that it's become a rich tapestry of styles. There was a time in history where all women had available to wear were dresses, when garments like trousers weren't even something women could even dream of wearing. Today, dresses are just one option in a sea of choices.
We can wear jumpsuits, jeans, pantsuits, shorts and so many things in between. We have come a long way, and the wardrobes we have today are a true reflection of the progress women have made. The freedom to dress the way you want shouldn't be taken lightly, it wasn't always possible.
It's also worth noting that the journey that fashion has taken has been hugely influenced by Hollywood and celebrities. From back in the first days of cinema to today's world of Instagram fashion influencers, how we dress has always been influenced by what famous people wore. At many stages in history, there have been key figures that drove what women chose to wear, from queens and princesses to screen legends.
For example, in the 1980s and 1990s, the biggest fashion figure for women was Princess Diana. She influenced everything from the wedding dress choices women made to what they wore to work. In many ways, it's the same way we look to Instagram famous people to get inspiration for what we wear.
There was a time where what you wore was also attached to a judgment, but now we can experiment at will and truly express our own style. For that we have the women before us to thank for that. They blazed the trail and now we can be the fashionistas we were meant to be!
##