Vivienne Hu's "VHNY" Comes to Macy's
VHNY, a streetwear and athleisure focused line by acclaimed designer Vivienne Hu, will join Macys' ecommerce platform this July 2019. The full VHNY collection and select shoes from its affiliate brand, Vivienne Hu, will launch on Macys.com, marking the brand's first release on a major ecommerce website.
Macy's is a renowned American department store chain with a long history of success in the brick-and-mortar retail space. The highly profitable company sells over a thousand brands including Ralph Lauren, Calvin Klein, Kate Spade, and Michael Kors. More recently, Macy's has expanded investments in transforming the company into an ecommerce powerhouse, a significant achievement that has drastically increased profits. In addition, Macy's has consistently been on the top of the US Internet Retailer Top 500 list for the past few years, and in the fashion and apparel branch, they are currently top 6 internationally and top 1 domestically based on the traffic rank of the site.1 Furthermore, customers are increasingly buying through Macy's mobile app and the retailer expects to see $1 billion in mobile sales this year.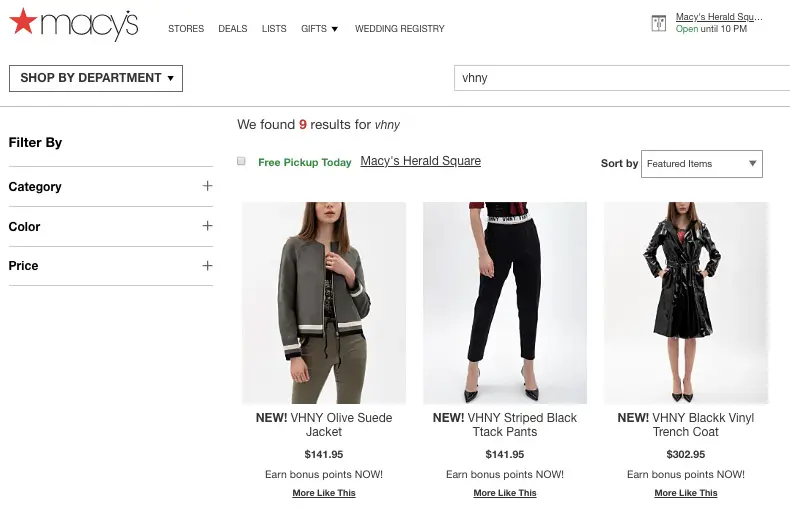 Launched in 2016, VHNY is the latest creation from New York-based designer, Vivienne Hu. It is a versatile brand that balances designer elegance with effortless comfort.
VHNY designs are luxurious and feminine, yet modern and affordable. The products are carefully constructed with innovative fabrics, colors and thoughtful design details. VHNY clothing is designed for the progressive, dynamic lifestyle of the modern woman, while also remaining timeless and classic pieces.
VHNY is the latest creation from New York-based designer Vivienne Hu
Inspired by individuality, performance, and creativity, VHNY embodies the essence of the New York spirit. VHNY sales have been extremely successful on various ecommerce platforms such as Wolf & Badger and Secoo. Furthermore, VHNY's signature piece, the Black Vinyl Trench has reached especially high sales and success worldwide.
VHNY's latest collection can be viewed here.
##
Learn More
With love,
FWO