Interview with Joanna Pickering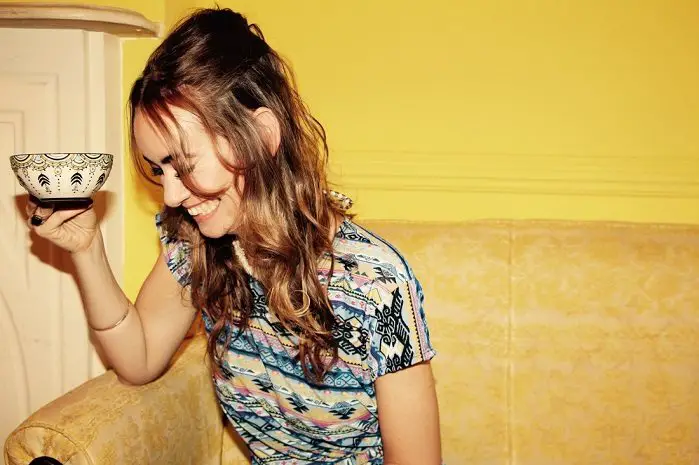 O

ne light, early, summer evening, I met up with the British actress and basically all around multi-talented bad-ass Joanna Pickering, at the super-exclusive Norwood club in NYC.
I first met her six months back — during my time working with Diane von Furstenberg — where she quickly became one of her top stylists. She always struck me as interesting, having traveled the world, modeled, and acted. And now she's setting up as an independent artist in the USA, with major film and TV series upcoming, I felt I had to pin her down to find out how she manages it all.
Q: What brought you to the U.S.?
 
I was accepted to study method acting at Lee Strasberg Theater Institute, which is one of the leading acting schools in the U.S.
Q: Why New York City?
 
There was a clear affinity showing in myself — in my thinking, writing and lifestyle — that linked me to more abstract thought and expression. I was curious about the Greenwich Village scene that started in the 1950s and the artistic vibrance that flourished. I had already explored Paris, I was living in London, so New York was left, like a beacon for me. I wanted to be an artist, and never have to explain this decision again.
I wanted to be an artist, and never have to explain this decision again.
Q: I know you have many talents — what do you consider your main occupation?
I am a creative artist — it all overlaps; it's the same energy. I am known as an actress and writer first and foremost, but I also produce, and I still work as a model and now a stylist. These are the areas I wish to focus on as an independent female artist, with longevity in a very tough industry.
 
Q: What is your usual week like?
 
It's never the same. Today was styling, tomorrow is a magazine model shoot, the day after I'm filming an indie TV show. I often need to be in LA for producer meetings. I write around this, usually late into night. I have option to publish one of my novels, and a magazine column starting up. Not everything will take off, but it's all exciting.
Not everything will take off, but it's all exciting.
Q: Wow, seems you have your hands full! Who are you styling for, and how you are finding it?
I style for Diane Von Furstenburg. I enjoy it. I work as a professional model also — but now I find it refreshing to work the clothes for other women, too — women in all shapes and sizes, from 20 years to 80 years.
It's keeping it real on the streets, not just for the catwalk and the flaws of the fashion industry. I know how clothes work and feel, the importance of the expression and mood a piece gives to an individual, and vice versa. It never fails to bewilder me how many women have so little confidence in their bodies and their style choices.
Joanna Pickering
Photos by Jen Maler
 
[portfolio_slideshow id=16278 align=center width=600 click=advance thumbnailsize=40 showcaps=true]
Q: Why do you think this is?
 
There is a lot of pressure to be perfect, via fashion and glossy magazines that are not realistic. The solution offered is then to buy all these wonder products to fit in. It's not a profitable scenario for ourselves on any level. It is the antithesis of style. If you can detach from that cycle you can feel and be beautiful, youthful, and stylish.
If you can detach from that cycle you can be beautiful, youthful, and stylish.
Q: So how do you define style?
 
Your style is just your freedom, your natural spirit and expression of character. It does not age; it grows. It becomes more sure, more wise.
Style does not age; it becomes more wise.
Q: Describe your own style?
 
I'm always told how glamorous or "rock and roll" I am. I don't try to be. I do as I feel.
Q: What type of style do you admire?
 
I adore '60s French New Wave cinema, and that is an early influence in my fashion. I have a natural '60s style; you can see that in many of my photos. I went though an Ana Karina phase as a kid, and the Julie Christie-signature fur hat must be my trademark by now. My style is definitely old world and eclectic. My clothes are stories of travel and adventure from my favorite places in the world. I like that, and I like to see similar independence in others.
My clothes are stories of travel and adventure.
Q: Any fashion rules or tips?
 
No rules! I don't follow trends; I actually hate showing off designer labels, and I can't remember the last time I went into a high street store. Maybe it was Top Shop with my mum at 14, and I begged her to buy me some red velvet hot pants … which changed my life …
Q: The power of clothes …?
 
Ha! Exactly. The day before I was a bird spotter and physics geek; the day after I was the hottest girl at school! [giggles] I'm joking — but I do love being dramatic — especially in ball gowns! I equally love 1950s boy Levis and Ray Bans. I love shirts with brooches and bow ties. I am masculine and feminine in my style; you can play with that energy together; you don't need to separate them. A perfect example is a tux smoking jacket with velvet lapels and delicate satin buttons.
I am masculine and feminine in my style; you can play with that energy together.
Q: Where do you find your ideal pieces?
 
I prefer to shop vintage, thrift and flea markets. I like to mix rich and extravagant materials such as fur, velvet, lace, silk, and satin. I adore patterns and fabrics from the orient or exotic destinations — the best items I have, always found on my travels — in the souks somewhere in Northern Africa, or dusty old town markets in South America.
Q: What is your favorite piece in your wardrobe?
My favorite dress from DVF is black, backless lace. It has velvet birds sewn into the lace all over the front, but my all time favorite dress is a gift from my friend Leni, who is a wonderful urban light designer, and it's like a Grace Kelly white satin slip. So simple; so chic.
My favorite dress from DVF is black, backless lace.
Q: Where does your inspiration come from when styling?
For any inspiration — art, film, music, on the streets, off the beaten track, other cultures — a lot of spying, love, story telling.
Q: Do you have any memorable outfits?
 
My friend Steven designed my graduation dress at my instruction. It was a leather backless long, pencil-thin dress; I'd had the idea years before. I asked for so many crisscrosses from the neck, down to the base of my spine, that he was up sewing through the night for a week. I didn't even go to my graduation in the end, but I wore it on the red carpet in a Cannes fashion show instead.
Q: Wow, where did you get that vision?
 
Ha! I stole it. Off a friend years earlier at her 16th birthday party. I had remembered it and I made the memory far more dangerous after a visit to the Helmut Newton Gallery in Berlin.
Q: Do you ever style when you're in the film itself?
Yes. One of my favorite short films was playing the Baroness Elsa Von Freytag Loringhoven — a wonderful Dada artist. The film screened about her life at The Whitney Museum here in New York. We shot it in Berlin. She was described as "futuristic" for her fashion sense.
Marcel Duchamp said she was the future. She wore egg cups and tin cans as a bra, way before Warhol was doing his thing. My suitcase was so many kilos over. I had sculpted white wooden hands, feather boas, wired hats. Creating another person's style in film helps you know the character. She was really fabulous; quite insane.
She wore egg cups and tin cans as a bra.
Q: Any lessons for film styling, as opposed to modeling?
Yes, you need to pay attention to avoid tones of black and white, and never patterns or anything fussy; they mess with the camera's image. Comfy shoes, and remember actors get nervous and stand under very hot lamps, so cool materials are good.
Q: So far, who was the most interesting person to style?
Well, other than myself — where I can break all the rules and, say, cut the hem off a dress and use it as a head scarf — then definitely the people I have met working in New York City.
I have met the Canadian president and his wife; I have styled for inaugurations, Ascot, The Tony's, top actors — it's funny how they all like stylists, yet its something I've always insisted on doing myself. But everyone I meet has an interesting story of strengths and vulnerabilities; women are incredible. They leave feeling confident: rightly so.
Q: Any hurdles?
 
Yes — the most common thing I hear in styling is, "but I don't have an event for it." I just want to weep. Urban streetwear is so cool, but a gown or a robe is the event. Throw a party! Dance to jazz in your home on a morning. I'd play chess in a ball gown. It's that simple.
Q: What is your creative space like?
 
It's my home: an old brownstone with period antique features. Old fireplaces, wooden floors, and the ceilings are to die for. I don't have all the furniture yet — I need a piano.
Q: Space in New York is so tight; how do you work your closet … what's in it?
Well, I call it a wardrobe! It's a walk-in one. There are amazing pieces in it — my friends come round to borrow things — vintage Chanel and Dior gowns and coats, lots of lace.
Space is a nightmare. I still have wardrobes in France and London where I visit family. My dad calls me up and tells me there are clothes cluttering up his house. Once when I was living at home, I went into the cancer research shop in London in the village we lived, and I found a piece and I said this is lovely, so very me. And this. Oh, and I love this. To the lady, oh, and I have this very piece! And then I slowly realized all my clothes were in the shop.
My dad had — accidentally, he says — sent the wrong bags to charity. I had to buy them all back. We're very good at recycling in my family.
Q: What obstacles have you faced since moving?
Superficial people and mice.
Q: Ah! How did you overcome?
 
Lots of traps — sadly, they are vermin.
Q: Ok! So, do you have any advice for people who want to start styling and acting?
For acting you need to have technical talent to express yourself. As for finding personal, unique style, just be yourself. If you like birds, wear birds; if you miss Paris, wear a beret that day; if you like roses, put one in your hair. For styling others, be a good listener.
If you like birds, wear birds; if you miss Paris, wear a beret.
Q: What about for artists?
 
Accept it's not supposed to be easy, and remember that in the long run hardships give us the opportunity for new creative power. As soon as I hear the word "no," I automatically think of five ways to get my own way.
Q: Yet following you online always looks glamorous and easy?
For every time I have been on a yacht, or a glamorous party, or in a 5-star hotel, I have been a struggling artist.
When I first went to South of France I saw everyone on yachts and I thought, "hang on, I want to be on a yacht." So I got a job selling them. Once I was sitting on a yacht, I thought "is that all there is to a yacht," and I flew to New York to train in acting.
My first published writing was on the pauperism of starting out as an artist. The money needed to be an actor is insane. The cost of living in the cities for acting is insane. Most actors in New York have four jobs; they're all mostly famous and still do not dare leave their job. That's the reality.
The money needed to be an actor is insane.
Q: So when people remark on what a glamorous life you have, what do you say in response?
I don't care what people remark — but the fact is that this path did not just fall into my lap: I fought for it. It came with the risk of daring to do the unconventional, with no guaranteed backing. It requires not only lots of hard work, but phenomenal endurance. I'm pretty tough and street wise, and I am, and always will be, a self-made artist.
This path requires not only lots of hard work, but phenomenal endurance.
Q: Tell me what your time in NYC has been like in 3 words.
Never give up.
Q: What will you take away with you from New York City, and your experiences working here as an artist and now stylist?
Definitely the fortune to work alongside The Russian Arts Theatre Studio, after the acclaimed director saw me audition. It brought me artistic support and a way to keep training, along with the message that it has to be about others around you — on stage, absolutely no ego.
Also working in an environment that stands for feminism, where the motto focuses on an awareness to the power you have the moment you realize you don't need anyone but yourself to survive. Independence isn't easy. But being humble and working hard are everything to success. I will take that with me everywhere.
Q: Okay, last question. If you had to compare yourself to one person, style-wise and character-wise, who would it be?
Fassbinder's Petra Von Kant! [giggles] No, but really! I'd be lying center stage on the white fur rug, in a long green robe, looking fabulous, sobbing dramatically. I want to play that role!
##
More info.
joannapickering.com
On Twitter
On IMDB
With love,
FWO