Oxford Fashion Studio Paris Fashion Week FW19
Represented by The Riviere Agency.
This season, Oxford Fashion Studio will return to the InterContinental Paris – Le Grand on October 1, 2018 to present Spring/Summer 2019 collections from 18 independent fashion designers from all over the globe.
Oxford Fashion Studio serves as a platform to guide brands to the next level with their runway show concept. Four shows will run throughout the afternoon in the gorgeous ballroom, and between shows industry members are encouraged to sip on complimentary bubbly and mingle.
Oxford Fashion Studio is excited to announce both OFS veterans and newcomers to their roster this season during Paris Fashion Week continuing the mission to promote independent fashion for the good of creativity.
See below for this season's lineup along with the visions and inspirations behind each of the collections.
L'elegante by Marie Linker
Sydney, Australia
www.lelegante.com.au | @lelegante1
Pure romance and Love inspired Marie Linker's first international collection, Elegance. The collection will include hand-designed, dyed, and embroidered fabrics with Swarovski Crystal and French Lace. Bright and happy colors reflect intentions like red for passion and crystal for glamour and femininity. This collection will serve as an introduction to the Marie Linker label of romance and femininity inspired by the love of making women of all ages and sizes look their very best.
Glancez
Hong Kong
From producing ethical, vegan collections to addressing the minefield of modern romance in the digital, phone-obsessed age, GlanceZ never shies away from considering the challenges of modern life through a creative lens. This is a label that energises, questions and always brings a fresh, colourful perspective to fashion. Hong Kong based GlanceZ was founded by designer Zera Ng, with a strong vision of "…illuminating life with vibrant colours through a dynamic attitude…" Meticulous attention to the design, craft and detailing of every collection is a constant, and one-of-kind pieces are precisely tailored to different physiques. The results are beautiful and provocative, playful and exuberant: wearable art, no less.
Myoo Couture
Berlin, Germany
Myoo Couture is a luxury brand that was created in 2016 by mother and daughter, Valentina and Yoanna Dochevy, whose qualities of perfect cut and artistry are woven into one. All dresses are made in their studio in Berlin and personally by them.
Xiao Fen Couture
Indonesia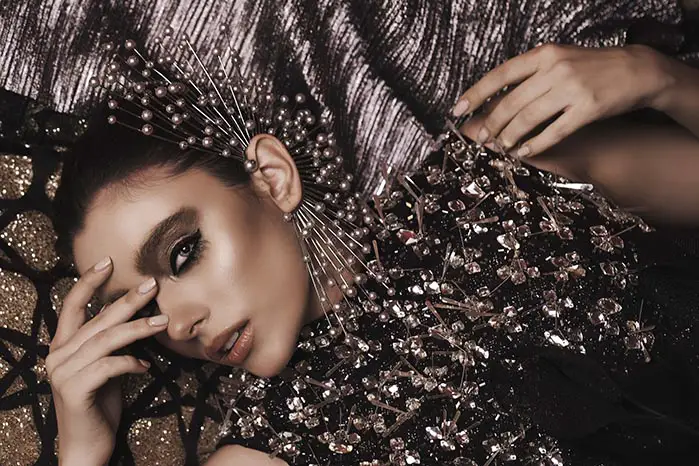 Inspired by Surabaya and the designer's fairytale imagination, the Radiant Collection magnifies femininity. Xiao Fen Couture gowns bring out beauty and sophistication in women through silhouettes, fine materials, details, and embroidered patterns. Wondering under the sky, we can see all the beautiful things up there from stars to fireworks to meteors and rain.The label will show their imagination of the sky through Swarovski unique ornaments and colors like blue-violet and silver. When we speak about couture we want something feels magical that reflect women's imagination and femininity.
Nasheli Juliana
Puerto Rico
www.nashelijuliana.com | @nashelijuliana
"Stranded" is a collection that holds the task of bringing history to the runway. This collection draws from images of the many atrocities committed against Puerto Rico by the effects of the dominant grip and the colonial rule of the United States, with the purpose of giving a voice, in any way possible, to the victims of this abuses and exposing the feelings of a segment of the population that sees the land of "liberty" as one that preys on the liberties of others. Key images of selected events were digitally manipulated to create patterns that seem beautiful to the naked eye, but that through a set of 3D glasses will show the atrocities underlying such beauty. Creating an analogy between the image of a beautiful paradise island and the suffering of its people, inviting the viewer to "change the lens through which they see the world" by looking deeper into the perspective of "the others".
Barak Lahav
PARIS X JAPAN
Tel Aviv, Israel
www.baraklahav.com | @barak_lahav
Underlined by a clean and refined style, "Barak Lahav" consists of ready-to-wear fashion collections, separated to casual and formal attires. Women stand at the heart of the design process. Hand crafted at the designer's Tel Aviv studio, items are created with the conviction that each woman has a unique and wholesome character: the outfits she wears should demonstrate her individuality and personal style. Seeking innovation and excitement with each creation, Barak Lahav releases several collections every year. They have a timeless appeal that nevertheless corresponds with contemporary zeitgeist. The brand is 100% Israeli.
Fabrosanz Creations
Johannesburg, South Africa
www.houseoffabrosanz.com | @fabrosanz
The Nguni Collection is a representation of a Queen who is fully in charge of her origin. The designer developed her own unique print just for the collection. The development of this print was inspired by different cultures found in South Africa. The print represents South Africa as a country because of all the colors which can also found in the South African national flag. This extremely fashion-forward brand creates rousingly savvy garments that cater to a vass market of women around the world. Designer, Sandi Mazibuko has found her niche is fashion giving her audience striking pattern choices and strong designs.
Dark Thorn Clothing
Australia
www.darkthornclothing.com | @darkthornclothing
Dark Thorn is highly inspired by times past, especially the Victorian Era. Designer, Tori-Anne Gill focuses on reimagining the beautiful timeless cuts and details of the Victorian Era and bringing them back into the 21st century. A story of mystical glamour, secrecy and romance will be told with this collection. Dark Thorn consists of beautifully detailed ready-to-wear designs crafted for the mysterious soul using stylistic structures, lace trimmings, embroidery, and textured fabrics.
BERTH NUMBER 66
Hong Kong
Afa's main aim is to provide a collection that has a variety of vintage pieces that have been manipulated into something modern. The idea of forgotten beauty is something played on in each collection. The theme of this collection, RETRO TETRIS, was greatly inspired by retro games, specifically everyone's childhood favorite, Tetris. The tile-matching puzzle game teaches us to be daring and adventurous and helped create the unique geometrical patterns for this collection. The designer's signature style uses geometric shapes and color blocking to create sculpted yet modern vintage, Art Deco patterns combining different texture of fabrics and materials in the pieces.
LORE
Canada
www.Lorecollective.ca | @lorecollective
LORE is a collaboration of whimsical minimalism and modern sophistication. Each piece will reflect the brand's dedication to approachable luxury clothing. Sourced in North America and handcrafted in Nova Scotia, Lore aims to share outstanding creations and expose the details and the story behind the work we represent. Inspiration stems from the designers love of history, and folklore. Lore believes women should have the freedom to move through the waking world looking like a dream, so the pieces were designed to make every day nightmare free.
Lisa Lesunja
Zurich, Switzerland
Lisa Lesunja is a meticulous, luxury jewelry designer. She thrives on making beautiful pieces for the extravagant woman who lives a 'jet set' lifestyle. Her pieces are delicate and expensive attracting a customer base of women who are luxurious enough to travel around the world, exploring and enjoying traveling.
Le Cattleya
Dallas, Texas
www.lecattleya.com | @le.cattleya
Le Cattleya pieces are inspired by a genus of orchids called Cattleya. Known as the "Queen of Orchids", the Cattleya flowers are considered to be one of the most beautiful orchids in the world and are found in Costa Rica south to Argentina. The name of the collection simply explains the story behind it. The collection tells a story that describes the quality of being powerfully and mysteriously attractive and fascinating through combining art and elegance. Le Cattleya's collections are steeped in colors, full of life, mixed in fashion, and glamorous. Designed to satisfy all fine tastes and ages with the fabulous beauty of colors, flowers, rhinestones and crystals, every piece at Le Cattleya has its unique touch of passion.
Cobilee J West
www.cobileejwest.com | @cobileejwest
The collection is based on a technique called Shadowfolds, an interesting cross between origami and pleating. This creates geometric patterns in the fabric and when held up to a light source, it reveals varying layers of shapes and light gradients in the manipulated textile. The designer will feature designs that use centric symmetry and emulate that in both the bodice design work and skirt styles.This technique was inspiring, because just like with anything in life, when you look at things in a different light, it can reveal a whole new level of depth, intricacy, and meaning. It's always important to see thing from multiple perspectives.
SilentSiren. With Bridals.
Hong Kong, China
www.bysilentsiren.com | @bysilentsiren
Cat Chau is the mastermind behind the brand SilentSiren. With Bridals. From bridal to gowns and evening dresses, SilentSiren. With Bridals. Pieces are all marked with a vintage signature style, stylish yet elegant. "Timeless" is the key behind every design. Nostalgic movies, old Hollywood glamour, and the 50s era inspire the label's balance between classic and modernism.
Riikka Couture & Heili Bridal & Laura Darth
Finland
www.riikka.fi | www.heilibridal.com | www.lauradarth.com
Riikka Couture is a fashion brand that is highly known for its glamour, timeless style and unique creations of crystal fabrics and lace. Each dress is handmade in Finland using only the finest materials of beautiful fabrics, Parisian lace, and Swarovski crystals. Her new collection, Rêves Volants, is beautiful and delicate mix of simplicity, glamour and elegance.
Noah Christian
Spain
www.noahchristianstudio.com | @noahchristianstudio
From an early age, Noah Christian has demonstrated his passion for fashion and Japanese craftsmanship. The concept of the brand 'Made in Spain NC' is clear, it is about mixing the avantgarde and the commercial, without ever neglecting the uniqueness. Noah Christian's creations went through a deeply creative process and unique moulage techniques and patterns. The favorite materials and fabrics of the brand are: neoprene, satin, and mikado-silk combined with reflective tape. The IN-SON-DA-BI-LE collection translates to incapable of being fully explored or understood, inspired in the lights of the deep universe is an obscure, mysterious and incomprehensible collection which colors are guiding us in the right direction taking us out of the profound and incalculable universe, showing us the right way to the #NCuniverse.
Sheshea
United Kingdom
www.Sheshea.com | @sheshea_bespokefashion
Tailoring specifically to women, designer Jessica creates bespoke pieces, specifically glamorous gowns, for individual women to al feel beautiful. Embellishment is a key factor in many of her collections, allowing all women to have the perfect fitted dress that isn't available on the high street. Sheshea's passion is to create timeless collections with modern feminine twists.
Ray Ray Goetia
NY & LA, USA
www.ray6ray.com | @rayraygoetia_fashion
"Thy Remains, L' Amour" is a collection which tells an original story written by Ray Ray Goetia's designer Ray. This collection is trying to redefine life, death, love, and hatred in the spiritual plane. Inspirations flooded from symbolism and occultism to search for the meanings of colors and shapes. Her creation process is more logical than emotional, and she tries to make every detail of her designs meaningful. Ray believes garments are living creatures from other worlds and garments should wear human bodies. She hopes the wearers can embrace a different soul while wearing her designs.
##
About Oxford Fashion Studio
Oxford Fashion Studio presents independent and emerging global fashion brands to press and stockists through a runway show platform around the world. Its team of curators reviews more than 40,000 designers a year issuing invitations to brands with original concepts to present their collections in the world's four fashion capitals. They are experts on these cities and the global fashion currents that flow through them. OFS has produced over 100 runway shows presenting more than 6000 looks across New York, London, Milan and Paris. For more information please visit https://www.oxfordfashionstudio.com/  or follow along on Instagram at @oxfordfashionstudio.
In collaboration with:
Makeup By Michelle Webb on behalf of AOMPro using Dermalogica
Hair By Brendan O'Sullivan using Mr Smith
##
Learn More
With love,
FWO