Oday Shakar Makes NYFW Debut for SS17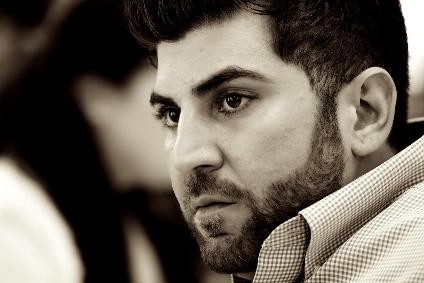 Red carpet-worthy gowns are Oday Shakar's specialty. And indeed, he's already dressed celebrities such as Sandra Bullock. But his road to NYFW has been a long one.
Shakar was born to parents who fled Iraq during Saddam Hussein's regime, and consequently he was raised in Anaheim Hills, Southern California. At 12, he and two siblings were sent to Baghdad to reconnect with their heritage. The contrast was jarring, but it was only one of several shocks to come. A serious health scare followed in 2008, after which he threw himself even more passionately into his work.
He officially launched his brand in 2009, and found himself in the spotlight when Sandra Bullock wore one of his designs at the 2010 MTV Movie Awards.
Most recently, his journey brought him to New York, for his New York Fashion Week debut.
Q: You've had such an amazing journey, from Anaheim, CA, to Iraq, and now to New York. How do you think the things you've seen and experienced have influenced your conception of beauty in general, and fashion in particular?
I think if anything it's taught me the importance of diversity, and to always appreciate what you have, because there are people less fortunate in the world.
I find beauty in things that others may not think would be beautiful. It's also finding the beauty in the unexpected.
I like to find beauty in the unexpected.
 
Backstage to Front Row
 
[portfolio_slideshow id=19322 align=center width=600 click=advance thumbnailsize=40 showcaps=false]
Q: You're a fan of Roy Halston. Do you also like Naeem Khan, a fellow student of Halston? What designers do you look up to?
Yes, I am. I've had the honor of attending two of Naeem Khan's shows in my life, and his textiles are stunning. His use of color and fabric is vibrant and fluid. He is one I look up to for sure, as well as others such as Elie Saab.
I look up to Naeem Khan and Elie Saab.
Q: How did your health crisis affect your life and art?
It's influenced me by finding joy in life because life is so precious. It's propelled me to spend my energy on what matters most, such as designing, as it makes me happy.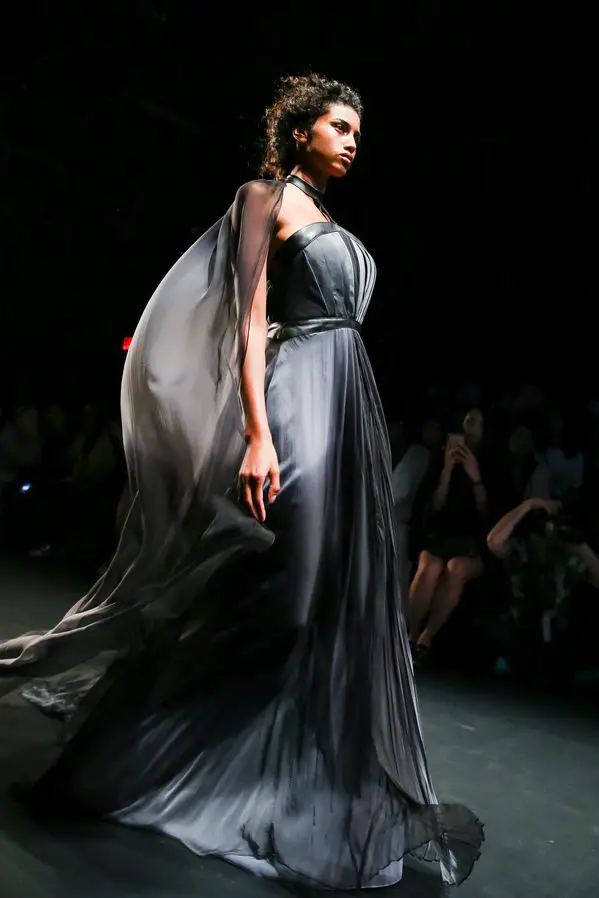 Q: What was your first experience at NYFW like? Was it like you expected? How and how not?
It was wonderful! Everything I could ask for and more, due to the most amazing team and all the people involved.
Q: How did your celebrity clients find out about you? What has been your journey in terms of marketing your brand, and getting it out there?
Through stylists that I know. I have partnered with the HL Group, they have done an outstanding job, and I look forward to expanding with their LA office.
HL Group has done an outstanding job.
Q: Tell us about your first NYFW collection in terms of theme and inspiration.
The inspiration is a blend of two cultures; I am American of Iraqi parents. I was born and raised in the USA, but moved to Iraq at a young age. I was inspired by both of these cultures that happen to be mine.
Q: Will you come back to NYFW, or is it too soon to think about?
Absolutely, I am already thinking about the next show!
##
Learn More
With love,
FWO