Childhood's End
J
ohn Galliano's legacy looms large; but if anyone can capture the spirit of the brand, while putting forward a unique vision of his own, that man would be Bill Gaytten.
 
Disorder in the Dress
 
[portfolio_slideshow id=20527 align=center width=600 click=advance thumbnailsize=40 showcaps=false]
A press release rarely says the right things about a collection: it can, however, serve has a launch point for taking it in, even as it may lead us into the "intentional fallacy" of seeing through the lens of the creator's intent (rather than one's own reaction to the work).
Although the idea was to "rediscover the delight of dressing as soon through a young girl's eyes," one of the most striking things about the Spring 2017 collection was how accessible it was, particularly compared to last season's parade of military uniforms and evening gowns.
This was a collection for a decidedly younger, quirkier set. In that sense, it shared kinship with this season's collection by Alessandro Michele. Although far less elaborate, the same spirit of fancy and childhood innocence was there.
This was a collection for a decidedly younger, quirkier set.
The concept — of raiding attic trunks — allowed Gaytten a certain amount of freedom: to mix high and low, "aristocratic and naïve," the fitted and the fit-less. The overall effect was what might be called "vintage elegant" — and in more practical terms, it's geared for the current and the youthful at heart.
To further the idea of dress-up-as-playtime, some models donned papier-mâché masks by the Stephen Jones millinery studio: a match made in heaven for the brand's signature theatrical sensibility.
We enjoyed the mix of distressed, stained looks, and baggy pieces mixed with crisp silhouettes: as such, the collection is a natural expression of the "mixing high and low" dictum of the well-rounded dresser-upper.
The collection is a natural expression of the "mixing high and low" dictum.
Although Gaytten brought us back to a simpler time in the psychology of dress, we couldn't help but remember that playing dress-up also functions as a first foray into the world of adulthood and rebellion. Maybe it was the mashup of Oasis' "Cigarettes and Alcohol" — with Liam Gallagher doing his best Johnny Rotten impression over a stolen T. Rex riff — with Nirvana, but it's hard not to read more mature meanings into some items: the bits of corset, straps on the non-utilitarian waist belts, or even the chains of John Galliano's new bag, The Chain, exclusively available in John Galliano boutiques.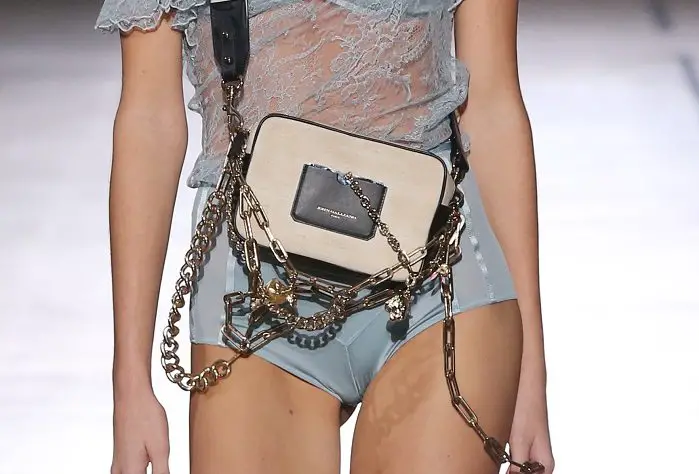 After all, the collection is about capturing the spirit and fun of childhood: but it's meant for women, who want to take that spirit into their modern lives.
##
Learn More
www.facebook.com/JohnGallianoOfficial
With love,
FWO