Interview with Fashion Legend Rossella Jardini
Rossella Jardini is an Italian fashion designer born in Bergamo, Italy. She began her fashion career in 1994 alongside mentor and best friend Franco Moschino of Moschino, working as Creative Director of the house until 2013.
Prior to that, she was a fashion consultant for Bottega Veneta and worked with Nicola Trussardi, and today consults for Missoni. Given her résumé, it's no surprise that Rossella would launch her own collection under her iconic name Rossella Jardini. In her collections you can see her eccentric style, elegance, class, comfort, and most of all her love for what she loves — and does — best … fashion.
In our FWO interview, she talks to us about what sparked her passion for fashion, her relationship with Franco Moschino, and her collection for Spring 2018, presented at Milan Fashion Week.
 
Rossella Jardini Spring 2018
[portfolio_slideshow id=41165 align=center width=699 click=advance thumbnailsize=40 showcaps=false]
 
 
The Interview
Q: Growing up, when did you realize fashion was your destiny?
Since I can remember, I have always been attracted to fashion. Back then, we wore bespoke dresses made by a tailor and I had already decided on the style of my own clothes. When I was 7 years old, I remember I was already fighting with my mother over the length of my dress.
At 7 I was already fighting over the length of my dress
Q: Tell me about your day. How does it begin and end at the house of Rossella Jardini?
My studio is based just downstairs from my apartment. Every day I prepare myself and I reach out to the office by 10 AM to meet my assistants, and we keep on working until 7 PM almost every day.
We work 10 AM – 7 PM every day
The first part of the day we focus more on paperwork. After a quick lunch we focus on the collection, working on fabrics and designs. However, this schedule changes entirely when fashion week approaches. During fashion week we work until late in order to organize the presentation of the collection.
Q: You were the Creative Director at the house of Moschino for 20 years. How did you begin that amazing journey with them?
I met Franco in Milan thanks to common friends. We immediately became best friends. We started working together far before the Moschino company had been founded. We developed together for [Italian label] Cadette and then I started working for Bottega Veneta.
Later, when he launched his line, he immediately called me to work with him. It was in 1985 when we started working together and he taught me everything. In 1994 I devoted myself to keeping his soul alive.
In 1994 I devoted myself to keeping his soul alive.
Q: Moschino's style has changed since you last left. What are your thoughts on that?
Jeremy has a different approach to fashion. He is more focused on communication and gadgets. He plays with fashion. I am more focused on making clothes, on creating something that makes women feel comfortable.
I am more focused on creating something that makes women feel comfortable
Q: In 2015, you launched your own collection under the label Rossella Jardini. What inspired you to branch out on your own?
Everything I know about fashion I learned from Franco. I always play with classics and I like stealing from the menswear wardrobe. I like playing with proportions, and I always start with materials. I am obsessed with quality. I am fascinated by elegance and I have my own point about it.
I am obsessed with quality.
Q: What is the story behind your Spring 2018 collection?
I started with the idea of a white shirt. I believe the white shirt is an essential part of any woman's wardrobe. I play with it, combining new proportions, volumes, lengths and I customize it for this collection. I love the idea of focusing on a particular garment. To uncover and speak about it through its evolution. I like to focus on individual elements that make up my ideal wardrobe.
I love the idea of focusing on a particular garment.
Q: You are a fan of menswear and have added a masculine touch to pieces in your collections … do you think women today embrace masculinity more so?
To me, men's suits are like a uniform. For women like me, the code of men's style is comfortable and reassuring. The uniform is reassuring. My style always features tuxedos, trenches, and all the basics taken from men's classic fashion.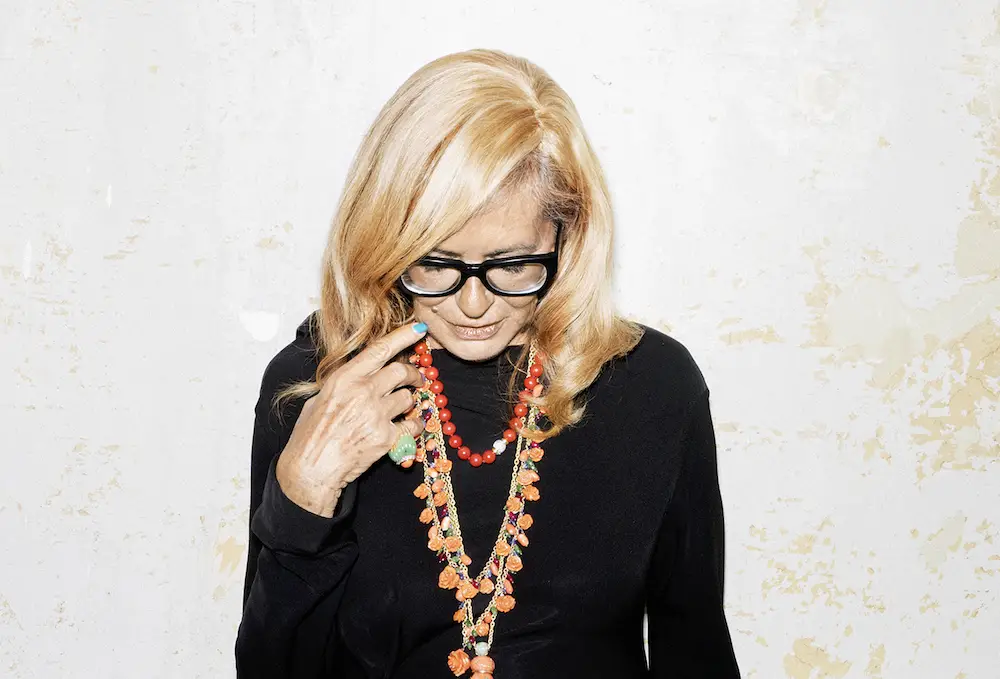 Q: Which fashion designers inspire you? Why?
 
I love all the designers. I wear them all. However, the one that I love the most will always be Yves Saint Laurent.
Q: Do you have a muse?
 
Myself.
Q: What do you want people to always remember about Rosella Jardini the fashion legend and style icon?
I would like to be remembered as the woman who kept Franco Moschino's memory alive.
Q: Where do you see the brand Rossella Jardini in the future?
Nowadays, fashion changes very quickly. I wish that my clothes will continue to be enduring leaders.
##
Learn More
With love,
FWO