Alexa Chung Has a New Line Coming. What Will It Look Like?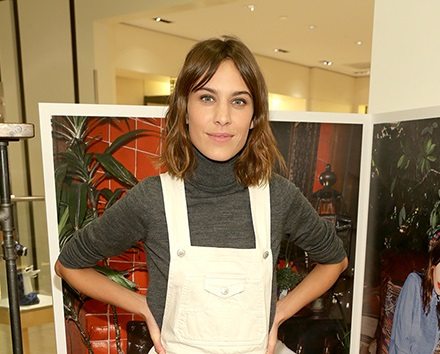 M

odel turned style icon Alexa Chung is starting her own fashion line. Cue the madness. Chung has been increasingly popular over the years, her signature cat-eye and quirky style — with that perfectly-mussed hair — sending most fans into a frenzy to capture her "je ne sais quoi."
What would an Alexa-led line even look like?
With collaborations with Eyeko, Madewell, AG Jeans, Marks & Spencer, and Superga under her belt (they were riotous successes), we have only a taste of what Alexa can do.
I propose a set of predictions, then, in light of previous style choices and consistent Alexa Chung trends:
 
1. A dash of menswear.
This is Alexa's calling card: menswear inspiration. Trousers, button-down blouses, and boyish shapes make up the sea of ensembles that Alexa is known for. I would be shocked to find anything less than that signature lean towards menswear. If it's a collection of 1950s Dior "New Look" restored, I don't know what I'll do.
Menswear inspiration is her calling card.
Source: http://www.whowhatwear.com/fall-trends-shoes-2015/slide2
 
2. Surprising yet fitting girlish accents.
Despite usually favoring boyish or androgynous pieces, there's always a sneaky ruffled shirt or Peter Pan collar in Alexa's repertoire. One day she's got a classic "le smoking," and the next it's a glittering ball gown. I feel I can safely count on some mini dresses and ruffles.
There's always a sneaky ruffled shirt in Alexa's repertoire.
Source: http://entertainment.ie/photos/The-Jameson-Cult-Film-Club-screening-of-Fight-Club/5633.htm#!img=0
 
3. Something childhood affiliated that somehow we all relate to.
In her collaboration with Marks & Spencer, Alexa created "The Edna Shirt," which was apparently created since it is "reminiscent of Alexa's childhood painting apron." The story itself is personal and cool — plus, we all had a giant shirt from our early days. Another wonderful anecdote — and a subsequent piece — is something I'm hoping to see, and then promptly sigh nostalgically at.
Source: http://www.ellaandlouise.com
 
4. A jumper worth living in.
"Jumper," meaning a nice pullover sweater in America. There's a story about a navy-colored jumper from an ex-boyfriend in her fabulous book It, which pretty much convinces us that we all need one … now. And — because not everyone can date a man with fabulous navy jumpers — let's hope Alexa makes one. Just for us!
Source: http://www.glamourmagazine.co.uk/fashion/fashion-features/twelve-secrets-of-stylish-women
 
5. Overalls.
Okay, "dungarees," if I'm sticking with the British-English terms. We all thought overalls were so lame. Then Alexa wore overalls and suddenly there are overalls in my closet. Alexa is the queen of this tricky look — it's all about the fit, and I know I'm too lazy to dig through the mire of on-trend overalls to find the Chung-iest. What with her AG Jeans collaboration, we saw overalls shorts, skirts, and full-length pants combos. What else will she do? Overall-maxi dresses? Overalls with overalls for your knees? The possibilities are endless.
We all thought overalls were so lame. Then Alexa wore overalls.
 
6. A phrase on a shirt that we never knew we needed.
Sacred monster. J'ai du vague à l'âme. ("My soul is in the waves.") Things you want imprinted across your chest, so that people raise an eyebrow in confusion. Alexa always has the coolest phrases on her shirts and sweatshirts. No amount of digging through thrift store boxes will satisfy my envy. A few suggestions for phrases: J'ai mal à la tête. Slippery Boulder.
Source: http://leone.ca/blogs/news/44508865-new-arrivals-alexa-chung-x-ag-jeans
 
7. The Holy Grail of T-shirts.
You know that white t-shirt you've been searching for from the beginning of time? The one that wouldn't be too thin and sheer, or too long, or too short? I'm not sure it exists, even after digging through my boyfriend's affects. I am, however, fairly suspicious that Alexa has such blueprints.
Source: http://agjeans.tumblr.com/post/111487507934/alexa-chung-for-ag-spring-2015-campaign
 
8. A random hat.
Hats are difficult to pull off. They're statements and draw plenty of attention, so wearing them becomes a nervous operation. Alexa wears hats that were cool fifty years ago, or were a common sight on newspaper boys.
Source: http://www.lefashion.com/2014/01/beauty-crush-alexa-chung-glamour-uk.html
What does the future hold? J'ai mal à la tête! Slippery Boulder!
Hey, is anyone listening?
##