Contact lenses are a great and efficient way to improve your vision without wearing glasses. They come in various colors and designs, allowing you to make a fashion statement with your eyes. There are colored contact lenses available that can enhance or change the color of your eyes.
However, many have questions about when contact lenses can fall out of their eyes. Understanding the potential risks associated with wearing contact lenses and how to prevent them from falling out is essential for safely and successfully wearing contacts.
Potential Reasons Why Contacts Can Fall Out of Your Eyes
The most common reason contact lenses may fall out of your eyes is poor fitting or incorrect application. The wrong size lens, an ill-fitting lens, or incorrect application can lead to the lens slipping off or becoming dislodged. Wearing contact lenses that are too old can also cause them to slip off and become loose in your eye. Additionally, if you have dry eyes, the lenses may not properly stay in place as well as they would with lubricated eyes.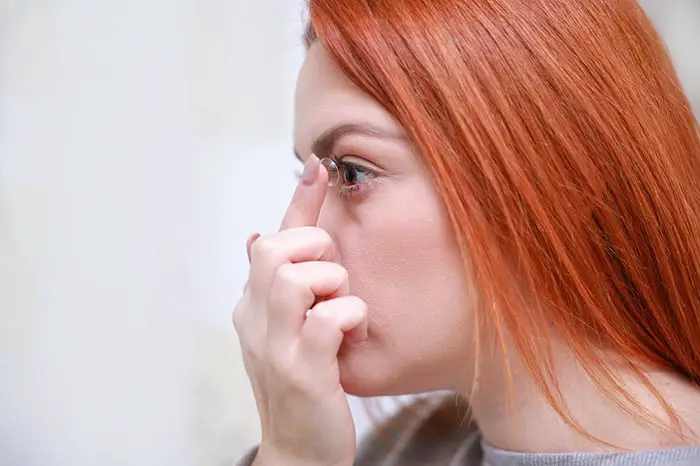 Another potential reason why contacts may fall out of your eyes is if you don't take proper care of them. Not cleaning your contacts regularly with the appropriate solution can cause the lenses to become dry and brittle and slip off more easily. It's also important to remember that improper storage and handling can cause contacts to become contaminated, which can lead to infection or other issues if worn in the eye.
Ways To Prevent Contact Lenses From Falling Out Of Your Eyes
Contact lenses are an indispensable asset for many of us by helping us to achieve better vision. Unfortunately, it can be annoying and uncomfortable when your contact lenses keep falling out suddenly. In order to prevent contact lenses from falling out of your eyes, it's important to ensure they fit properly before wearing them and check that they are not outdated or damaged before use each time. You should also make sure you clean and store them properly using fresh solution after each use, as this will help ensure that they don't become contaminated or dry out quickly when worn.
You may have neglected proper hygiene practices, such as washing your hands before inserting or removing them – it's also essential to clean your lenses every day with contact lens cleaning solution/saline solution and rub them gently with clean fingers. An eye doctor should be consulted to determine what is causing the problems and establish a healthy wearing schedule for maximum comfort.
Take Away
Contact lenses are great for people who need corrective eyewear but don't want traditional glasses to improve their vision without sacrificing style or comfortability. However, it is crucial for those who wear contacts to understand why they might fall out of their eye and how best to prevent it by taking proper care of their lenses and ensuring they fit comfortably before use each time.
If you experience any discomfort or irritation when wearing contacts, consult with an optometrist immediately so that any potential issues can be addressed quickly. Understanding these key points will minimize the risk of contact lenses falling out while still enjoying all the benefits of wearing them. See here to learn more about it.
##