You're likely to learn that satin is one of the greatest fabrics when you seek wedding industry professionals for their advice on bridesmaid dresses. Satin is regarded as an exquisite fabric that comes in a range of colours and patterns. What kind of satin bridesmaid dresses is ideal, though? And what makes satin one of the best bridesmaid dress fabrics? Let's look more closely.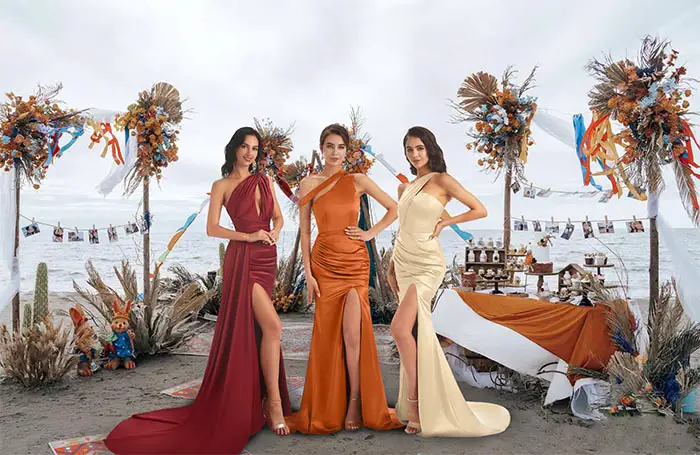 Why Satin Is the Best Material for Your Wedding?
Due to a number of beneficial characteristics that make it an excellent choice for your bridal gown or bridesmaid dress, satin has been increasingly popular in recent years with wedding magazines frequently featuring the likes of long rose gold satin bridesmaid dresses and emerald green satin bridesmaid dresses. As we have already done the research, you don't need to go looking for this information on your own. Review our brief guide to ChicSew bridesmaid dresses to see why they are so popular and what to look for when buying one.
The Finish Of Satin Is Special
Threads are woven together to make the material known as satin. The result is a cloth with two distinct sides thanks to a technique known as warp and weft. On clothing, the side that is often exposed has a glossy sheen that shimmers subtly in the light. The opposite side, which is often worn next to the skin, is a little duller. It is frequently used for special event dresses, such as bridesmaid dresses and dresses for weddings since the material sparkles in the light. The fabric's quality and colour will determine how much it sparkles. Quality fabric will have a lovely gentle shine that avoids being too manufactured or harsh. The smooth satin used in Chicsew's collection of satin dresses is expertly crafted to give off the most subdued radiance. This glow can particularly be seen in their gold color dresses which beautifully glimmer in the light.
Move With Ease In Satin
Satin is a fabric that not only looks wonderful but also has some elasticity to it. This is because the fabric has a high concentration of fibres, which makes it both robust and flexible. Because the fabric is less prone to test when it is gently stretched owing to movement, it is the ideal material for occasion dresses where there will be movement and dancing. Additionally, the fabric's stretchiness enables it to be sewed in a variety of ways, meaning it may be wrapped around the body in a variety of ways to fit different silhouettes. To ensure that every lady can find the ideal style, Chicsew offers over 100 distinct satin bridesmaid dress variations. In fact, our plus size satin burgundy bridesmaid dresses, which fit up to a plus size 30 in this beautiful and slimming colour, are among of our best-selling gowns. Another best selling are the rust color dresses – perfect for the fall season.
Satin Is Durable
Satin, which is a combination of fibres as was previously discussed, has a high concentration of these fibres, making it stronger than other fabrics. This also has to do with how long the fabric's filaments are. Given that other wedding-related textiles, like lace, might be fragile, a stronger fabric means that your bridesmaid gowns are less likely to rip on your big day, providing you peace of mind. A stronger fabric is preferable because your bridesmaids will be moving around a lot during the day. Our satin dresses at Chicsew are double-lined to add strength and structure to each dress, a certain indication of premium materials and construction.
Less Wrinkling Can Be Expected From Satin
Since high-quality satin is less prone to wrinkle than other popular bridesmaid dress materials, the gowns will maintain their form and look great in all of your day-of images. Like the Chicsew dresses, premium satin dresses are lined and maintain their form in a variety of dress styles. Any fabric will eventually get wrinkled, but satin is less prone to wrinkle than other textiles and the wrinkling does not happen as rapidly.
You Can Dress Up Satin
Satin is a fantastic, elegant material that looks excellent when customised by adding jewellery, embellishments, or beads. Your individual bridesmaids will each have their own flair. This is so that the additions won't dominate the satin's lustre and strength, which are both strong enough to sustain the weight of the embellishments. Satin won't substantially stretch if it is loaded down, thus adding more embellishments should be simple provided the fabric is well made. Many of the bridesmaid gowns available from Chicsew are completely lined, adding extra structure and quality to the garments. This extra thickness and quality also means that that any embellishments won't irritate the skin and that the cloth is strong enough to support more weight. Cooler toned satin fabric such as Chicsew's long lilac satin bridesmaid dresses look great with silver embellishments while warmer bridesmaid dress shades such as their burnt orange shade pair perfectly with gold additions.
The Take Away
The proper satin must be chosen to guarantee that your bridesmaid dresses are of the finest calibre. Satin is a great fabric for bridesmaid dresses. To ensure that your bridesmaids look absolutely stunning on your big day, make sure the satin gowns you choose are lined, substantial, and well-finished, like the designs on Chicsew.com. Take a look at their designs and shade choices – there are hundreds of combinations to help find your perfect design, whether you are looking for
long ivory satin bridesmaid dresses, or bold bright satin dress shades. To achieve the finest fit, it is also advised that you order custom sizing for your bridesmaid gowns, which Chicsew provides at no additional cost.
##