Pamella Roland: Resort / New York
Designers often find inspiration in everyday surroundings. Designer Pamella DeVos found herself in her garden when the theme of her resort 2018 collection struck her.
The Pamella Roland customer wants color and comfort; so that's exactly what Pamella gave them this season. The stand-out color was a rich, geranium red. The bold floral hue was complimented by the Bulgari jewelry sported by each model.
The presentation was held at Bulgari's Upper East Side store, a perfect location to show off the new frocks to partygoers like Vanessa Williams.
The Pamella Roland customer wants color and comfort
My personal favorite look passed by as I sat down with Pamella to talk about her career and the collection. I could barely keep my eyes off of it (and my hands off the caviar). The short, strapless geranium color dress was covered in small 3D floral appliqués intertwined with clusters of geranium-colored sequins. When the light bounced off the diamonds and sequins peeking out, it reminded me of how drops of dew highlight the beauty and resilience of a flower after a rainstorm. Pamella said this was the "hero piece" of the collection.
 
The Resort Collection
[portfolio_slideshow id=30017 align=center width=600 click=advance thumbnailsize=40 showcaps=false]
 
The Interview
Q: So what was your inspiration for this season's collection?
It was my garden. I see all the flowers, and I think, "I need to do a resort collection on this." It certainly had all the colors, and our customer wants color.
Q: There's always this rich, deep color in your collection. I love that.
I am a person who wears black most of the time. But this is largely based on geranium color.
Q: Isn't it funny how that happens? What's your hero piece for this collection?
This [Look 31, right] is pretty standout. I just helped somebody buy this for the mother of the bride. She looked amazing. She's really going to stand out.
Q: So how would you describe the Pamella Roland aesthetic?
This sounds strange, but they're for someone who's very busy. I can never find gowns, so sometimes in the past, when I would look for gowns, they were difficult to put on. So these are very simple. They make women look great. We have a great fit.
these are very simple. They make women look great.
Q: It fits just like a glove. Love it.
 
We have beading and all that, but I still think it's a very clean look, and again, easy to wear. I love that people say all the time, your dresses are so comfortable. You look at them, and you don't think, "Oh, comfort!" Stores keep coming back to us and saying our sizes are great.
people say all the time, your dresses are so comfortable
Q: How do you think your brand has evolved since 2002?
Oh my gosh. For one, in the very beginning I made so many mistakes. I just didn't really know what I was doing. I think we finally figured it out now.
Our style from day one has always been pretty good. Neiman Marcus picked us up our first show. So that's pretty incredible, but there were just so many crazy things I did in the beginning.
Neiman Marcus picked us up our first show
Q: So what made you want to become a designer?
My whole life I was always really into clothes. I have two sisters. They didn't care about fashion. My mom would be getting ready to go out, and I would be the one watching her. When I was 15 I got a job for a clothing store, and worked there seven years. But being from Michigan, and in the '70s, you didn't think about coming to New York. I was very much into the arts. My father said, "You'll never make any money in the arts." So I got my business degree. But it really wasn't what I really wanted to do. I'm glad I have it, though, because it has helped me: even though I have not always listened to the budget. But it's been great, because I have a creative side to me, and I was 40 years old when I started it.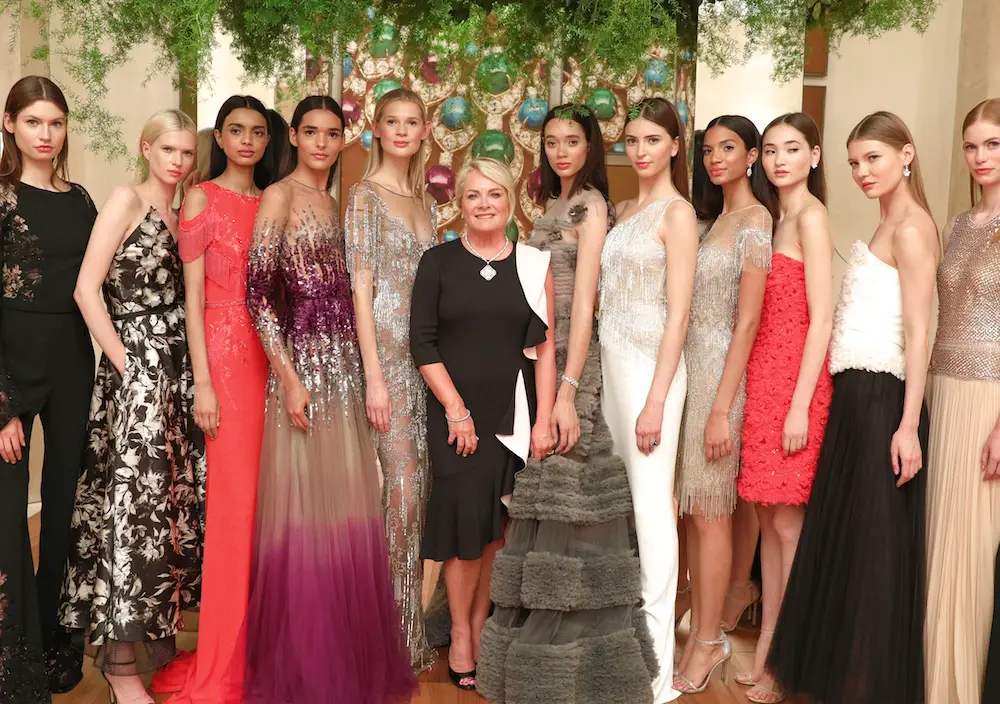 Q: So my last question would be, what's next for you? What's next for your brand?
You know, we dabbled in wedding dresses, and I just didn't enjoy it. You know I'm approaching 60, so what do I really want to do? It wasn't wedding dresses. So I got out of it. It's a whole different business. I decorate a lot homes. I really enjoy that. So my daughter is helping me create some kind of home collection. I mean we are expanding, and international is about ready to overtake domestic.
Q: How exciting! And thank you.
 
##
Learn More
With love,
FWO